Vancouver worries about weather
Thousands of airline passengers stranded. Roads impassable because of snow. Power failures by the dozen.
The last two weeks have been a winter nightmare for Vancouver — huge dumps of snow followed by rain, heavy slush and flooding. All over the city, people are griping about the toll storm after storm has taken on their holiday season.
They're also asking another question: What if this happens during the 2010 Winter Olympics?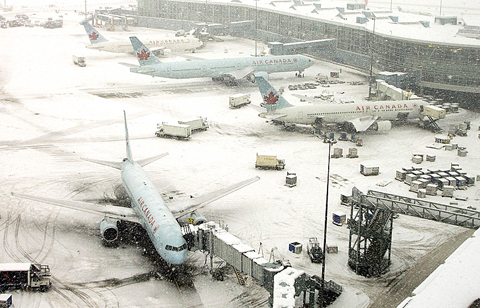 Snow-covered Air Canada planes sit at their gates at Vancouver International Airport in Richmond, Canada, last Wednesday. Olympic planners are preparing for the worst ahead of the 2010 Winter Olympics.
PHOTO: AP
Vancouver airport, transit and city officials say they're using the storms as a learning opportunity.
With 400,000 passengers passing through Vancouver in the last week on 5,000 flights, the volume of traffic is near what it will be during the games, said Don Ehrenholz, vice president of operations for Vancouver International Airport.
He promises improvement by the time the Games start.
"In our planning for 2010, we are planning that there will be a snowstorm of a fairly large magnitude at the worst possible time — either at the very first couple of days or the very last day or two, which is one of the more difficult times for getting people out on time," Ehrenholz said.
The city's transit system will be different in 2010, with more buses and a new subway line that won't be affected by weather because most of it runs underground, said Ken Hardie, a spokesman for TransLink, which handles public transit in British Colombia's Lower Mainland.
The SkyTrain elevated rail system has been shut down in conditions far less severe than those in Vancouver over the past week.
"I understand that the type of weather that we've had over the past week or so is a one-in-10-year event," he said. "Let's hope we've gotten it out of our system for another 10 years."
Events will be divided between the area in and around Vancouver.
The communities are connected by Highway 99, also known as the Sea-to-Sky highway — a winding route with plenty of steep hills.
Before the Beijing Olympics last summer, Chinese authorities were so afraid of rain disrupting the opening ceremony they experimented with cloud seeding.
Al Wallace is regional director of Meteorological Services Canada, which is providing weather services for the 2010 Olympics.
He said a weather-control project is not in the works for 2010, mostly because it hasn't been proved to actually work.
Vancouver's Olympic organizing committee acknowledges that while it has command over virtually every aspect of the Games, the weather is one thing it simply can't control — even if it is one of the most critical elements of staging a successful Winter Olympics.
"It could either work with you or really work against you," said Tim Gayda, vice president of sport for the organizing committee. "Right from the get-go, we've always planned to deal with the worst."
But planning can go only so far. Gayda said his team has its own approach, on top of meticulous planning.
"We just pray," he said.
Comments will be moderated. Keep comments relevant to the article. Remarks containing abusive and obscene language, personal attacks of any kind or promotion will be removed and the user banned. Final decision will be at the discretion of the Taipei Times.