Mitsubishi hope to lift Japan's gloom in Dakar
Japanese manufacturer Mitsubishi aims to lift the recent gloom that has enveloped the country's motorsport industry by clinching an eighth successive Dakar Rally title next month.
The grueling two-week race, which gets underway on Saturday, has been switched from Africa to the relative stability of Argentina and Chile after this year's race was canceled because of security fears.
It was the first cancelation in the history of the race and was sparked by the murder of four French tourists in Mauritania.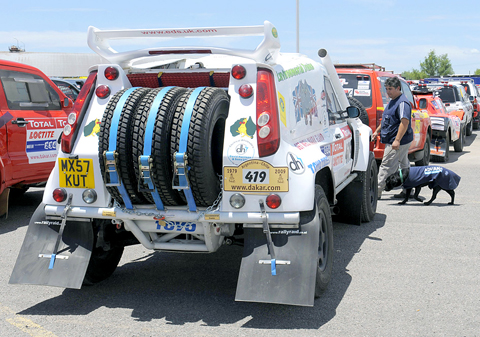 A member of Argentine Customs and a sniffer dog inspect vehicles to race in next year's Dakar Rally in Zarate, Argentina, on Dec. 19.
PHOTO: AFP
Mitsubishi have won the last seven races, with French driver Stephane Peterhansel winning in 2004, 2005 and last year, while compatriot and former skiing ace Luc Alphand took the 2006 title.
Japan's Hiroshi Masuoka, the winner in 2002 and 2003, also returns with Spain's Joan Roma, a former champion in the motorcycle event, making up Mitsubishi's four-car assault.
All four drivers, as well as the co-pilots, underwent a series of tough, physical fitness tests in France before flying out to Buenos Aires, where the race will start.
"The physical training sessions in the mountains and at the seaside went very well. Everything was OK with the tarmac test and the shakedown on gravel. It was perfect," 50-year-old Masuoka said.
"We have a new place for the Dakar, a new world, with a new engine and a new car. This is very exciting for me," he said. "I will be taking part in my 21st Dakar Rally and will be hoping to win for the third time. If that is not possible, I would be very happy if Mitsubishi continued the winning run."
There will be added interest in Mitsubishi's campaign in South America after the global financial crisis dealt a series of bodyblows to motorsport in Japan, with Honda quitting Formula One and Subaru and Suzuki pulling out of the world rally championship.
However, 43-year-old Peterhansel, who has also been a six-time winner in the motorcycle section, is concentrating on conquering the new challenges.
"For me the move to South America doesn't mean that the event loses any of its character," the French driver said. "I still think that it will be a very difficult race, with dunes and hard stages. Maybe in the past I have managed to take advantage of the sand dunes in Mauritania, but I still feel that this will be a close and exciting race."
Mitsubishi's main challenge will once again come from Volkswagen, whose four-car bid will be spearheaded by former double world rally champion Carlos Sainz — no stranger to South America after winning the Rally of Argentina three times in 1992, 2002 and 2004.
Comments will be moderated. Keep comments relevant to the article. Remarks containing abusive and obscene language, personal attacks of any kind or promotion will be removed and the user banned. Final decision will be at the discretion of the Taipei Times.