HANCOCK'S GAME: Olympians don't wanna have fun, booze or sex
It was a club much like any other — just harder to get in. Sponsored by a beer company, there were bright lights and loud music.
The only difference was the Olympians present. Tall, mostly carbon copies of Vitruvian men and women, they radiated health. Everyone seemed so good looking it was like being in a parallel universe.
There were no smokers and the bling was inevitably gold, silver or bronze. Medals the athletes wore with evident pride.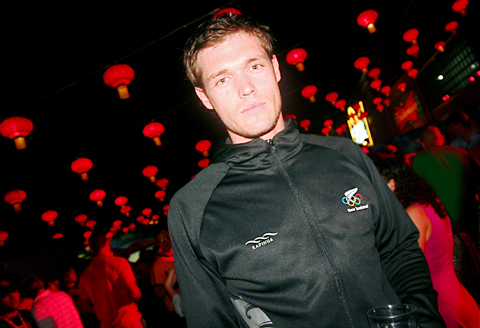 New Zealand badminton player Craig Cook attends a party for Olympians in Beijing on Sunday night.
PHOTO: JOHN HANCOCK
Conversations were far removed from the usual nightclub chat-up lines.
"Did you see Beardo?" (Australian swimmer Amanda Beard)
"Nah, I was being interviewed by that NBC guy."
Even so, after the initial frisson of unfamiliarity, it must be said there were a lot of technical conversations about diet and training that palled after a while.
The liveliest section of the swimming pool party in downtown Beijing on Sunday was the mix zone where photographers snapped celebrities pouring in and out.
It was the same at the Speedo party, where Michael Phelps turned up, smiled and then turned in.
Though Olympians get drunk like mortals there was no conspicuous bad behavior, which was a little disappointing.
While some athletes have won or lost, others are still playing the Games and no one's going to appreciate a drunken after-party at the Olympic Village — just yet.
Olympians are not having sex either.
It has been a tradition at the Olympic Village to give out free condoms. At the Sydney Games in 2000 they ran out, so four years later in Athens the number of prophylactics was doubled to 130,000.
This time around, two-thirds of the 100,000 free rubbers available in the medical clinic are still waiting to be picked up, according to reports.
Instead of bedroom gymnastics, athletes are collecting pins, the athletes' Village Life daily newspaper would have us believe.
The only other entertainment activity of note for Olympians in the Village is the video arcade machines in the games room.
Here the athletes showed the same steely resolve and hand-eye coordination they display in their chosen sports.
Their scores, it can be confirmed, made the rest of us feel like ordinary mortals.
"John Hancock" is the Taipei Times' correspondent for the Beijing Olympics.
Comments will be moderated. Keep comments relevant to the article. Remarks containing abusive and obscene language, personal attacks of any kind or promotion will be removed and the user banned. Final decision will be at the discretion of the Taipei Times.