Djokovic says Federer is shaken going into Wimbledon
Novak Djokovic senses fear creeping into Roger Federer's game and thinks the Swiss star was so shaken by his lopsided French Open final defeat that his five-year reign at Wimbledon could end.
No. 3-ranked Djokovic toppled Federer in the Australian Open semi-finals before landing a first major title in January.
"Some things are changing. I think he's a little bit shaken with that loss and mentally he has been struggling in the last couple of months," Djokovic said on Wednesday. "It's normal to have ups and downs after four years of absolute dominance on the men's tour.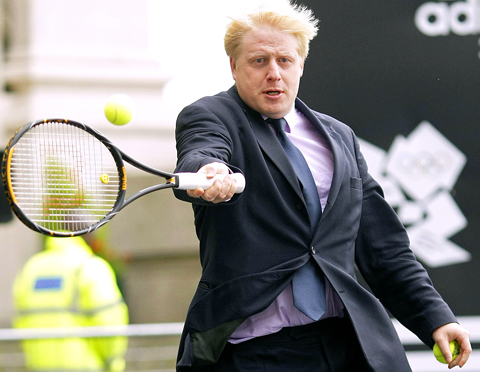 London Mayor Boris Johnson takes part in a photocall with Serbian tennis player Novak Djokovic, not pictured, to encourage sports participation within local communities, outside County Hall in London on Wednesday.
PHOTO: AFP
"New names are coming, fresh talented players who believe more they can win against him and I am one of them. Suddenly he is worried a little bit," he said.
The 21-year-old Djokovic will not let Sunday's loss to No. 2 Rafael Nadal in the Queen's Club final curb his ambitions at Wimbledon.
He is already relaxing in London, participating on Wednesday in a knockabout with London Mayor Boris Johnson by the River Thames in the shadow of the British Parliament to promote his sponsor's planned outdoor sporting zones in the capital.
"Playing the Queen's final gave me even more motivation to do well at Wimbledon," Djokovic said. "The good thing about the sport now is that people are talking about more than two players."
"Of course Federer and Nadal still dominate, but coming to Wimbledon as a Grand Slam champion gives me much more reason to believe I can challenge the top two players ... It's a matter of mental ability if you can hold on," he said.
The Serbian player says loosening the grip of Federer and Nadal is advantageous for the sport.
"This year has been really interesting for tennis fans to see," he said. "Roger has been losing more often and you can see some new faces coming up and winning the major titles."
Nadal has lost the last two Wimbledon finals to Federer, but has gained confidence from winning his first grass-court title at Queen's on the weekend.
Djokovic was forced to withdraw during last year's Wimbledon semi-final against Nadal with a bad toe and a bothersome lower back.
"Nadal is very motivated to win the Wimbledon title this year, he's been very close the last two years," Djokovic said.
"But I'm one of the players behind intending to make a surprise. I just have to behave normally and be aggressive," he said.
Comments will be moderated. Keep comments relevant to the article. Remarks containing abusive and obscene language, personal attacks of any kind or promotion will be removed and the user banned. Final decision will be at the discretion of the Taipei Times.