FEATURE: Chamber of secrets primes British athletes for Beijing
The tranquil countryside of Royal Berkshire on a mild, spring afternoon doesn't seem like the ideal location to prepare for the sapping heat and humidity of Beijing.
Nestling in it, though, is a chamber of secrets designed to give British Olympians the edge over European rivals.
The British Olympic Association has drawn on the country's military expertise in desert and jungle warfare to ensure medal hopefuls aren't restricted by the oppressive conditions expected in August.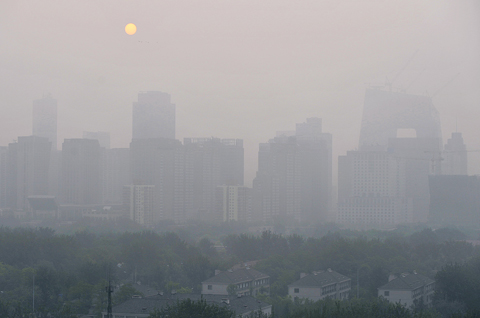 The sun rises over Beijing's central business district skyline on a hazy and polluted morning yesterday. With just over 60 days before the start of the Olympic Games, recent pollution levels in Beijing have hit the top of the scale.
PHOTO: AFP
Unlike the choking pollution anticipated, heat cramps and exhaustion are hindrances that can be suppressed by training in the chamber-cum-laboratory 50km west of London.
With scientists monitoring equipment, athletes ride on exercise bikes and rowing machines at the English Institute of Sport High Performance Centre that is set to 80 percent humidity to simulate the Chinese capital's expected impediments. A selection of ice vests are used to lower the body temperature.
The British have calculated that thermal stress can impact on 90 percent of the performance of their athletes, who will be banned from sunbathing in China and at the pre-games training camp in Macau.
"With Beijing's prevailing conditions of high temperatures coupled with high humidity, the first priorities must be cooling and hydration and that is where we have concentrated our energies," Scott Drawer of UK Sport said. "With medals won by increasingly small margins, we have analyzed every factor that can affect the ability of our leading athletes to perform to their potential.
"Every games location brings with it its own set of special challenges and our job is to equip every sport with a toolkit that will allow them to meet those challenges head on," he said.
Preparations for Beijing have been under way since the 2004 Athens Games when Britain's marathon favorite Paula Radcliffe dropped because of dehydration.
Marco Cardinale, the Italian charged with science and research for the British Olympic Association, believes his training tool outstrips those of his European rivals.
"We are at the same level as the Americans and Australians," Cardinale said, emerging from the chamber's choking heat. "But we have some knowledge and solutions that are unique that will be unveiled during the games, but we want to keep them as close as we possibly can."
Such as the work with Britain's Ministry of Defense. Cardinale's team has picked up tips from the military's creativity in handling humid conditions, notably during the 2003 invasion of Iraq.
Such is the sensitivity of the information that everyone working on the project must sign confidentiality agreements.
"The army is a big source of research," Cardinale said.
"They know how to perform highly complicated tasks in hot environments and we tap into their research to learn some lessons," he said. "We want to make sure athletes get there in the prepared condition possible and we've left no stone unturned with our preparations."
One thing that can't be simulated is Beijing's pollution, with ethical problems cited in recreating those conditions.
"There isn't much we can do," Cardinale sighed.
Comments will be moderated. Keep comments relevant to the article. Remarks containing abusive and obscene language, personal attacks of any kind or promotion will be removed and the user banned. Final decision will be at the discretion of the Taipei Times.