Spaniard could save the day for England
Spanish goalkeeper Manuel Almunia has refused to rule out switching his national colors to England.
The 30-year-old Arsenal 'keeper was born in Pamplona but is yet to receive a call from Spain's national team boss Luis Aragones and since he has never played for Spain, he would be eligible for England after he qualifies for Bristish citizenship next year.
One of the first tasks for new England coach Fabio Capello will be to solve a goalkeeping conundrum with Paul Robinson and Scott Carson having committed expensive errors during the doomed Euro 2008 qualifying campaign.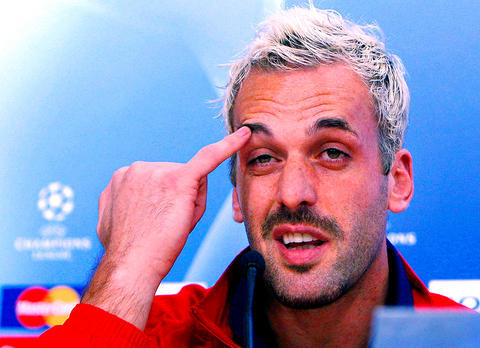 Manuel Almunia gestures during a press conference in Seville, Spain, on Nov 26, ahead of Arsenal's Champions League qualifying match against Sevilla the following day.
PHOTO: EPA
Almunia is currently the in-form goalkeeper in the Premier League after his penalty save in the 2-1 win over Tottenham at the weekend, but Capello would have to wait another year to pick him.
"I will study my situation," Almunia was quoted as saying by Britain's Press Association. "And, if Spain don't call me ... They have never, never called me. And, if other people want me, I have to study my situation and take a decision ... I will not close myself to anything."
"I always say I have to wait until that moment to see what is happening at that moment, or which goalkeeper England has, or which goalkeeper Spain has -- look at the situation and take a decision," he said.
Spain's first-choice goalkeeper is Iker Casillas, but Liverpool's Pepe Reina recently earned his first callup. Almunia, who has edged out Jens Lehmann for the Arsenal goalkeeping spot this season, said it would be difficult to turn his back on Spain.
"It would be, but that's football," Almunia said. "It would be a big decision but I wouldn't care if I had two days to take it."
Almunia said he had enjoyed playing in England since joining Arsenal in 2004 from Celta Vigo.
"I am very proud to be part of Arsenal and I always have to give thanks to these people who give you everything," Almunia said. "If you give them a little thing, I think they love you, and that's fantastic. That doesn't happen in Spain, no," he said.
"That's because in England the people are more passionate and the people here are more humble. If they receive something, even a little thing, they give you double. For a player that's unbelievable," Almunia said.
Comments will be moderated. Keep comments relevant to the article. Remarks containing abusive and obscene language, personal attacks of any kind or promotion will be removed and the user banned. Final decision will be at the discretion of the Taipei Times.