NBA: LA Lakers enjoy balanced victory over Chicago Bulls
'EYE-POPPING' NUMBERS The Lakers downed Chicago 103-91 on a combined 37 points from Sasha Vujacic and Kobe Bryant, while Luol Deng led the Bulls with 26 points
The Los Angeles Lakers put on a strong team performance to register a 103-91 road win over the Chicago Bulls on Tuesday, the visitors getting double-digit tallies from six players.
With Kobe Bryant struggling through a 7-for-19 shooting night while playing with a troublesome groin, Sasha Vujacic came off the bench to score 19 points and lead a balanced attack.
"People call us a one-man [Bryant] team and we don't care as long as we're winning ballgames," Lakers forward Luke Walton told reporters. "If we start losing, then we'll get mad and we'll get up in arms about it."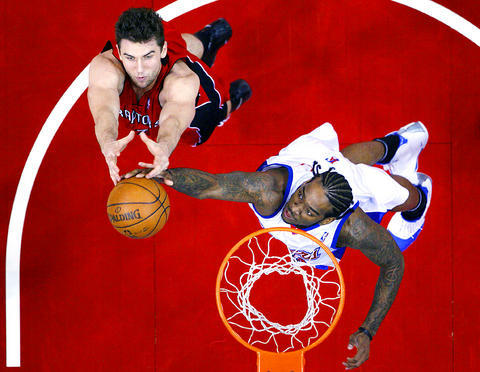 The Toronto Raptors' Andrea Bargnani, left, fights for a rebound with the Los Angeles Clippers' Josh Powell in Los Angeles, California, on Tuesday.
PHOTO: REUTERS
Bryant finished with 18 points, Lamar Odom had 17 points and 16 rebounds and Andrew Bynum also had a double-double, with 12 points and 10 rebounds to go along with four blocks.
"As eye-popping as Kobe's numbers are, the reason they have the record they do (15-9) is because all the other guys are playing well," Bulls coach Scott Skiles said.
Luol Deng had 26 points and seven rebounds and Kirk Hinrich 17 points, eight assists and five rebounds for the Bulls, who were talking to the Lakers about acquiring Bryant before the start of the season.
"Tonight we survived a rather poor shooting game," said Lakers coach Phil Jackson, who coached the Bulls to six NBA titles with Michael Jordan leading the way.
"We did it by making defensive stops and getting turnovers in the process," Jackson said.
Skiles added: "We gave up 45 points off turnovers and second-chance points. At some point if the game goes in that direction, with 48 minutes and all the possessions, it is going to catch up with you.
"We made it close, we made enough plays to do that, during the two-minute span we had a couple turnovers and they had a couple of offensive rebounds and that was it," he said.
Kings 106, Nets 101
In East Rutherford, New Jersey, John Salmons scored a career-high 31 points and passed to teammate Francisco Garcia for a decisive 3-pointer to lead Sacramento over New Jersey.
The Kings got their second road win of the season -- and second in five days.
New Jersey has lost six of its past seven games and eight of 10 at home. Sean Williams had eight blocked shots, tying a team rookie record that was set in 1981 by Mike Gminski.
Raptors 80, Clippers 77
In Los Angeles, Chris Bosh scored 12 of his 24 points in the third quarter to help Toronto take the lead for good and down the Los Angeles Clippers.
Bosh also had nine rebounds to become the Raptors' career leader. His 2,847 betters Antonio Davis' mark of 2,839.
Comments will be moderated. Keep comments relevant to the article. Remarks containing abusive and obscene language, personal attacks of any kind or promotion will be removed and the user banned. Final decision will be at the discretion of the Taipei Times.