NFL: Patriots remain undefeated after Jets
FROZEN FIELD Playing in blizzard conditions, the Browns defeated the Bills, while Jaguar David Garrard tossed three touchdown passes against the Steelers
The New England Patriots continued their historic charge on Sunday by overcoming a winter blast of snow and wind to beat the New York Jets 20-10 and extend their season record to 14-0.
Eugene Wilson returned a first-quarter interception for a touchdown and recovered a key second half fumble as the Patriots became the first 14-0 team in the National Football League since the 1972 Miami Dolphins.
New England also clinched home-field advantage throughout the playoffs.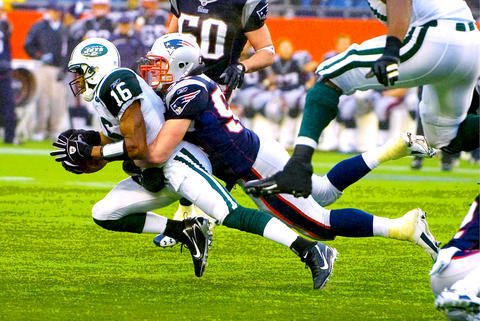 New York Jets wide receiver Brad Smith, left, is tackled by New England Patriots linebacker Tedy Bruschi during the second half of the Patriots' 20-10 win over the Jets at Gillette Stadium in Foxborough, Massachusetts, on Sunday.
PHOTO: EPA
"I'm sure it's going to be a factor throughout," Patriots quarterback Tom Brady said of securing home field.
"I've been in this in winter-time conditions, practised in the snow and the rain and sleet and it's nice that we have the field we do."
New England won despite a season-worst performance by quarterback Tom Brady, who failed to throw a touchdown pass for the first time since Dec. 10, last year. Brady finished 14-of-27 for 140 yards and an interception.
Laurence Maroney picked up the slack offensively, rushing for a season-high 104 yards and a touchdown on 26 carries.
It was his second 100-yard effort of the season and first since early in the season.
A combination of Chad Pennington and Brad Smith replaced injured quarterback Kellen Clemens following the Jets' first possession but could not lead New York (3-11) over the mighty Patriots.
The weather overshadowed the first meeting between the two bitter rivals since Jets coach Eric Mangini claimed that Patriots coach Bill Belichick videotaped signals from the sideline during New England's 38-14 win three months ago.
"This is a good football team that's obviously hard to beat and we had some opportunities to put ourselves in a very good position and just couldn't finish those," Mangini said.
Approximately six inches of snow blanketed the tarp-covered field in the early-morning hours before it turned to rain two hours before kickoff.
Worker shovelled away the snow prior to the game but driving rain persisted throughout.
Playing in even worse blizzard conditions, the Cleveland Browns defeated the Buffalo Bills 8-0.
Two inches of snow blowing in gusting winds of up to 70km per hour seemed to bother the Bills much more so than the Browns.
Cleveland was seeking to clinch a playoff berth for the first time since 2002 but was denied when Tennessee defeated Kansas City.
The Browns had to survive a late drive by the Bills, who moved 60 yards to the 10-yard line and faced a fourth down with 16 seconds to play.
The Bills attempted a screen pass, but safety Sean Jones broke through to take down Fred Jones and end it with three seconds to play as Cleveland recorded its first shutout since Nov. 20, 2005.
It was also cold and snowy in Pittsburgh where David Garrard tossed three touchdown passes as the Jacksonville Jaguars defeated the Pittsburgh Steelers 29-22.
Jacksonville (10-4) also used the power running of Fred Taylor to move one step closer to its first playoff berth since 2005.
The Tennessee Titans' 26-17 win against the Kansas City Chiefs prevented Jacksonville from clinching a postseason berth.
Taylor rushed for 147 yards and a touchdown on 25 carries, only the second 100-yard game the Steelers have allowed in their last 63 contests.
The Miami Dolphins no longer have to worry about becoming the NFL's first 0-16 team.
Cleo Lemon threw a 64-yard touchdown pass to Greg Camarillo with 8:14 remaining in overtime as the Dolphins finally won their first game of the season with a 22-16 victory over the Baltimore Ravens.
The Dolphins (1-13) avoided joining the 1976 Tampa Bay Buccaneers as the only teams in league history to start a season with 14 straight losses.
In other games on Sunday it was:
* Carolina 13, Seattle 10
* New Orleans 31, Arizona 24
* Green Bay 33, St. Louis 14
* Tampa 37, Atlanta 3
* Indianapolis 21, Oakland 14
* Philadelphia 10, Dallas 6
* San Diego 51, Detroit 14
* Washington 22, Giants 10.
Comments will be moderated. Keep comments relevant to the article. Remarks containing abusive and obscene language, personal attacks of any kind or promotion will be removed and the user banned. Final decision will be at the discretion of the Taipei Times.