Win gives Red Sox AL East title
PLAYOFFS SET Boston will open postseason play at home against the Angels, while Cleveland will play at home against the Yankees, who won the wild card slot
Daisuke Matsuzaka won for only the second time since early last month and David Ortiz homered for the fourth time in seven games as the Boston Red Sox beat the Minnesota Twins 5-2 on Friday night to capture their first AL East title in 12 years.
Boston will open the playoffs at home against the AL West champion Los Angeles Angels, while Central Division champ Cleveland will open at home against the New York Yankees.
Mike Lowell had two RBIs and Ortiz stretched his streak for reaching base to 11 straight plate appearances with a double and single before grounding out.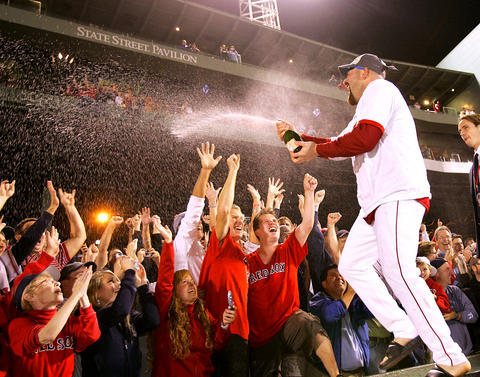 Kevin Youkilis of the Boston Red Sox sprays champagne on fans at Fenway Park in Boston on Friday as they celebrate clinching the AL East title after Boston's 5-2 win over the Minnesota Twins.
PHOTO: AP
Kevin Slowey (4-1) gave up four runs and seven hits in five innings, the first major league loss for the rookie. Minnesota fell to 78-82, guaranteeing its first losing season since 2000.
Orioles 10, Yankees 9
In Baltimore, Alex Rodriguez hit his 54th homer, drove in four runs and scored twice, but a rare blown save by Mariano Rivera allowed Melvin Mora to bunt home the winning run and end the Yankees' string of nine straight division titles.
Rodriguez has 155 RBIs, tied with Joe DiMaggio for the 10th most in Yankees history, and has the highest total since 1937. Johnny Damon also homered for New York, which became the first team in major league history to hit 200 home runs in eight consecutive seasons.
Indians 5, Royals 3
In Kansas City, Missouri, C.C. Sabathia picked up his 100th career victory as the Indians wrapped up home field advantage for the first round of the playoffs.
The Indians claimed their 95th victory, tying them with the Boston Red Sox for the most wins in the American League. But Boston holds the tiebreaker by winning the season series.
Angels 2, Athletics 0
In Oakland, California, John Lackey took over the American League lead in earned-run average and Vladimir Guerrero homered and drove in two runs as Los Angeles beat Oakland.
Lackey (19-9) allowed two hits in seven innings, struck out two and walked none, lowering his ERA to 3.01, ahead of Cleveland's Fausto Carmona (3.06) and Oakland's Dan Haren (3.07).
Blue Jays 5, Devil Rays 4
In Toronto, Adam Lind hit a two-run homer and Matt Stairs added a solo shot as the Blue Jays won for the fourth time in five games.
Carlos Pena hit his 45th home run and Jorge Velandia went deep for Tampa Bay.
Dustin McGowan (12-10) gave up four runs in six-plus innings.
White Sox 5, Tigers 2
In Chicago, Paul Konerko hit a three-run home run and Jim Thome hit his 506th career homer to lead the White Sox past the Tigers.
Javier Vazquez (15-8) pitched crisply into the eighth inning for the White Sox.
Magglio Ordonez, who is battling Ichiro Suzuki for the AL batting title, was 2-for-4 with an RBI.
Mariners 6, Rangers 4
In Seattle, Adrian Beltre led off the ninth with a single and rookie Jeff Clement followed with a homer to lead the Mariners over the Angels.
J.J. Putz (6-1) pitched the ninth for the win. He struck out Travis Metcalf, who had hits in his previous three at-bats, to strand the go-ahead run in scoring position.
Alfonso Soriano hit another leadoff homer and Carlos Zambrano kept his cool as the Chicago Cubs clinched the NL Central with a 6-0 victory over the Cincinnati Reds on Friday night.
Thousands of Chicago fans made the five-hour road trip and cheered every move by the Cubs, who earned their first playoff spot since 2003 when Milwaukee later lost to San Diego 6-3.
Since returning from a strained thigh that sidelined him for most of last month, Soriano has gone on a tear. He has 13 homers this month, matching Ernie Banks' record of 50 years ago.
Diamondbacks 4, Rockies 2
At Denver, Brandon Webb and the Diamondbacks clinched a playoff spot, stopping the Rockies' 11-game winning streak and putting a crimp in their postseason plans.
Arizona's win combined with the New York Mets' loss to Florida put Arizona into the postseason for the first time since 2002.
Padres 6, Brewers 3
At Milwaukee, Khalil Greene hit a go-ahead double and drove in three runs as the wild card-leading Padres eliminated the Brewers from postseason contention.
Greg Maddux (14-11) gave up three runs and six hits in five innings for his 347th win. San Diego has a two-game lead in the wild card but remained one game behind Arizona in the NL West.
Marlins 7, Mets 4
At New York, Third baseman David Wright missed an easy force play and Oliver Perez hit a pair of batters with the bases loaded as the Mets stumbled out of the NL East lead.
New York has lost five straight and 11 of 15 to fall one game back of the Philadelphia Phillies. The Mets' eighth straight home loss dropped them out of first place for the first time since May 15.
Phillies 6, Nationals 0
At Philadelphia, Cole Hamels struck out 13 in eight dominant innings and Ryan Howard hit his 45th homer as the Phillies moved closer to ending a 14-year playoff drought.
Hamels (15-5) shut down the Nationals with an overpowering fastball and his trademark changeup. He allowed six hits in his third start since missing a month with a strained elbow.
Braves 7, Astros 2
At Houston, Jeff Francoeur hit the go-ahead two-run homer as the Braves beat the Astros.
Rookie left-hander Jo-Jo Reyes (2-2) gave up two runs and seven hits in six innings one night after the Braves were eliminated from playoff contention with a loss to Philadelphia.
Cardinals 6, Pirates 1
At Pittsburgh, Jim Edmonds broke open a tight game with a three-run single in the eighth inning, helping the Cardinals win their third straight.
So Taguchi drove in two runs and David Eckstein scored three times for the defending World Series champions, who have already been eliminated from the playoffs.
Dodgers 8, Giants 3
At Los Angeles, David Wells capped off his season with a victory and singled home a run and James Loney continued his torrid month with another homer as the Dodgers beat the Giants.
Wells (9-9) allowed three runs and seven hits over six innings. He completed his 21st big league season with a career-worst 5.43 ERA, but was 4-1 in seven starts with the Dodgers.
Wells signed with the Dodgers after being designated for assignment by the San Diego Padres.
Comments will be moderated. Keep comments relevant to the article. Remarks containing abusive and obscene language, personal attacks of any kind or promotion will be removed and the user banned. Final decision will be at the discretion of the Taipei Times.