Yankees rally to defeat arch rivals the Red Sox
AP, BOSTON
In a game that mirrored the season, the New York Yankees bounced back.
Alex Rodriguez capped a six-run eighth inning with a tiebreaking single off Jonathan Papelbon, and the Yankees overcame a five-run deficit to beat the Boston Red Sox 8-7 on Friday night.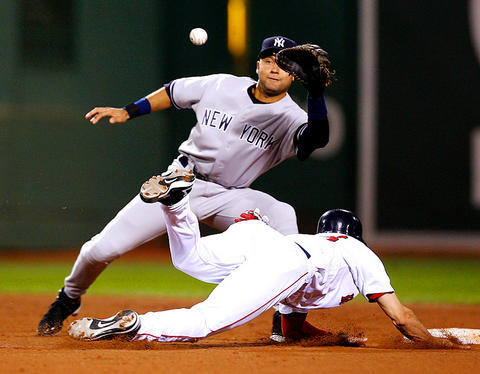 Jacoby Ellsbury, left, of the Boston Red Sox steals second as Derek Jeter of the New York Yankees fields a late throw at Fenway Park in Boston, Massachusetts, on Friday.
PHOTO: AFP
Jason Giambi and Robinson Cano started the comeback with home runs off Hideki Okajima, Derek Jeter hit an RBI single against Papelbon and Bobby Abreu tied it with a two-run double.
"Every win now is a big win," Jeter said.
By winning a 4 hour, 43 minute marathon -- two minutes shy of the record for a nine-inning game set by the Yankees and Red Sox on Aug. 18 last year -- New York closed within four-and-a-half games of American League East leaders Boston. The Yankees remained three-and-a-half games ahead of Detroit in the wild-card race.
Boston has led the division for the last 150 days. By winning the opener of a three-game series, the Yankees kept alive their slim chance of overtaking their longtime rival.
Johnny Damon went four-for-six against his former team, Brian Bruney (3-1) pitched one-and-a-third innings in relief of Andy Pettitte for the win, and Mariano Rivera pitched a one-hit ninth for his 27th save in 30 chances. Papelbon (1-3) blew a save for the third time in 38 opportunities.
Friday night's other results in the American League:
* Tigers 4, Twins 2
* White Sox 5, Angels 3
* Indians 5, Royals 4
* Orioles 6, Blue Jays 2
Carlos Zambrano allowed four hits over eight innings to lead the Chicago Cubs to a 5-3 victory over St Louis on Friday night, the Cardinals' eighth straight loss.
Chicago, which survived a wild ninth inning that ended with the bases loaded, won for the fifth time in seven games and opened a one-and-a-half game lead over second placed Milwaukee in the National League Central.
St Louis is six behind the Cubs.
Zambrano (16-12) won his second straight start after losing five in a row and tied his career best for wins.
Mark DeRosa's RBI single in the fourth put the Cubs ahead against Adam Wainwright (13-11), but Albert Pujols ended a 20-game, 75-at-bat homerless drought in the sixth.
Cliff Floyd homered leading off the seventh for the Cubs. While he has just eight home runs this season, he's connected in three straight games.
Pinch-hitter Daryle Ward hit a three-run double off Jason Isringhausen in the ninth for a 5-1 lead.
Jim Edmonds hit a solo homer with one out in the ninth off Ryan Dempster, and Ryan Ludwick added a homer with two outs, but Aaron Miles grounded out with the bases loaded giving Bob Howry his eighth save.
Reds 6, Brewers 5
At Milwaukee, Brandon Phillips drove in three runs and Adam Dunn hit his 39th homer to lead Cincinnati to its fourth straight victory.
Prince Fielder hit his National League-leading 45th home run in the fourth to tie the Brewers' franchise record, but Milwaukee came up a run short with a ninth-inning rally.
The Brewers fell one-and-a-half games behind leaders Chicago in the National League Central.
Milwaukee ace Ben Sheets (12-5) allowed four runs in the first inning, a two-run single by Phillips and a two-run homer by Dunn.
Cincinnati added another in the second on a sacrifice fly by Phillips.
Tom Shearn (3-0) allowed four hits, including Fielder's huge shot in the fourth.
Friday night's other results in the National League:
* Phillies 3, Mets 2, 10 innings
* Pirates 4, Astros 3
* Marlins 7, Rockies 6
* Braves 8, Nationals 5, 13 innings
Comments will be moderated. Keep comments relevant to the article. Remarks containing abusive and obscene language, personal attacks of any kind or promotion will be removed and the user banned. Final decision will be at the discretion of the Taipei Times.