Muralitharan takes 700th Test wicket
UNIFYING FIGURE The spinner is one of the few people in war-torn Sri Lanka who is a source of inspiration for both Tamil and Sinhalese communities
Muttiah Muralitharan's 700th Test wicket was more than a cricket milestone, it was a rare opportunity for the divided people of Sri Lanka to celebrate as one.
In a society bitterly divided along ethnic and religious lines and bruised by a two-decade-long separatist war, Muralitharan -- the only ethnic Tamil in the Sri Lanka national team -- stands out as a unifying factor.
Muralitharan reached the 700 mark yesterday with the last ball of a lopsided series against Bangladesh -- on his homeground at Kandy -- to join retired Australian Shane Warne (708) in an exclusive club.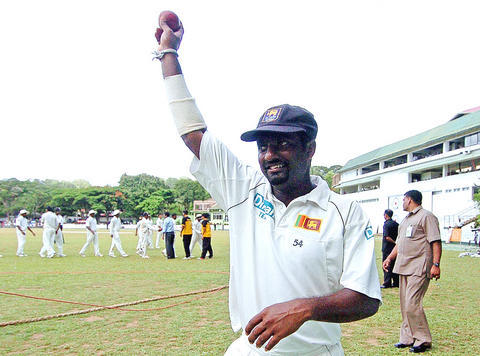 Muttiah Muralitharan celebrates with the ball with which he took his 700th Test wicket during Sri Lanka's Test match against Bangladesh in Kandy yesterday.
PHOTO: AFP
His latest landmark came when he had Bangladesh No. 11 Syed Rasel caught by Farveez Maharoof.
His 12-wicket match haul helped Sri Lanka win the Test by an innings and 193 runs and claim a 3-0 series sweep.
The 35-year-old's achievements on the cricket field have made him a source of hope and inspiration to a nation that has suffered in recent years.
The Liberation Tigers of Tamil Eelam, a rebel group, began fighting the government in 1983 demanding a separate state for ethnic minority Tamils, arguing they were deprived of equality in education, jobs and governance by successive governments controlled by ethnic majority Sinhalese.
The conflict has killed 70,000 people, maimed many and displaced hundreds of thousands.
Muralitharan never discusses politics, is comfortable with teammates and speaks Sinhalese fluently.
Today he is a household name in every Sri Lankan family, be they Sinhalese or Tamil.
For many Tamils, Muralitharan is an icon of hope that they are part of Sri Lanka, despite the history of bad relations with the government.
Comments will be moderated. Keep comments relevant to the article. Remarks containing abusive and obscene language, personal attacks of any kind or promotion will be removed and the user banned. Final decision will be at the discretion of the Taipei Times.