Beltran leads Mets over Astros
AMAZING CATCH Having played for Houston before, the New York slugger knew the field and ran up the hill in center field to haul in a long drive as he fell down
Carlos Beltran hit the go-ahead single in the 17th inning and made a tremendous catch as the New York Mets won their longest game in 14 years, beating the Houston Astros 5-3 on Saturday.
The 17 innings matched the most in the majors this season -- the Dodgers and Padres also played that many in April.
Houston threatened to win it in the 14th, putting a runner on third with two out. Luke Scott hit a long drive to center field and Beltran, familiar with the ballpark after previously played with Houston, ran up the grass hill and caught the ball while falling.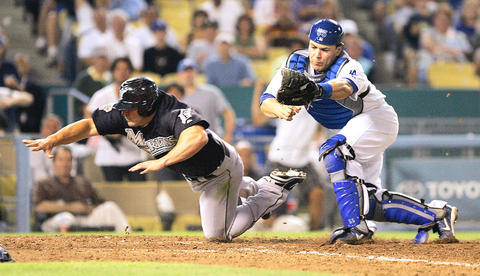 Los Angeles Dodgers catcher Russell Martin, right, tags out the Florida Marlins' Dan Uggla as he tries to score on a hit by Miguel Cabrera during the seventh inning of their game on Saturday in Los Angeles. The Marlins won 7-2.
PHOTO: AP
It was the Mets' longest game since 1993. Houston played an 18-inning game against Pittsburgh last season.
The length of the game evoked memories of their meeting in the 1986 NL championship series, when the Mets won in 16 innings at the Astrodome to advance to the World Series.
Aaron Sele (2-0) struck out two in two innings to record the win. Former Astros closer Billy Wagner got his 17th save, ending a game that took five hours, 10 minutes.
Brian Moehler (1-3) took the loss.
Rockies 6, Phillies 3
In Denver, Ryan Spilborghs hit a two-run homer as Colorado handed Philadelphia its 9,999th loss in franchise history.
Colorado has won five straight games.
Rodrigo Lopez (5-2) pitched five innings to get the win and Manny Corpas struck out the side in the ninth for his first career save.
Philadelphia's 9,999 losses are the most by any team in any sport. Philadelphia played its first game on May 1, 1883, losing 4-3 to the Providence Grays.
Marlins 7, Dodgers 2
In Los Angeles, Hanley Ramirez had four hits as Florida beat Los Angeles.
Sergio Mitre (3-4) won for the first time since May, allowing two runs and 11 hits over seven innings.
Derek Lowe (8-8) was charged with five runs and 10 hits in six innings for the Dodgers.
Padres 8, Braves 5
In San Diego, home runs by Mike Cameron and Khalil Greene saw San Diego down Atlanta.
Braves star Andruw Jones hit a two-run triple off Heath Bell (3-2) to tie it at 5 with two outs in the seventh.
But San Diego rallied with three runs in the bottom of the inning.
Both left-handed starters left in the fourth. David Wells was ejected in the fourth inning for arguing balls and strikes and Atlanta's Jo-Jo Reyes was chased off in his big league debut after allowing five runs and five hits in three innings.
Cubs 7, Pirates 1
At Pittsburgh, Ted Lilly pitched into the eighth inning as Chicago won for the 12th time in 15 games.
Despite going their eighth straight game without hitting a home run -- their longest such drought since 1999 -- the Cubs scored plenty. Chicago finished with 14 hits, all in the first six innings. Ryan Theriot had three and every Chicago starter bar two were on base at least twice.
Reds 5, Diamondbacks 4
At Cincinnati, slumping Norris Hopper singled home the tiebreaking run in the eighth inning as the Reds overcame another bullpen meltdown to beat Arizona.
Eric Byrnes' three-run homer off Reds reliever Todd Coffey tied it in the top of the eighth and reminded the booing crowd why manager Jerry Narron was fired a week earlier. But Cincinatti rallied.
Brandon Phillips bunted for a single off Tony Pena (3-2) with one out. He advanced on a flyout and came home when Hopper singled up the middle.
Nationals 5, Brewers 4
At Washington, Austin Kearns' first extra-base hit in 15 games capped a four-run rally in the fifth as Washington beat Milwaukee.
Jason Simontacchi (6-6) allowed eight hits and three runs -- on three solo homers -- in six innings for his fourth victory in six starts. He walked one and struck out five.
Prince Fielder hit two homers, adding to his National League lead, and Ryan Braun also connected for Milwaukee, which has homered in 16 straight games. It's their longest such streak since 1996.
Johnny Estrada hit a pinch-hit home run in the ninth off Chad Cordero to pull the Brewers within one. A Brewer reached second base, but Cordero retired two batters on groundouts for his 15th save in 21 chances.
Giants 7, Cardinals 6
At St. Louis, Barry Bonds went 0-for-2 and stayed put at 751 homers, but San Francisco still beat St Louis.
San Francisco benefitted from three unearned runs on shortstop Aaron Miles' trio of seventh-inning mistakes.
St Louis' Skip Schumaker hit a tying solo home run in the sixth, the first longball allowed in six starts by Giants rookie Tim Lincecum (4-2). But the typically reliable Cardinals defense fell apart on a pair of throwing errors and a fielding error by Miles.
Fill-in first baseman Miguel Cairo made two errors on one play in the 13th inning, allowing the Los Angeles Angels to edge the New York Yankees 2-1 after a spirited pitchers' duel between Roger Clemens and John Lackey on Saturday.
Cairo, subbing at first for ailing Andy Phillips, made three of New York's five errors, its most in nearly five years. Cairo singled in the bottom of the 13th and reached third, but Francisco Rodriguez (2-2) struck out Melky Cabrera and retired Derek Jeter on a close forceout with runners at the corners.
Fittingly, Clemens was in top form on Old-Timers' Day at Yankee Stadium. The Rocket, who will turn 45 next month, was older than five of the former players in attendance.
Clemens went pitch-for-pitch with Lackey, who matched his career high with 11 strikeouts.
Howie Kendrick doubled off Luis Vizcaino (4-2) to start the 13th before Jose Molina hit a grounder to the right of Cairo.
He made a diving stop and then made an errant toss behind Vizcaino, allowing Kendrick to score.
Orioles 3, Rangers 0
At Arlington, Texas, Erik Bedard struck out 15 to tie a franchise record and allowed two hits in his first career shutout to lead Baltimore.
Bedard (7-4) faced the minimum 27 hitters. Desi Relaford singled with one out in the first and Sammy Sosa singled leading off the eighth, but Bedard induced double-play grounders to erase each runner.
Bedard, who did not walk a batter, leads the big leagues with 149 strikeouts.
Jay Gibbons homered for Baltimore, which posted its fourth shutout of the season.
Tigers 3, Red Sox 2
At Detroit, Ivan Rodriguez's two-out RBI single in the 13th inning gave Detroit the win.
David Ortiz homered, doubled and walked four times -- he was walked three times intentionally -- for Boston, but the Red Sox left 12 runners on base and didn't score after two first-inning runs.
While the Tigers avoided their 1,000th defeat to the Red Sox, they did lose All-Star second baseman Placido Polanco in the eighth inning to a strained rib cage muscle.
Carlos Guillen took a called third strike in the 13th, but Rodriguez lined a 1-0 pitch into the right-center field gap and the ball glanced off the glove of a diving Coco Crisp as Sheffield trotted home.
Mariners 4, Athletics 0
At Oakland, Felix Hernandez held Oakland scoreless for a second straight start and Adrian Beltre homered for the third time in two games for Seattle.
Coming off a 5-for-5, two homer game on Friday, Beltre helped Seattle make short work of Rich Harden in his return to the Oakland rotation by hitting a three-run homer in the second inning. Harden (1-2) couldn't make it out of the third, leaving with a 4-0 deficit after intentionally walking Beltre.
Indians 9, Blue Jays 4
At Toronto, Casey Blake hit a three-run homer and Fausto Carmona won back-to-back starts for the first time in almost two months for Cleveland.
Blake's homer, his second in as many days, was one of four by the Indians, who also got solo shots from Victor Martinez, Grady Sizemore and Trot Nixon.
White Sox 3, Twins 1
At Chicago, Mark Buehrle pitched eight shutout innings to cool off Minnesota's sizzling offense and Paul Konerko hit a two-run homer for Chicago.
The White Sox's victory came a day after they were pummeled in a day-night doubleheader by the Twins, losing 20-14 and 12-0 -- the most runs they'd given up in back-to-back games since 1930.
Comments will be moderated. Keep comments relevant to the article. Remarks containing abusive and obscene language, personal attacks of any kind or promotion will be removed and the user banned. Final decision will be at the discretion of the Taipei Times.