Unheralded Guadeloupe beat Honduras
SEMI-FINAL SET The French island territory scored in the 17th and 21st minutes and weathered a 71st minute goal for the win. The team will face Mexico in Chicago next
Unheralded Guadeloupe made two early goals stand up for a surprising 2-1 victory over Honduras in the quarter-finals of the CONCACAF Gold Cup on Sunday in front of 70,092 fans at Reliant Stadium.
Guadeloupe will play against Mexico on Thursday in Chicago in the semi-finals.
The defending champion US team will play Canada in the other semi-final.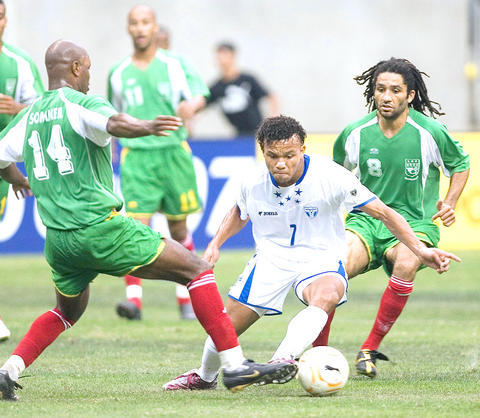 Honduras' Emil Martinez, No. 7, dribbles through Guadeloupe's David Sommeil, No. 14, and Stephane Auvray during their Gold Cup quarter-final match in Houston, Texas, on Sunday. Guadeloupe won 2-1.
PHOTO: AP
Guadeloupe's Stephane Auvray said the team's original goal was to move onto the second round.
"Now we are in the semi-finals and we want to win," he said.
"But if we lose, we lose. We know that everybody thinks we are the small team," he said. "So we just have to play. The pressure is with them."
The victory by Guadeloupe, a French territory, could eventually prove problematic for FIFA should Guadeloupe win the event. The winner of the Gold Cup qualifies for the 2009 FIFA Confederations Cup in South Africa and Guadeloupe cannot play in that tournament because FIFA doesn't recognize the Caribbean island as a country.
"We have been playing like that for 15 years and we are proud to be a state of France. We want to keep it that way," coach Roger Salnot said.
In the 17th minute, Guadeloupe's Richard Edward Socrier headed the ball to 42-year-old midfielder Jocelyn Angloma, who scored from 10m out with Honduras goalkeeper Orlin Vallecillo tipping the ball as it went in. Angloma played for the French national team before retiring in 2002 and coming back to play for his native country last year.
Just four minutes later, Socrier scored for a 2-0 lead that Guadeloupe took into halftime.
Angloma said the team won a very hard games.
"We know that we are a very small team, but we hang in there and we scored the goals at the right time to make the semi-finals," he said. "It's going to be very hard against Mexico. Its normal."
Honduras' high-scoring tandem of Carlos Costly and Carlos Pavon, who had combined for seven goals in the three previous Gold Cup matches, were mostly held in check. Costly failed to score and was replaced in the 67th minute, while Pavon scored in the 71st minute off a header from Mario Ivan Guerrero.
"We paid more attention to their name and history and didn't give them they attention they deserved," Honduras coach Reinaldo Rueda said.
Comments will be moderated. Keep comments relevant to the article. Remarks containing abusive and obscene language, personal attacks of any kind or promotion will be removed and the user banned. Final decision will be at the discretion of the Taipei Times.