Lee, Soriano lead Cubs over Nats
Derrek Lee homered, Alfonso Soriano had a key RBI double before scoring the go-ahead run against his former team and the Chicago Cubs rallied from four runs down to beat the Washington Nationals 6-4 on Friday.
Playing for the first time against the team for which he hit 46 homers and stole 41 bases last season, Soriano tied the game with a two-out RBI double in the fourth inning. He scored Chicago's fifth run on Cliff Floyd's single.
In the third, Soriano started a three-run rally by beating out an infield single. One out later, Lee followed with a two-out, two-run homer. It was Lee's second homer of the season.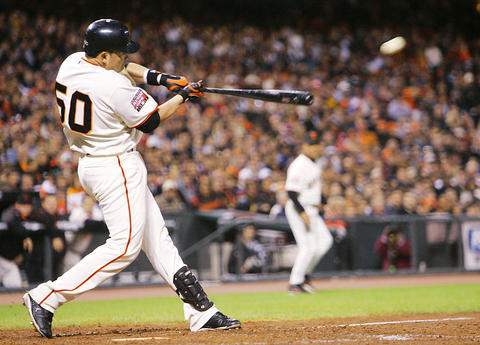 The San Francisco Giants' Eliezer Alfonzo hits a bases-loaded double off Philadelphia Phillies pitcher Jamie Moyer to drive in three runs in the seventh inning of their game in San Francisco on Friday. The Giants won 6-2.
PHOTO: AP
Chicago starter Carlos Zambrano (3-2) gave up a three-run homer to Austin Kearns in a four-run first inning and lasted six innings, giving up six hits and four runs. Ryan Dempster pitched the ninth for his sixth save in as many chances.
Marlins 5, Padres 4
At Miami, Josh Willingham and Joe Borchard hit consecutive home runs to start the eighth inning to help Florida rally past San Diego.
The back-to-back homers -- the first this season by Florida -- came off Scott Linebrink (1-1), who entered the game with a 4-3 lead.
Braves 4, Dodgers 0
At Atlanta, John Smoltz beat Los Angeles for the first time in more than eight years, pitching seven shutout innings in a matchup of first-place teams.
Brian McCann celebrated his return to the lineup with a two-run double and Jeff Francoeur drove in Atlanta's other runs with a fifth-inning single.
Cardinals 3, Astros 2
At St. Louis, Albert Pujols hit a go-ahead two-run double in the fifth inning and St. Louis ended a five-game losing streak.
Pitcher Adam Wainwright (2-2) allowed two runs and seven hits in six innings.
Rockies 6, Reds 5
At Cincinnati, shortstop Troy Tulowitzki's two-out single snapped an 11th-inning tie with Cincinnati and ended Colorado's streak of Midwest misery.
Colorado overcame Ken Griffey Jr.'s 567th career homer and another bullpen meltdown to break its 12-game losing streak in Ohio.
Brewers 10, Pirates 0
At Milwaukee, J.J. Hardy, Prince Fielder and Johnny Estrada all homered and Claudio Vargas gave up four singles in six innings to lead Milwaukee past Pittsburgh.
Hardy had four hits to extend his hitting streak to 15 games, and drove in three runs. Fielder had four RBIs and Rickie Weeks had three hits and scored three runs.
Mets 5, Diamondbacks 3
At Phoenix, Paul Lo Duca and Julio Franco homered against Randy Johnson to lead New York over Arizona.
John Maine (5-0) pitched six innings for the Mets, who won their 12th straight game at Chase Field.
Giants 6, Phillies 2
At San Francisco, pinch-hitter Eliezer Alfonzo hit a bases-clearing double in the seventh that put San Francisco ahead with its first runs of the game and the Giants scored three more in the eighth to beat Philadelphia.
Matt Morris (4-1) beat the Phillies for the second straight year following a four-start winless stretch that featured a pair of no-decisions and two losses.
Nick Markakis singled in the winning run in the bottom of the 10th inning, giving the Baltimore Orioles a 3-2 comeback victory over the Cleveland Indians in the American League on Friday.
Jay Payton homered and scored the decisive run for the Orioles, who went on to snap a four-game losing streak.
b<>Mariners 15, Yankees 11
At New York, Yuniesky Betancourt hit a tiebreaking two-run double in an eight-run fifth inning and Seattle scored its most runs in three years.
Jose Guillen, Kenji Johjima, Betancourt and Jose Lopez -- the bottom four batters in Seattle's starting lineup -- combined to go 9-for-18 with 10 RBIs.
Athletics 5, Devil Rays 2
At St. Petersburg, Florida, Nick Swisher hit a tiebreaking three-run homer with two outs in the ninth inning for Oakland.
Shannon Stewart walked and Mark Ellis singled off Gary Glover (0-2) with one out in the ninth. Reliever Brian Stokes struck out Eric Chavez before Swisher hit a 2-2 pitch into the right-field stands.
Red Sox 2, Twins 0
At Minneapolis, Tim Wakefield limited Minnesota to three hits in seven innings and David Ortiz homered to lead Boston to its third straight win.
Wakefield (3-3) didn't allow a runner past second base against the AL's top-hitting team.
Rangers 7, Blue Jays 1
At Arlington, Texas, Hank Blalock hit a two-run homer, Brandon McCarthy pitched six sharp innings and Texas snapped a five-game losing streak.
McCarthy (2-4) allowed one run and two hits with four walks.
Tigers 6, Royals 3
At Kansas City Missouri, Justin Verlander maintained his mastery of Kansas City and Detroit won its fifth straight.
The hard-throwing Verlander gave up seven hits and two runs in seven-plus innings. Todd Jones worked the ninth for his league-leading 11th save in 13 chances.
Angels 5, White Sox 1
At Anaheim, California, Kelvim Escobar allowed one run in seven innings and Los Angeles beat Chicago to make Mike Scioscia the most successful manager in franchise history.
Escobar (3-1) struck out four and walked two.
Comments will be moderated. Keep comments relevant to the article. Remarks containing abusive and obscene language, personal attacks of any kind or promotion will be removed and the user banned. Final decision will be at the discretion of the Taipei Times.