Watney makes move into lead at Zurich Classic
Nick Watney fired a four-under-par 68 here on Saturday to seize the third-round lead in the US$6.1 million Zurich Classic as overnight leader Mark Calcavecchia faltered.
Watney, hoping to give himself an early present in advance of his 26th birthday on Thursday, held a two-shot lead after 54 holes on 12-under 204.
His nearest rival is another player in search of a first PGA Tour victory, Ken Duke, who carded a 66 for 206.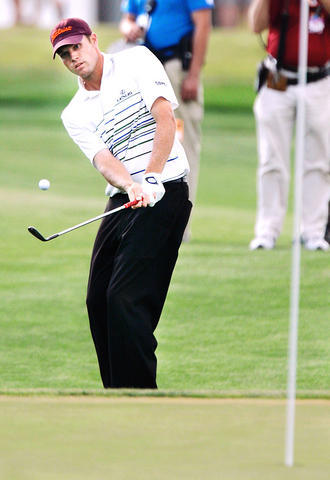 Nick Watney chips onto the 17th green during the third round of the Zurich Classic in Avondale, Louisiana, on Saturday. Watney shot a 68 in the third round and leads with a 12 under par.
PHOTO: AP
"I'm excited for tomorrow," Watney said. "I know I'm going to have to play a good round. I won't be trying to protect anything. I know that the guys are going to come charging.
"I haven't been leading going into the final round and obviously it's just a place you want to be," he said.
Calcavecchia, the 1989 British Open champion whose 13 US tour titles include the Pods Championship last month, started the day with a one-stroke lead.
He shot par to fall into a third-place tie with Scott Gutschewski (67) on 201.
"The good news was I hit it a lot better the last six holes," Calcavecchia said. "Started out OK and then hit one in the water on four off the tee, misjudged the wind a little bit. I tried to cut my drive back against the wind and it just kept cutting, hopped in the edge of the water and made double there."
"You know, from that point on you're kind of fighting it," he said. "I was able to make a couple birdies but then made a bad bogey on 16 and kind of wrecked the day a little bit."
To make matters worse, Calcavecchia injured his back late in the round.
"I self-injured myself," he said. "I decided to throw my hat on the ground and I hurt my back."
Comments will be moderated. Keep comments relevant to the article. Remarks containing abusive and obscene language, personal attacks of any kind or promotion will be removed and the user banned. Final decision will be at the discretion of the Taipei Times.