Nadal overpowers Chela in Monaco
KING OF CLAY The world No. 2 needed less than 90 minutes to defeat his Argentine opponent, and third seeded Nikolai Davydenko lost out to Robin Soderling
Fatigue may have forced Rafael Nadal to miss a session on player grievances with ATP supremo Etienne de Villiers, but the Spaniard powered his way to an opening victory of his clay-court season at the Monte Carlo Masters on Wednesday.
The world No. 2 never lost control as he dismissed Argentine Juan Chela 6-3, 6-1 in less than 90 minutes to notch up a 63rd straight victory on the surface.
Nadal's victory means he joined top rival Roger Federer in the third round, though the Swiss needed two tie-break sets on Tuesday to stake his claim.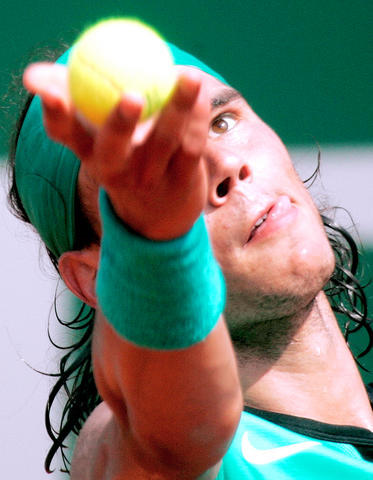 Rafael Nadal prepares to serve to Juan Ignacio Chela during their second round match at the Monte Carlo Tennis Open tournament in Monaco on Wednesday.
PHOTO: AP
Nadal beat No. 1 Federer in the final here a year ago to lift a second consecutive title in the principality.
The Spaniard admitted that an early bedtime on Tuesday night left him out of the loop as Federer, Ivan Ljubicic and respected Spaniard Carlos Moya got together with De Villiers for a chat.
Competitors are upset at calendar changes set for 2009 as well as proposed downgrading of Monte Carlo and Hamburg events from elite Masters status.
"I had to go back to my room and go to sleep after 11pm," Nadal said. "I don't really know how this meeting ended. But all of the players are united. We all agree on what we don't like in the calendar of 2009."
The two-time Roland Garros winner pronounced himself "comfortable" as he played on clay for the first time since last June.
Nadal's record-setting run on clay began in Monte Carlo two years ago with a first round win over France's Gael Monfils.
While Nadal plowed ahead against the 22nd-ranked Chela in occasionally drifting light fog at the cliffside club, Nikolay Davydenko became the first major seed to exit.
The third-seeded Russian lost 6-4, 6-7 (6/8), 6-3 to Swede Robin Soderling.
Davydenko has thus lost twice in his only two clay contests this season having been beaten in a Davis Cup rubber by Frenchman Paul-Henri Mathieu.
Two more seeds stumbled.
Fourth seed Fernando Gonzalez was upended by Russian Igor Andreev 6-2, 2-6, 6-3 while No. 9 Argentine David Nalbandian quit trailing German Philipp Kohlschreiber 7-5, 4-1.
Spain's fifth-seeded Tommy Robredo overwhelmed Frenchman Arnaud Clement 6-3, 6-2 while fast-rising Serb Novak Djokovic, seeded sixth, put out 2004 French Open winner Gaston Gaudio.
The Argentine, a semi-finalist last year, has hit the skids on his favored surface this season, winning just four of ten matches.
Djokovic, who made his top ten breakthrough in recent weeks after an Indian Wells final and his title in Miami, said: "Today's match was difficult for me."
Comments will be moderated. Keep comments relevant to the article. Remarks containing abusive and obscene language, personal attacks of any kind or promotion will be removed and the user banned. Final decision will be at the discretion of the Taipei Times.