50 from Kobe can't stop Clippers
SNAPPED The win ended a losing streak that had put LA's 'other' team in danger of falling out of a tie for the final playoff spot in the NBA's Western Conference
Corey Maggette scored a career-high 39 points, Elton Brand added 32, and the Los Angeles Clippers rallied to beat the Los Angeles Lakers 118-110 on Thursday despite Kobe Bryant's 50 points.
Bryant's nine 50-point games this season are the most in the NBA since Wilt Chamberlain scored at least 50 nine times in the 1964-1965 season. Chamberlain averaged a record 50.4 points three years earlier.
The win snapped a poorly timed three-game losing streak for the Clippers (38-40), who are tied with Golden State for the eighth and final playoff berth in the Western Conference. Both trail the seventh-place Lakers by 1.5 games.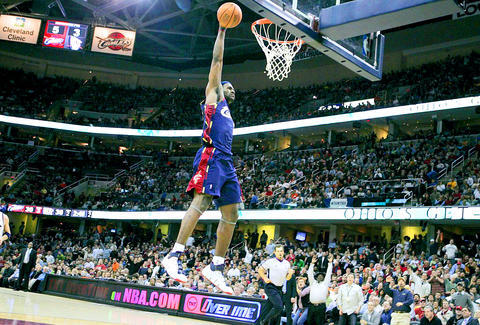 LeBron James of the Cleveland Cavaliers goes up for a breakaway dunk against the New Jersey Nets during the second quarter of their NBA game at Quicken Loans Arena in Cleveland, Ohio, on Thursday. The Cavaliers won 94-76.
PHOTO: EPA
Bryant shot 17-of-33 from the floor and made all 15 of his free throws. He also had nine rebounds, but was held scoreless after making two foul shots to give the Lakers a 102-92 lead with 8:46 remaining.
The Clippers outscored the Lakers 26-8 after that.
Cavaliers 94, Nets 76
At Cleveland, LeBron James looked playoff ready. The New Jersey Nets aren't quite there yet.
James scored 35 points in 36 minutes and Cleveland secured home-court advantage for the first round of the NBA playoffs with a win over New Jersey, which blew a chance to inch closer to a postseason berth.
Larry Hughes added 19 points for Cleveland (47-32), which tied idle Chicago (47-32) for the No. 2 seed in the Eastern Conference. The Cavs have three games left, and they'll likely have to win them all and hope the Bulls -- who own the tiebreaker between the clubs -- stumble to avoid a first-round matchup against the Miami Heat.
With a few trademark dunks, and more energy than he's shown in recent weeks, James took over in the third quarter, scoring 15 points when the Cavaliers shot 82 percent (14-of-17) from the field to blow the game open.
Vince Carter scored 26 points to lead the Nets (37-41), who came in as the East's No. 7 seed.
A victory would have reduced New Jersey's magic number for clinching a sixth straight playoff appearance to one. However, the Nets were out of synch offensively and got just five points from Richard Jefferson and only eight from Jason Kidd.
Comments will be moderated. Keep comments relevant to the article. Remarks containing abusive and obscene language, personal attacks of any kind or promotion will be removed and the user banned. Final decision will be at the discretion of the Taipei Times.