Vancouver victorious in epic battle against Stars
LONG NIGHT The Canucks needed more than five hours to subdue the Dallas Stars and take a lead in the best-of-seven Western Conference playoff series
Henrik Sedin ended the sixth-longest NHL playoff game 18:06 into the fourth overtime and Roberto Luongo made 72 saves to lift the Vancouver Canucks to a 5-4 win over the Dallas Stars in the opener of their first-round, Western Conference playoff series on Wednesday night.
Daniel Sedin came out from behind the net and spotted his identical twin brother cutting into the slot, where Henrik snapped a shot between the legs of Marty Turco early the early hours of yesterday morning.
Luongo set the record for saves in a first career playoff start, and the Canucks recovered after blowing a two-goal lead. Antii Miettinen and Ladislav Nagy scored in the third period to rally the Stars from a 4-2 deficit and force overtime.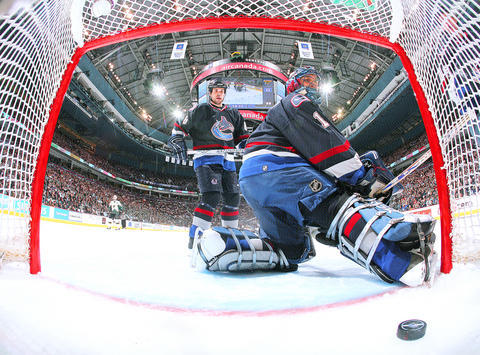 Goaltender Roberto Luongo, right, and Willie Mitchell of the Vancouver Canucks look back at the puck in the net after a Dallas Star goal during their NHL playoff game at General Motors Place in Vancouver, Canada, on Wednesday.
PHOTO: AFP
It took more than five hours for Vancouver to grab a lead in the best-of-seven series scheduled to continue in Vancouver today, less than 42 hours after the conclusion of Game 1.
Luongo, who finished one save short of Kelly Hrudey's playoff record of 73, made three huge stops early in the second overtime. Turco made 51 saves for Dallas.
Sharks 5, Predators 4
At Nashville, Tennessee, Patrick Rissmiller scored at 8:14 of the second overtime, and San Jose beat Nashville after blowing a two-goal lead in the opening game of the Western Conference first-round series.
Rissmiller, who scored only seven goals in the regular season, beat Tomas Vokoun with a shot from the edge of the left circle after taking a crisp pass from Patrick Marleau.
San Jose squandered a 4-2 lead after two periods, an advantage built with three goals in the middle frame after the Sharks lost top goal scorer Jonathan Cheechoo to an injured right knee.
But the Predators scored twice in the final 6:55 of regulation to force the first overtime in the franchise's short postseason history.
Alexander Radulov scored his second goal with 7:05 left, and J.P. Dumont netted his second with 50.4 seconds remaining in regulation, tipping a slap shot from Shea Weber past Evgeni Nabokov's glove.
Senators 6, Penguins 3
At Ottawa, Andrej Meszaros and Chris Kelly scored 5:01 apart early in the first period and Ottawa ruined Sidney Crosby's playoff debut with a win over Pittsburgh in Game 1 of the Eastern Conference first-round series.
Tom Preissing made it 3-0 with a power-play goal 14:38 into second after Ottawa scored twice on Marc-Andre Fleury in the opening period when the Senators had a 16-4 shots advantage.
The 19-year-old Crosby, who led the NHL with 120 points, scored the game's final goal at 19:11 for his first playoff point. He also had a goal waved off 37 seconds into the third after Dany Heatley put Ottawa up 4-1 with a power-play goal 28 seconds earlier.
Game 2 of the best-of-seven series is tomorrow in Ottawa.
Ducks 2, Wild 1
At Anaheim, California, Dustin Penner scored with 5:20 remaining to lift Anaheim over Minnesota in the opening game of their first-round playoff series.
Game 2 of the best-of-seven Western Conference matchup is today in Anaheim.
Comments will be moderated. Keep comments relevant to the article. Remarks containing abusive and obscene language, personal attacks of any kind or promotion will be removed and the user banned. Final decision will be at the discretion of the Taipei Times.