PGA players rub shoulders with fans before Masters
Augusta National was filling up on Monday ahead of this year's Masters as the world's best golfers rubbed shoulders with an advance party of fans ahead of tomorrow's opening round.
Top two favorites -- Tiger Woods and Phil Mickelson -- have won a combined five out of the last six tournaments and have already gotten their Masters campaigns off and running.
Woods, seeking a fifth green jacket, played a practice round on Sunday for the first time in this, his 13th appearance at Augusta.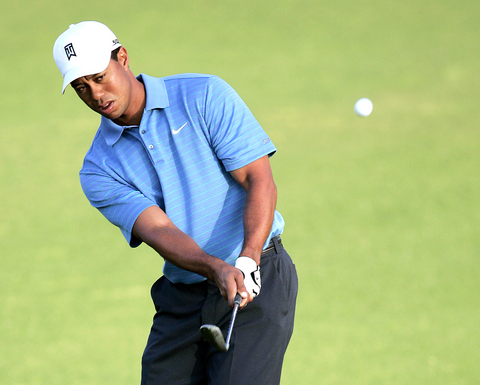 Tiger Woods chips to the second hole as he practices for the Masters tournament at the Augusta National Golf Club in Augusta, Georgia, on Monday. First round play will begin tomorrow.
PHOTO: AP
The world No. 1 played nine holes in the early afternoon, enjoying some practice in relative peace and quiet before the doors opened for the crowds on Monday.
The 31-year-old US player was due to talk more to the press early yesterday afternoon to share his thoughts as he bids for a third straight win in a major and the 13th in his career.
Defending champion Mickelson has been at Augusta since Thursday and Sunday marked the first time he had carded a hole-in-one on the course, aceing the par-three 16th with an eight-iron.
His playing partner was young Richie Ramsay, who earned an invite to his first Masters by winning the US Amateur Championship.
Ramsay used the occasion to get some inside information on how to handle the fabled course.
"Just picked his brain about a few things around the greens," he said. "Who better to ask than the Masters champion. Huge fun but productive at the same time."
Since the second Masters in 1935, the only time a debutante has claimed the green jacket was when Fuzzy Zoeller won in 1979.
But Woods said the Masters was the easiest major to win once you learn how to solve the mysteries of Augusta.
"If you're playing well, probably, yeah," Woods said. "It takes a lot more experience than people think to know how to play the golf course. You have to learn it over time -- practice rounds."
"I was lucky enough where I was able to play practice rounds with all of the past champions ... All of these guys invited me to come play with them as an amateur and I would sit there and just pick their brain until they were crazy," he said.
More than half of the 97-strong field for the 71st Masters had registered at Augusta by Sunday.
That tournament, which has been moved forward in the new USPGA schedule, was won by 26-year-old Australian Adam Scott, moving him to a career-best third in the world rankings and establishing him as one of the best threats to break the stranglehold maintained by Woods and Mickelson.
Reminded that last year Mickelson won in Houston before going on to lift his second Masters the following week, Scott was reticent to forecast a similar accomplishment for himself.
"I feel great about my game, but I'm certainly not predicting a win at Augusta," he said.
Comments will be moderated. Keep comments relevant to the article. Remarks containing abusive and obscene language, personal attacks of any kind or promotion will be removed and the user banned. Final decision will be at the discretion of the Taipei Times.