Arenas battles his way to 38 points and a win
Trying his best to shoot himself out of a slump, Gilbert Arenas launched a few bricks and rattled a few home on Tuesday on his way to 38 points as the Washington Wizards beat the Minnesota Timberwolves 112-100.
Arenas, who has struggled with his jump shot all month, relied on lay-ups and free throws for most of his points. He went 12-for-24 from the field and 13-for-15 from the line but made only 1 of 8 from 3-point range -- including an air ball -- and is 10-for-57 behind the arc over his last seven games.
Kevin Garnett led the Timberwolves with 26 points on 8-for-17 shooting and had 13 rebounds.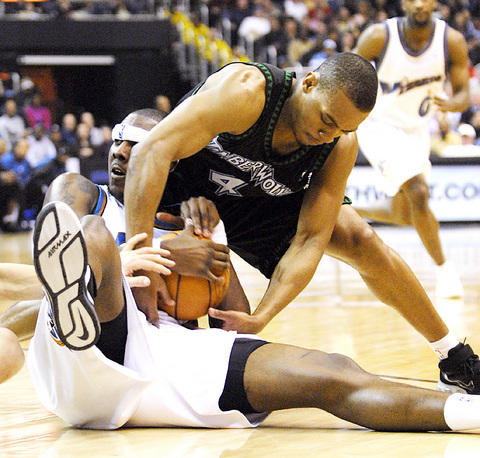 The Washington Wizards' Andray Blatche, bottom, fights for the ball against the Minnesota Timberwolves' Randy Foye during their NBA basketball game in Washington on Tuesday. The Wizards beat the Timberwolves 112-100.
PHOTO: AP
Bobcats 104, Hornets 100
At Charlotte, North Carolina, Raymond Felton had 21 points and 11 assists, and outplayed Chris Paul in a battle of second-year point guards to lead the Bobcats over the Hornets.
Felton, the fifth pick in the 2005 draft, scored nine points in the fourth quarter when the Bobcats pulled away in a bruising game that included a shoving match and five technical fouls.
Paul, the fourth pick in the draft and a former college opponent of Felton, had 20 points and seven assists, but the Hornets lost for only the fourth time in 13 games.
Pistons 84, Bucks 83
At Milwaukee, Chauncey Billups scored 19 points to help Detroit hold off Milwaukee.
Milwaukee's Charlie Bell scored on a driving layup to cut the Detroit lead to 1 with 30.9 seconds remaining. Rasheed Wallace then missed an off-balance jumper with the shot clock running out, giving the Bucks a shot at the victory with 7.1 seconds remaining.
Mo Williams inbounded the ball to Andrew Bogut. He gave it back to Williams, who drove the lane and missed a layup.
Detroit spoiled the return of Milwaukee star Michael Redd, who played for the first time since straining the patellar tendon in his left knee Jan. 5. Redd scored 17 in limited minutes for Milwaukee, shooting 7-for-18 from the field.
Knicks 100, Magic 94
At New York, Jamal Crawford and Eddy Curry each scored 20 points to lead New York to its 24th win, surpassing last season's total.
The victory moved them to within three games of the eighth and final playoff spot in the Eastern Conference.
The Orlando Magic and the Miami Heat (26-26) are now tied for seventh place.
Dwight Howard led the Magic with 27 points and 14 rebounds.
Bulls 106, Hawks 81
At Chicago, Chris Duhon scored 17 points and Chicago held Atlanta without a field goal in the third quarter.
It was the first time the Bulls held a team without a field goal in a quarter. Chicago's previous best was holding the Knicks to a single basket in a quarter in 1999.
Atlanta was outscored 28-8 in the third quarter and finished the period 0-for-16 from the field.
Salim Stoudamire gave the Hawks their first basket of the second half on a three-point play with 10:34 left in the game.
Kirk Hinrich and Luol Deng added 16 points each for the Bulls, who won for just the second time in seven games.
Spurs 95, Nuggets 80
At San Antonio, Tony Parker scored 17 points to lead San Antonio over Denver, spoiling the return of Allen Iverson.
Denver. Iverson missed nine of the Nuggets' last 10 games before the All-Star break with a right ankle sprain. He scored nine points in his first game back.
Manu Ginobili added 14 points and Tim Duncan had 12 during the Spurs' first home game since they went on a road trip, where they split their eight games.
Carmelo Anthony led Denver with 15 points, Nene had 13 and DerMarr Johnson had 11.
SuperSonics 121, Grizzlies 105
At Seattle, Rashard Lewis returned to his early season form, scoring 21 of his 34 points in the first half, and Seattle won its third straight, beating Memphis.
Lewis missed 22 games in late December, January and earlier this month with an injured shooting hand. Before his Dec. 20 injury, Lewis was making a strong argument to at least be in the All-Star discussion.
Mike Miller led the Grizzlies with 20 points and Rudy Gay finished with 19. Pau Gasol added 17 points and 12 rebounds, but went nearly one-and-a-half quarters without scoring.
Kings 104, Celtics 101
At Sacramento, California, Kevin Martin scored 22 points and Ron Artest added 18 and a key blocked shot as Sacramento sent Boston to its 19th loss in 20 games.
The Kings managed just one field goal and five points in the final 9:37, but still held off the Celtics' late rally. Brad Miller scored Sacramento's final points on two free throws with 1:37 to play, and Artest blocked Al Jefferson's shot under the basket to thwart one of Boston's several attempts to get closer.
Paul Pierce scored 26 points and Delonte West had 23 before missing a 3-pointer at the buzzer for the Celtics, whose franchise-record 18-game losing skid ended with a win over Milwaukee right before the All-Star break.
Trail Blazers 103, Jazz 100
At Portland, Oregon, Brandon Roy scored 27 points to lead the Trail Blazers over the Jazz.
Zach Randolph added 20 points and 12 rebounds for the Blazers, who beat Utah for the first time in their last six tries. Ime Udoka had 15 points.
Mehmet Okur had 25 points and eight rebounds to lead Utah, which saw its six-game win streak end.
Suns 115, Clippers 90
At Los Angeles, two-time MVP Steve Nash had 13 points and 12 assists in his return, and Shawn Marion scored 31 points and Phoenix trounced the Los Angeles Clippers.
Comments will be moderated. Keep comments relevant to the article. Remarks containing abusive and obscene language, personal attacks of any kind or promotion will be removed and the user banned. Final decision will be at the discretion of the Taipei Times.