Miami's Kapono wins Three-Point Shootout in Vegas
Miami forward Jason Kapono won the Three-Point Shootout in NBA All-Star events on Saturday, beating stars Gilbert Arenas and Dirk Nowitzki with a final-round 24 -- just one shy of the record.
Kapono, the fourth-year pro who finally blossomed with the Heat this season, tied Mark Price's final-round record and fell just one point shy of Craig Hodges' overall mark with an impressive performance leading off the last round.
Memphis' Mike Miller was eliminated from the six-man competition despite posting an 18, the highest score by a first-round loser since 1996. Cleveland's Damon Jones and Dallas' Jason Terry also failed to advance from the first round.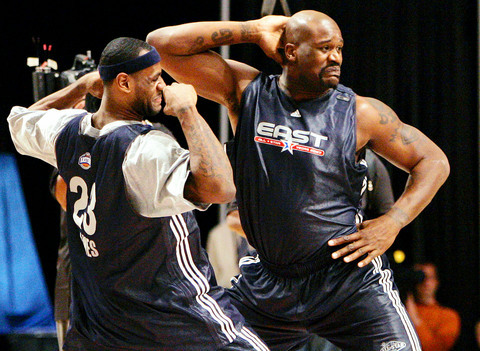 Shaquille O'Neal, right, of the Miami Heat, and LeBron James of the Cleveland Cavaliers dance during NBA All-Star basketball practice in Las Vegas, Nevada, on Saturday.
PHOTO: AP
The final round wasn't nearly as competitive after Kapono led off with his 24, making 11 straight early shots and finishing with six baskets in his last eight. He got ecstatic high-fives from Miami teammates Shaquille O'Neal and Alonzo Mourning.
After Nowitzki, the defending champion, managed a nine, Arenas posted a 17 -- and Kapono became the latest in a long line of shooting specialists to best more complete players in this particular event.
Even before Kapono's performance, Las Vegas put on a show on the All-Star weekend's busiest night, complete with a disqualification and a repeat champion.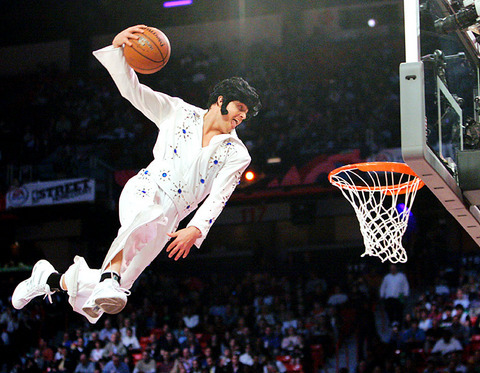 A member of the Kings of the Court troupe attempts a dunk at All-Star Saturday Night, a part of the NBA All-Star weekend in Las Vegas on Saturday.
PHOTO: AP
There also was an entertaining sideshow: NBA star turned broadcaster Charles Barkley beat 67-year-old NBA referee Dick Bavetta in a footrace for charity.
Though Barkley, who turns 44 tomorrow, has gained weight exponentially since his playing career, he still had enough spring to outrun Bavetta over three-and-a-half lengths of the court.
Barkley nearly lost when he began running backward for the final feet, but tumbled over the half-court line just before Bavetta made a headfirst dive.
Barkley, whose gambling exploits have been well-documented, looked at the oversized check donated to charity for the event and commented it was "two blackjack hands."
Empty seats still were visible in the Thomas and Mack Center during the early competitions, but many celebrities and athletes got there early.
The court was ringed with current and former NBA players, along with baseballer Barry Bonds, Usher, state of California first lady Maria Shriver, and actresses Eva Longoria and Queen Latifah.
Shooting Stars
The evening got off to an appropriately silly start in the Shooting Stars competition, featuring three-person teams composed of an NBA player, a WNBA player and a former NBA great from the same city.
Detroit's team, which consisted of Chauncey Billups, Swin Cash and Bill Laimbeer won when Chicago's team was disqualified from the final round for shooting out of order.
Scottie Pippen, the 41-year-old who announced comeback plans on Friday, thought he had led his club to victory when he banked in a half-court shot, but video replay revealed Ben Gordon's mixup with Candice Dupree.
Skills Challenge
Dwyane Wade defended his title in the Skills Challenge with a perfect final run through the obstacle course to beat Kobe Bryant in 26.4 seconds.
Wade and Bryant eliminated LeBron James and Chris Paul in the first round.
Comments will be moderated. Keep comments relevant to the article. Remarks containing abusive and obscene language, personal attacks of any kind or promotion will be removed and the user banned. Final decision will be at the discretion of the Taipei Times.