Wade's 27 helps the Heat burn Bobcats by 113 to 93
Dwyane Wade scored 27 points and Shaquille O'Neal had his best scoring performance since returning from knee surgery to lead the Miami Heat to a 113-93 victory over the Charlotte Bobcats on Monday night.
O'Neal, who missed 32 games, hit his first four shots and scored 19 first-half points on 9-of-10 shooting. He finished with 22 points and was one of six players in double figures.
The Heat played without point guard Gary Payton, suspended by the league following his ejection for arguing with officials during Saturday's win at Milwaukee. Rookie Chris Quinn made his first career start and finished with 14 points.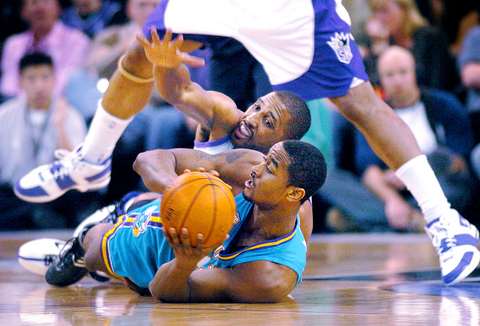 New Orleans Hornets forward Hilton Armstrong, bottom, battles Sacramento Kings forward Shareef Abdur-Rahim for a loose ball during the first half of an NBA basketball game in Sacramento, California, on Monday.
PHOTO: AP
Raymond Felton scored 20 points, and Emeka Okafor and Gerald Wallace each scored 19 for the Bobcats.
Suns 113, Nuggets 108
At Denver, Amare Stoudemire scored 36 points and Phoenix withstood Carmelo Anthony's first career triple-double and the loss of Steve Nash to beat ailing Denver.
Leandro Barbosa added 20 points for the Suns, who had lost two of three after winning 17 straight. Shawn Marion (19 points) and Raja Bell (18) each sank two free throws in the final 12 seconds.
Warriors 113, Pacers 98
At Indianapolis, Stephen Jackson scored a season-high 36 points against his former team and Golden State beat Indiana.
Jackson was a key part of the eight-player trade between the teams on Jan. 17 and this was the first meeting between the teams since.
76ers 100, Nets 98, OT
At Philadelphia, Andre Iguodala had 23 points, 15 assists and seven rebounds to lead Philadelphia over New Jersey, the Nets' second overtime loss in two days.
Samuel Dalembert scored 14 points and grabbed 17 rebounds, and Andre Miller had 18 points to give the Sixers their fifth win in eight games.
Wizards 118, SuperSonics 108
At Washington, Caron Butler scored a career-high 38 points to help Washington overcome Gilbert Arenas' mediocre night and beat Seattle, the SuperSonics' franchise-record 15th consecutive road loss.
Arenas was held to 16 points on 4-for-14 shooting. But Brendan Haywood added a season-high 20 points and 11 rebounds, second-year forward Andray Blatche contributed a career-high 14 points and DeShawn Stevenson added 15 points.
Ray Allen led Seattle with 29 points, but he shot only 3-for-14 after halftime. Chris Wilcox had 24 points and 10 rebounds for the SuperSonics, who have lost five in a row overall.
Lakers 90, Hawks 83
At Atlanta, Kobe Bryant, mostly quiet through three quarters, scored nine straight fourth-quarter points to lead Los Angeles.
Bryant scored 27 points, including 11 in the final period, as the Lakers swept the Hawks for the first time in seven years. The Lakers improved to 3-2 on their eight-game road trip with their second straight win.
Joe Johnson led Atlanta with 27 points but made only 10 of 26 shots. Josh Smith scored 20 points and Zaza Pachulia added 14.
Rockets 105, Timberwolves 77
At Houston, Tracy McGrady scored 16 of his 32 points in the third quarter to lead Houston.
Luther Head went 5-for-7 from 3-point range and had 20 points, and Juwan Howard had 20 points and eight rebounds for the Rockets, who've won nine of 13 games since an overtime loss to the Timberwolves in Minnesota on Jan. 7.
Jazz 100, Bulls 95
At Salt Lake City, Mehmet Okur scored 12 of Utah's final 14 points and the Jazz swept the Bulls for the first time in five years.
Okur finished with 20 points, scoring 12 straight despite playing with five fouls through most of the fourth quarter.
Kings 105, Hornets 99
At Sacramento, California, Ron Artest scored 20 points and tied a career high with nine assists to help the Kings win their third straight game.
Comments will be moderated. Keep comments relevant to the article. Remarks containing abusive and obscene language, personal attacks of any kind or promotion will be removed and the user banned. Final decision will be at the discretion of the Taipei Times.