Red Wings storm back to beat Rangers
Henrik Zetterberg capped Detroit's three-goal third period with a power-play score and the Red Wings overcame Dominik Hasek's shaky start to beat the New York Rangers 4-3 on Monday night.
Zetterberg got to a loose puck off the stick of Rangers forward Blair Betts in front of the New York net and quickly slammed in a shot to break a 3-3 tie with 7:24 left. The shot gave Detroit its fourth straight win and eighth in 11 games.
The Red Wings will certainly want more trips to New York than the current schedule allows. Their last two road games have both been in the metropolitan area and featured big third periods in comeback victories.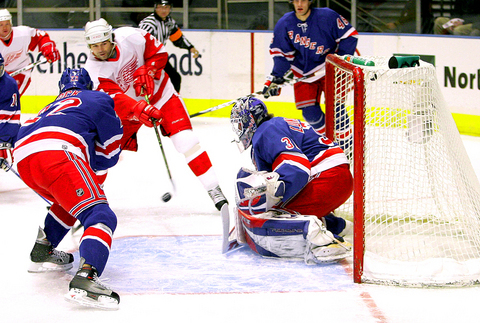 The New York Rangers' Henrik Lundqvist, right, and Thomas Pock, left, defend the net against the Detroit Red Wings' Robert Lang during the first period of their NHL game on Monday at Madison Square Garden in New York.
PHOTO: AP
Detroit, which hadn't played in Madison Square Garden since Oct. 25, 2003, erased a 3-0 deficit to the Islanders in the third period last week before winning in overtime.
Zetterberg helped set up Pavel Datsyuk's first-period goal and Jiri Hudler took advantage of a misplay by Rangers goalie Henrik Lundqvist early in the third to make it 3-2. Robert Lang tied it at 10:54.
That made up for Hasek's rare poor early performance. He yielded first-period goals to Brendan Shanahan, Michael Nylander and Marcel Hossa even though the Rangers had only seven shots in the frame.
Hasek earned the victory despite making only 17 saves. Lundqvist stopped 22 shots.
Shanahan, playing in his first game against the Red Wings since leaving as a free agent during the offseason, gave the Rangers the lead just 2:18 in on New York's second shot.
Nylander doubled the advantage 13 seconds later after Hasek flubbed the puck behind his net and Hossa wrapped up the Rangers' most productive period in nearly a month at 14:24.
Lundqvist saved his meltdown until the end after Hasek settled in. Lundqvist committed a costly turnover to Valtteri Fippula that turned into Hudler's ninth goal, then flubbed a soft, bouncing puck that Lang knocked in for the tying tally.
The loss put another crimp in the Rangers' fading playoff hopes. New York has dropped seven of 10 games and 14 of 21, slipping to fourth in the Atlantic Division and 11th in the Eastern Conference. The loss left the Rangers five points out of a playoff spot with 29 games left.
Shanahan, who had 309 goals in nine seasons with Detroit and ranks eighth in Red Wings history with 633 points, has rediscovered his early season scoring touch.
After tallying just one goal in 14 games, Shanahan has three in four contests. His shot from the right circle sailed over the right shoulder of Hasek, who gave just a cursory wave with his glove, for his team-leading 27th goal.
Hasek, third in the NHL in goals-against average, provided even more help to the Rangers on the next shift. The 42-year-old goalie went behind the net to chase Martin Straka's dump-in, but the puck caromed in front to Nylander, who backhanded a shot into the vacated net to make it 2-0.
Datsyuk cut Detroit's deficit in half at 7:24, but Hossa beat Hasek from nearly the same spot as Shanahan.
Comments will be moderated. Keep comments relevant to the article. Remarks containing abusive and obscene language, personal attacks of any kind or promotion will be removed and the user banned. Final decision will be at the discretion of the Taipei Times.