Italy threatens to ban supporters
NOT WELCOME Police inspector Filippo Raciti's death could well have far-reaching consequences for the game of soccer in Italy, with fan-free games now a possibility
The Italian government has announced a series of tough measures to tighten security at soccer matches following the death of a policeman during a riot in Sicily on Friday.
After meeting sports authorities, Interior Minister Giuliano Amato said arrest powers would be beefed up, Italian stadiums not in line with security norms would be forced to play games behind closed doors and clubs would be banned from selling blocks of tickets to visiting teams.
Only five top flight Italian stadiums meet the regulations demanded by 2005 legislation, including the use of cameras and turnstiles. Sports Minister Giovanna Melandri said clubs would be more closely involved in the running of stadiums, which are mostly owned by local councils.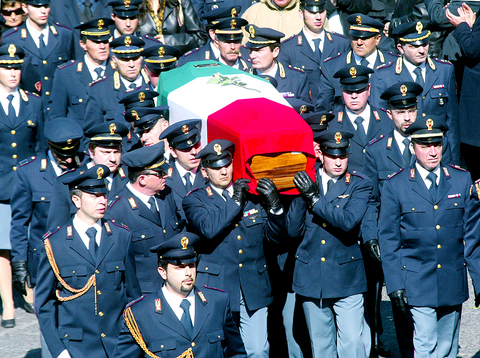 Italian police officers carry the coffin of their colleague Filippo Raciti during his funeral at Catania's Duomo Cathedral in Sicily on Monday.
PHOTO: AP
Italian soccer clubs will also be forbidden from forming financial relationships with militant supporters' groups. An announcement on the restart of the Italian soccer season, which was suspended at the weekend, will probably follow a meeting of the Italian Cabinet later this week, when the new measures are formalized.
"I know it is excessive to have football played without a public, but it is even more excessive that someone should die for football," Amato said.
Amato and Melandri rushed back to the meeting in Rome from Catania on Monday after joining hundreds of mourners at the funeral of police inspector Filippo Raciti. Raciti's widow Marisa Grasso, accompanied by her two children, told the congregation she hoped her husband's death might help ring the changes in violence-ridden Italian soccer.
PHOTO: AP
The Pope sent a telegram, in which he condemned "any violent gesture which stains the game of football."
Police continued to make arrests in Catania, including two men suspected of participating in the riot, which saw Raciti fatally struck by a flying object.
Police also located a stash of "weapons" yesterday hidden inside Catania's Massimino soccer stadium, the scene of the rioting. Baseball bats and iron balls, described by police as offensive weapons, were found in a room used by the stadium's caretaker, who was arrested after he tried to stop the raid by setting dogs on police officers.
Comments will be moderated. Keep comments relevant to the article. Remarks containing abusive and obscene language, personal attacks of any kind or promotion will be removed and the user banned. Final decision will be at the discretion of the Taipei Times.