Cavaliers smother Spurs
LeBron James scored 19 points, Larry Hughes added 18 -- 13 in the fourth quarter -- and the Cleveland Cavaliers' defense smothered and frustrated San Antonio during a rugged 82-78 win over the Spurs on Tuesday.
Damon Jones scored eight points in the final 1:35 as the Cavs, who have struggled on the road, improved to 14-3 at home and beat the Spurs for the second time this season.
They did so by harassing San Antonio all night, holding the NBA's second-most-accurate shooting team to just 38 percent from the field and only 10 points in the third quarter.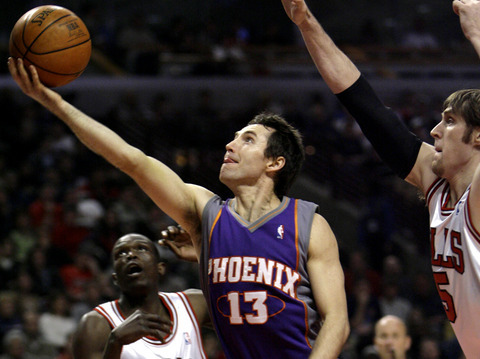 The Phoenix Suns' Steve Nash, center, heads to the basket past the Chicago Bulls' Andres Nocioni and Luol Deng, left, during the first quarter of their NBA basketball game in Chicago on Tuesday.
PHOTO: AP
Jones scored all 11 of his points in the fourth and Anderson Varejao added seven rebounds.
Tony Parker led the Spurs with 26 points -- 14 in the fourth -- and Tim Duncan had 18 points and 15 rebounds.
Magic 91, Clippers 86
At Orlando, Florida, Jameer Nelson made four free throws in the final 28 seconds and scored a season-high 29 points in Orlando's victory over Los Angeles.
Dwight Howard had 14 points and 14 rebounds for the Magic, who gave up only two field goals to the Clippers in the last 5 minutes. Trevor Ariza had 14 points and Hedo Turkoglu added 13 for Orlando.
Corey Maggette led Los Angeles with 20 points, but the Clippers struggled to score in the second half. Elton Brand had 15 points and Tim Thomas finished with 13, but each of them scored only two points in the second half.
Warriors 97, Hornets 89
At Oklahoma City, Baron Davis and Matt Barnes scored 29 points apiece to lift Golden State over New Orleans.
Davis and Barnes each had big shots down the stretch for the Warriors, who won despite shooting just 39.5 percent from the field. Barnes added 11 rebounds and five steals.
Rasual Butler scored 30 points for the Hornets. Jannero Pargo had 24 points and Tyson Chandler grabbed 15 rebounds.
76ers 108, Nuggets 97
At Denver, Allen Iverson scored 30 points but Kyle Korver finished with 26 points to help Philadelphia beat Denver in Iverson's first game against his former team.
Iverson was 10-of-24 before getting ejected for his second technical with 1:44 remaining.
Iverson's best shots came before tip-off when he once again ripped the team that traded him to Denver over the holidays, repeating his contention that he should have had more say about the Sixers' playing style.
The Sixers improved to 4-4 since the trade that sent Joe Smith and Andre Miller to Philadelphia, along with two first-round draft picks in this year's draft, for Iverson.
Suns 97, Bulls 96
At Chicago, Leandro Barbosa hit a 3-pointer with 1.5 seconds remaining and Phoenix rallied for the win over Chicago.
Ben Gordon gave the Bulls a 96-94 lead when he hit two free throws with 5.2 seconds left, but Phoenix wasn't finished.
After a timeout, the Suns' Boris Diaw caught the inbounds pass near the right block and found Barbosa at the top of the key for the winning shot.
It was a bitter ending for the Bulls, who got a career-high 41 points from Gordon and led by as many as 16 in the first half.
Mavericks 112, SuperSonics 88
At Dallas, Dirk Nowitzki had 31 points and a season-high 15 rebounds, Josh Howard added 21 points and nine rebounds as Dallas went on to beat Seattle to extend its winning streak to 11 games.
Nowitzki, back in the lineup after sitting out the previous game due to a sinus infection, had his first 30-point game since scoring 31 in a win over San Antonio on Nov. 24.
Kings 112, Knicks 100
At Sacramento, California, Ron Artest scored a career-high 39 points with exceptional outside shooting and Sacramento never trailed in defeating New York.
Artest made 15 of his first 19 shots against his hometown team, hitting three 3-pointers and scoring 13 points in the fourth quarter to help Sacramento hang on for its fourth victory in five games. Mike Bibby added 19 points and nine assists for the Kings.
Jamal Crawford scored 28 points and Stephon Marbury had 17 points and eight assists for the Knicks.
Comments will be moderated. Keep comments relevant to the article. Remarks containing abusive and obscene language, personal attacks of any kind or promotion will be removed and the user banned. Final decision will be at the discretion of the Taipei Times.