Arenas and Bryant named December's players of the month
Washington Wizards guard Gilbert Arenas, who posted games of 60 and 54 points last month, was named NBA Eastern Conference player of the month on Tuesday.
Los Angeles Lakers guard Kobe Bryant earned the Western Conference award.
For Arenas, it was the first player of the month award of his career. He became just the third player in club history to win the award. Juwan Howard won in April 1996 and Jeff Ruland won in March and December 1983.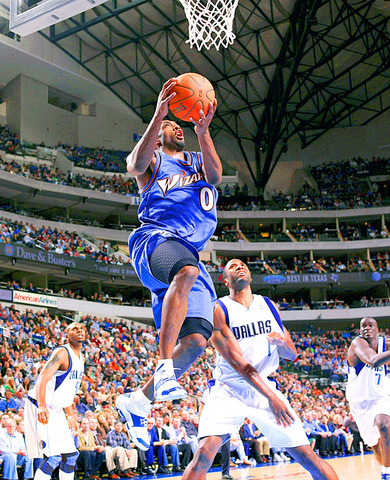 Gilbert Arenas of the Washington Wizards goes in for a layup against Greg Buckner of the Dallas Mavericks on Nov. 21 at the American Airlines Center in Dallas, Texas.
PHOTO: AFP
"I appreciate the honor from the NBA," said Arenas, who won a pair of Player of the Week awards last month. "December was an outstanding month for our team. We played extremely well and won some big road games. We were able to move into first place and create some excitement and momentum heading into the New Year."
Arenas helped the Wizards to a 12-4 mark that erased a six-game deficit and moved them into a tie with Orlando atop the Southeast Division.
Last month, Arenas averaged 34.1 points and 6.2 assists while shooting 41 percent from 3-point range. He eclipsed 30 points 11 times and 40 points three times.
On Dec. 17, Arenas scored a league season-high and franchise-record 60 points in a win over the Los Angeles Lakers. He set an NBA record with 16 points in overtime.
Bryant averaged 30.8 points, 5.4 rebounds and 5.4 assists in helping the Lakers to a 10-6 record last month. He also had a pair of huge efforts in overtime games.
On Dec. 15, Bryant had 53 points, 10 rebounds and eight assists in a double-overtime win over Houston.
Two weeks later, he scored 58 points in a triple-overtime loss at Charlotte.
Comments will be moderated. Keep comments relevant to the article. Remarks containing abusive and obscene language, personal attacks of any kind or promotion will be removed and the user banned. Final decision will be at the discretion of the Taipei Times.