Brazilians win 15km St Silvester
Brazilians Franck Caldeira and Lucelia de Oliveira Peres won the traditional 15km St Silvester on Sunday amid driving tropical rains in a contest dominated by local favorites.
It was the first time since foreigners were allowed in the race starting in 1947 that Brazilian runners won both the men's and women's races. But Brazilians had an advantage this year because some top foreign runners decided not to participate.
Latin affair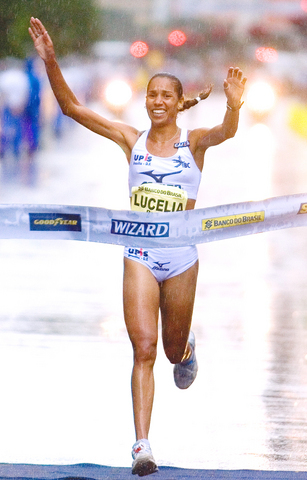 Brazil's Lucelia de Oliveira Peres crosses the finish line to win the women's St Silvester road race in Sao Paulo, Brazil, on Sunday. The 15km race is held annually on New Year's Eve.
PHOTO: AP
The 23-year-old Caldeira finished in 44 minutes, 7 seconds, beating Brazil's Clodoaldo Gomes da Silva by 1 minute, 7 seconds through Sao Paulo's skyscraper-lined avenues and twisting streets. Paulo Alves dos Santos of Brazil was third in 45:17.
Caldeira, whose best previous finish was sixth in 2003, pulled ahead with 7km remaining and built on his lead toward the end, leaving da Silva and dos Santos to contend for second and third place.
He said the outcome of the race proved that Brazilians should get more international recognition in athletics, noting that he eclipsed last year's time by Marilson dos Santos of Brazil by 14 seconds. Dos Santos, who went on to win this year's New York Marathon, also sat out the race.
"I ran it under 45 minutes despite the rain," Caldeira said. "I'm sure those who didn't believe in me are applauding for me now."
In the women's race, the 25-year-old Peres finished in 51 minutes, 24 seconds, beating Brazil's Ednalva da Silva by 29 seconds.
Peres
Peres, who finished fourth last year, sprinted to a wide lead ahead of da Silva with 3km remaining and broke through the tape just as the storm that lasted throughout the men's race unleashed its first downpour. Colombia's Bertha Sanchez finished third in 53:29.
"I managed to keep my rhythm and everything worked out," Peres said. "This is really emotional, I've trained for this race for a long time, and I was ready to win."
Comments will be moderated. Keep comments relevant to the article. Remarks containing abusive and obscene language, personal attacks of any kind or promotion will be removed and the user banned. Final decision will be at the discretion of the Taipei Times.