Sydney to Hobart sailors airlifted to safety
DRAMA Strong winds and heavy seas resulted in one vessel sinking and eight others quitting yesterday, but race leader `Wild Oats' steered clear of trouble
Three injured sailors were airlifted by helicopter from maxiyacht Maximus and another crew abandoned their sinking vessel yesterday in the Sydney to Hobart yacht race.
Six crew were injured on Maximus when it was dismasted in heavy seas and 30 knot (55.5 kph) winds overnight and three of them were evacuated to a hospital in Canberra.
A spokeswoman for the helicopter rescue service said the crew members had chest, pelvic and back injuries.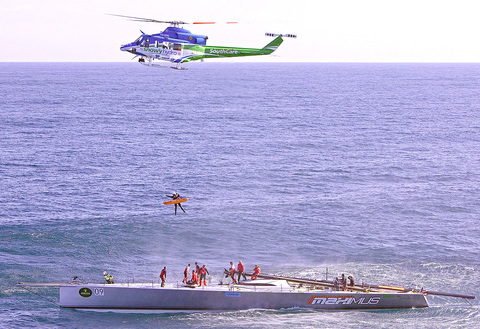 Crewmembers are airlifted from the stricken Maximus yesterday after it was dismasted during the annual Sydney to Hobart yacht race off the coast of Merimbula.
PHOTO: AFP
ABN Amro, winner of the Volvo Ocean Race, was also dismasted and was among the seven yachts that have already retired from the annual bluewater classic. Both Maximus and ABN Amro had been leading at stages overnight.
Eight crew members had to be rescued from a life raft after sending out a distress call when 1968 Sydney-Hobart winner Koomooloo started sinking about 60 nautical miles (111km) off the coast.
Two helicopters were sent out to the site and helped the crew of Adventure, a race entrant from Britain, take the sailors onboard.
A police motor launch was en route to take the Koomooloo crew back to shore.
Cruising Yacht Club of Australia Commodore Geoff Lavis said the Koomooloo crew could not find where the water was getting into the hull and sinking it was the safest option.
Lavis said despite the difficulties Wednesday, the situation was nothing like in 1998 when six people were killed and seven boats sunk when a violent storm hit the race.
Organizers were not expecting severe weather this time.
Winds decreased early yesterday, easing conditions for the 71 yachts still in the race.
Defending champion Wild Oats avoided the carnage and had a lead of 22 nautical miles late yesterday over Skandia, another maxi that was slowed after losing its front rudder.
Ichi Ban was a further 11 nautical miles back in third place.
While conditions were expected to ease, Wild Oats navigator Adrienne Cahalan predicted difficult sailing across Bass Strait.
"It's very rough seas and winds up to 25 to 30 knots at times," Cahalan said.
ABN Amro skipper Mike Sanderson said his crew was "bitterly disappointed" to be returning to Sydney instead of racing to Hobart.
"We had a great first night on the water and we had managed to keep right up there," he said. But, "the most important thing is that all the crew are safe and we have had no injuries."
Last year, Wild Oats, owned by Sydney businessman Bob Oatley, became the first boat in the race's history to complete the triple of line and handicap honors and a race record.
It wiped more than an hour off the previous time to win the 628 nautical mile race last year.
Comments will be moderated. Keep comments relevant to the article. Remarks containing abusive and obscene language, personal attacks of any kind or promotion will be removed and the user banned. Final decision will be at the discretion of the Taipei Times.