Warne's shadow looms large over Test
THE ASHES 2006/2007
The farewell appearances of cricketing great Shane Warne threaten to sidetrack Australia's bid to chase history against England in the fourth Ashes Test at the Melbourne Cricket Ground (MCG) beginning on Tuesday.
The master leg-spinner's shock decision this week to retire from Test cricket after the fifth Test in Sydney next month has dominated the lead-up to the Boxing Day contest, in part because Australia have already regained the Ashes.
Warne, 37, is poised to become the first bowler to capture 700 Test wickets in the fourth Test, his 144th. He needs just one wicket before his home town fans to achieve that target.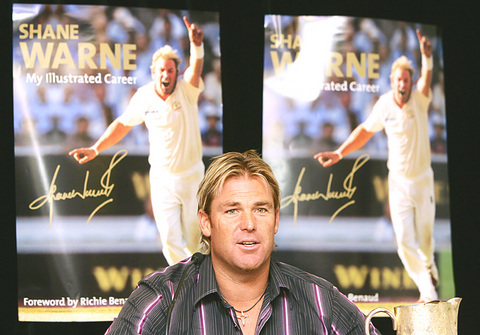 Australian cricket legend Shane Warne discusses the release of his book Shane Warne, My Illustrated Career at a Sydney hotel in October. Warne announced on Thursday that he would retire from international and Australian domestic cricket after the fifth Ashes Test against England next month.
PHOTO: AP
Warne, who has tormented England's batsmen with 186 wickets in 34 Tests over 13 years, is expected to receive an emotional send-off in Melbourne and Sydney.
The Australians meanwhile are trying to emulate the example of the 5-0 Ashes sweep by Warwick Armstrong's team 85 years ago.
The biggest Test of Australian cricket is likely to create a new record for single-day attendance.
All tickets have been sold for Boxing Day to surpass the 90,800 for the second day of the fifth Test against the West Indies at the MCG in February 1961.
Warne says that the job is half-finished as Ricky Ponting's Aussies eye a humiliating series sweep.
"As far as I'm concerned we've got two Test matches to play and I just want to finish the series on a high," Warne said. "I think if we can win 5-0 that would be a fantastic achievement for a great team."
But Australia's coach John Buchanan is anxious that the commotion over Warne's exit could prove to be an unwanted distraction.
"With a range of news around us it might be a bit of a distraction but hopefully we are a better team than that," Buchanan said yesterday.
"That's something we will talk about at training -- dealing with all the distractions that will continue over the next two Test matches, and really try to finish on a high note."
"Our mission here is not only to win the Ashes but also establish a huge gap between us and England," he said.
Australia took just 15 days to seize the Ashes, rebounding spectacularly from last year's series loss in England where they relinquished them after 16 years.
The much-anticipated series has been a huge let-down with Australia romping to massive wins over Andrew Flintoff's England team in Brisbane, Adelaide and Perth.
The Australian side has only been dismissed twice in six innings, highlighting England's inability to take 20 wickets after terminating the Australians' innings eight times in last year's series.
The sorry England performance has triggered recriminations. Coach Duncan Fletcher is under intense scrutiny over the team's qqqselection.
One casualty is likely to be wicketkeeper Geraint Jones, who registered a pair of ducks in Perth and has scored only 63 runs at 10.50 in the series. Chris Read is expected to be behind the stumps.
Skipper Flintoff is determined his side will bounce back.
"It hurts a lot, but we have to get over it and we've got two big Test matches still to play," he said. "There are a lot of lads who want to prove they can win a Test match in Australia and prove they can play against Australia."
The Ashes series may be over as a contest, but that hasn't dampened an the appetite of cricket fans.
Officials are anticipating a record attendance for an entire Test.
Crowds of 95,000 are likely over the opening three days' play and the record of 350,354 -- set in the vast arena in the third Test of the 1936/37 Ashes series in the Don Bradman era -- is under threat.
England, sensing a changing of the guard with Warne likely to be followed by great bowler Glenn McGrath into retirement, are looking to regroup for future battles.
"We've got another two years before we play these guys and it's kind of starting now," batsman Paul Collingwood said.
Comments will be moderated. Keep comments relevant to the article. Remarks containing abusive and obscene language, personal attacks of any kind or promotion will be removed and the user banned. Final decision will be at the discretion of the Taipei Times.