Billups strikes late, Pistons win
BIG SHOT Detroit's best shooter made just one of nine shots through three quarters, but nailed three clutch baskets in the fourth to demoralize the Cavaliers
Chauncey Billups made his first three shots of the fourth quarter, helping to lead the Detroit Pistons to an 87-71 win over the Cleveland Cavaliers on Thursday night in the first matchup between the clubs since last season's playoffs.
Detroit's best shooter, Billups, who was just 1-of-9 from the floor after three quarters, dropped three jumpers -- two of them 3-pointers -- in the first 3:02 of the fourth as the Pistons went on a 14-3 run to open a 71-58 lead with 8:19 left.
Billups scored 17 points, including 12 in the fourth, and added 10 assists.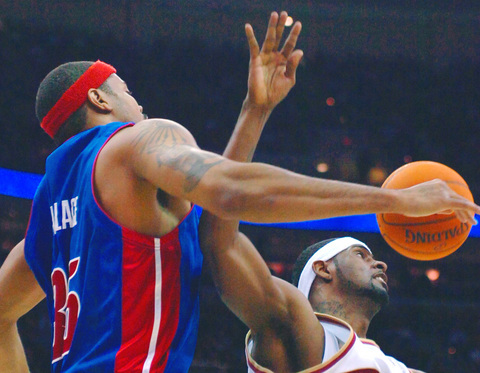 Rasheed Wallace, left, of the Detroit Pistons knocks the ball away from Larry Hughes of the Cleveland Cavaliers while going to the basket in the second quarter of their NBA basketball game in Cleveland, Ohio, on Thursday.
PHOTO: REUTERS
Tayshaun Prince had 16 points and Antonio McDyess added a season-high 11 points and 11 rebounds for the Pistons, who overwhelmed the Cavs in the final period, outscoring them 30-16 while limiting them to just 3-of-16 shooting.
LeBron James had 26 points for the Cavaliers, 11-3 at home this season.
In last season's second round, Cleveland won three straight over Detroit and had a chance to close out the Pistons in Game 6 but couldn't come up with an offensive rebound in the closing seconds. The Cavs then lost Game 7 in Auburn Hills, Michigan, when the Pistons dominated the second half in a 79-61 win.
Wizards 126, Kings 119
In Sacramento, California, Antawn Jamison scored 33 points and 13 rebounds, and Gilbert Arenas scored 30 points in Washington's fourth victory in five games.
Washington overcame a halftime deficit with a spectacular 44-point third quarter. Jamison hit four 3-pointers and scored 17 points in the period, while the Wizards made 16 of their 22 shots.
Kevin Martin scored a career-high 40 points for Sacramento.
Guard John Salmons matched his career high with 23 points while filling in for Ron Artest, who ruled himself out of the lineup moments before the game because of his sore knees.
Comments will be moderated. Keep comments relevant to the article. Remarks containing abusive and obscene language, personal attacks of any kind or promotion will be removed and the user banned. Final decision will be at the discretion of the Taipei Times.