Manning, Harrison tear Cincinnati Bengals apart
Peyton Manning and Marvin Harrison, the most prolific passing duo in NFL history, combined for three touchdowns as the Indianapolis Colts tore apart the Cincinnati Bengals 34-16 on Monday.
Even the Colts' maligned defense woke up after Indianapolis dropped three of its last four games and yielded an incomprehensible 375 yards rushing a week ago to the Jacksonville Jaguars.
It was vintage Manning throwing to his favorite target, Harrison, that dominated what was expected to be a shootout. The AFC South division champion Colts (11-3) did their part, while the Bengals (8-6) slipped back in the wild-card race with their first loss in five weeks. They'd allowed 33 points in those four wins, one less than Indy scored on Monday.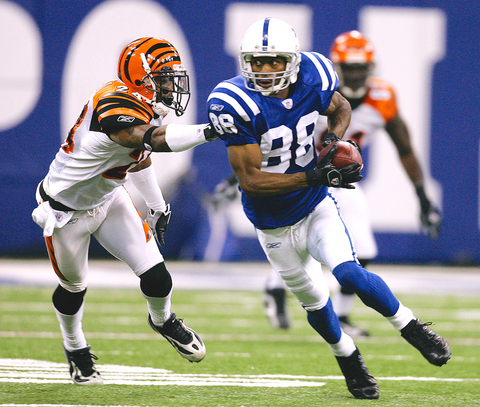 Indianapolis Colts wide receiver Marvin Harrison, right, is tackled by Cincinnati Bengals cornerback Deltha O'Neal following a reception during the third quarter of an NFL football game in Indianapolis on Monday.
PHOTO: AP
"Our team did a good job of sticking together," Manning said.
Manning, unbeaten against Cincinnati at 5-0, had one of the sharpest outings of his brilliant career, although he never looked deep because the Bengals couldn't cover anyone on quick-hitting routes. He was 29-for-36 for 282 yards, and his 15th career four-touchdown outing.
In addition to bringing his total touchdown throws to Harrison to 103, he found Reggie Wayne on an 18-yarder and passed Vinny Testaverde for eighth place all-time with 270 career touchdown passes.
He was helped greatly by Cincinnati's inability to rush him or handle receivers coming off the line.
More than half of his completions came on short patterns where a Colt was wide open.
And the Colts came alive defensively, never letting the Bengals' fourth-ranked passing attack hit stride. Dwight Freeney led the defense with three sacks, and Bengals quarterback Carson Palmer was a pedestrian 14-for-28 for 176 yards.
The victory kept Indianapolis even with Baltimore and one game behind San Diego in the race for top record in the AFC.
Comments will be moderated. Keep comments relevant to the article. Remarks containing abusive and obscene language, personal attacks of any kind or promotion will be removed and the user banned. Final decision will be at the discretion of the Taipei Times.