Mavericks rebound to dominate Nets in 92-75 win
Dirk Nowitzki poured in 26 points and pulled down 13 rebounds to help the Dallas Mavericks beat the New Jersey Nets 92-75 on Tuesday.
After suffering their first defeat in 13 games at the hands of the Washington Wizards on Monday, the Mavericks rebounded with a dominating effort, jumping out to an early lead and never trailing to get back on a winning track.
Josh Howard contributed 23 points to the Dallas effort, Jason Terry added 12 and Devin Harris chipped in with 10.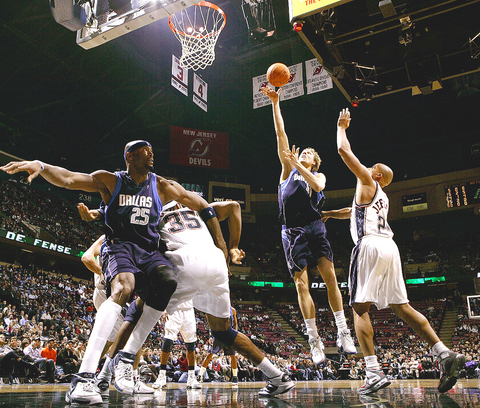 Dirk Nowitzki, second right, of the Dallas Mavericks shoots against Richard Jefferson, right, of the New Jersey Nets on Tuesday in East Rutherford, New Jersey.
PHOTO: AFP
Vince Carter had 20 points in a losing cause for the home team, Nenad Krstic potted 18 and Jason Kidd flirted with a triple-double hitting for 10 points, eight assists and eight rebounds as the Nets slumped to their seventh defeat in nine games.
Dallas raced out to an 8-0 lead and never looked back, nosing in front 21-14 after the opening quarter and taking a healthy 49-35 lead into the intermission.
The Nets cut the deficit to five in the third quarter but got no closer as the Mavericks improved to 13-5.
Trail Blazers 46, Pistons 35
Zach Randolph had 31 points and 13 rebounds and nailed a go-ahead jumper with 21 seconds left on Tuesday as Portland surprised Detroit to end a five-game skid.
Jarrett Jack scored 18 points for the Trail Blazers, who shot just 41 percent from the field but outrebounded the Pistons 46-35 en route to an 88-85 victory.
Randolph and Wallace, who played together with Portland from 2002-2004, battled in the paint all night. Leading Portland in scoring (25.8) and rebounding (10.2) entering Tuesday's contest, Randolph dominated Rasheed Wallace on the interior.
His biggest shot came in the waning seconds as he backed in Wallace and banked in a short shot to make it 86-85.
On the ensuing possession, Chauncey Billups missed a jumper.
After two free throws by Jack with 12 seconds to play, Richard Hamilton fired an airball a potential tying three-pointer as time expired.
The Blazers also got a boost from rookie LaMarcus Aldridge, who collected 11 points and 11 rebounds for his first career double-double, shooting 5-of-9 from the floor.
Hamilton scored 25 points for the Pistons, who shot 43 percent. The Pistons have lost to Charlotte and Portland since a season-high eight-game winning streak.
Suns 127, Kings 102
In Phoenix, Leandro Barbosa scored 26 points and Steve Nash dished out a season-high 20 assists as the streaking Suns crushed the Sacramento Kings 127-102, extending their winning streak to seven games.
The Suns received double-digit efforts from six players, including 23 points from Shawn Marion and a 17-point, 13-rebound performance from Amare Stoudemire.
Rockets 118, Warriors 90
Tracy McGrady bagged 31 points and Yao Ming helped out with 27 to power the Rockets to a 118-90 rout of the Golden State Warriors in Houston.
Comments will be moderated. Keep comments relevant to the article. Remarks containing abusive and obscene language, personal attacks of any kind or promotion will be removed and the user banned. Final decision will be at the discretion of the Taipei Times.