Top boxer enjoys second career as a tap dancer
Calvin Brock is the rare heavyweight boxer who requires a corner man, a cut man and a dance man.
The corner man and the cut man were scheduled to try to help Brock capture the International Boxing Federation heavyweight title from Wladimir Klitschko last night at Madison Square Garden. The dance man will try to help him realize his dream of tap-dancing in a Broadway show.
"Just like Gregory Hines," Brock said.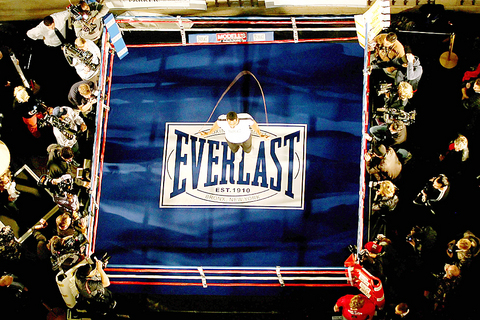 Calvin Brock, a boxer who moonlights as a tap dancer, trains at Grand Central Station in New York on Nov. 5.
PHOTO: NY TIMES IMAGES
The 1.88cm Brock, who weighed in at 102kg Wednesday, is the largest tap dancer at the King David Christian Conservatory in Charlotte, NC. At 165cm and 59kg, Salvatore Messina is the smallest trainer on Brock's team.
They meet in a studio at the conservatory, where Messina turns up the music and Brock slips on his custom-made size 14 tap shoes. Brock has obvious foot speed, but Messina must remind him to move his arms, vary his expressions and feel the music.
"I sweat harder in there than I do in my boxing workouts," said Brock, 31.
He has fallen more times on the stage than in the ring. Practicing "Shuffle Off to Buffalo," Brock accidentally slammed the heel of his right shoe onto his left ankle. He collapsed to the floor, holding the ankle and howling in pain.
Messina, as tough as a boxing trainer, stood over Brock and laughed in his face. "I wish I had a camera because no one would believe that the future heavyweight champion of the world got knocked out by a tap-dance class," Messina said.
When Brock finally got up, he told Messina: "I don't do pain. That's why I try to knock everyone out."
Brock has a 29-0 record with 22 knockouts, but he often prefers taps to punches. When he was 7, Brock said, he fell in love with the sound of tap shoes against a wood floor. He asked his parents if they would let sign him up for dance lessons.
Instead, they bought him boxing gloves for Christmas. "They thought I was going through a phase," Brock said.
Twenty years later, when Brock had established himself as a professional boxer, he still longed for that seductive sound of tap shoes against a floor.
He found the King David Christian Conservatory in a Charlotte phonebook. When Messina answered the phone, Brock explained that he was a famous fighter.
"Sorry to break your bubble," Messina responded. "But I don't know who you are."
Brock then asked if he would be one of his coaches. "I thought he was kidding," Messina said. "I really thought it was a joke."
After a year of private tap-dancing lessons, Messina accepted Brock into a senior-level class and allowed him to participate in the annual recital, which is held in the auditorium at Garr Memorial Church in Charlotte.
The night of the first recital, Brock told Messina: "This is one of the happiest days of my life. It is a dream come true for me."
The show featured one routine in which Messina and Brock played David and Goliath. At the end, Messina knocked Brock on his back.
Comments will be moderated. Keep comments relevant to the article. Remarks containing abusive and obscene language, personal attacks of any kind or promotion will be removed and the user banned. Final decision will be at the discretion of the Taipei Times.