Iran sink Taiwan in frustrating contest
SLOPPY The Iranians arrived for the match with big guns from Europe, but they did not shine as the Taiwanese used spoiling tactics to lose by a relatively small margin
Taiwan's national soccer team was once again outclassed after losing 2-0 to Iran in Taipei last night in its fifth Group B qualifying match for the 2007 Asian Cup.
Taiwan's young and inexperienced squad went into the game at the Taipei Municipal Stadium knowing that a draw would have boosted their chances of forcing a bottom place play-off with Syria in the group's final match next month.
Iran, on the other hand, arrived in Taipei knowing that they had already qualified for an 11th appearance in the Asian Cup finals.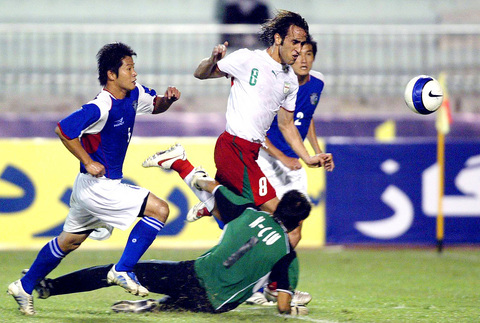 Taiwanese goalkeeper Lu Kun-chi, grounded, fails to stop Iran's Ali Karimi, number eight, as he scores his team's second goal during their Asian Cup qualifier at Taipei Municipal Stadium yesterday.
PHOTO: LIN ZHENG-KUN, TAIPEI TIMES
In a pre-match interview, Iran coach Amir Ghalenoei said that he had "respect" for the Taiwanese, but his focus was "on finishing first in the group."
As if to prove his words were not bluster, Ghalenoei packed his squad with some of the best players Iran has to offer.
The starting line-up included both former Asian Football Cup player of the year Ali Karimi from German giants Bayern Munich and highly respected midfielder Andrianik Teymourian, who plies his trade for the English Premiership side Bolton Wanderers.
Meanwhile, Taiwan's embattled coach Toshiaki Imai admitted that "it will be a tough game," but hoped that "the players will live up to their potential."
This was not be, but in the opening 10 minutes, Taiwan did put on a spirited performance. Sadly, sloppy passing once again proved to be their downfall. Taiwan frustrated their opposition, denying them several early chances, but in the 11th minute Karimi scored the first of his two goals after he tapped the ball across the line from a pass from Mehdi Mahdavikia, who left five Taiwanese in his wake after dribbling down the right wing to pass into the penalty box.
Play slowed down to a snail's pace after the opening goal as Taiwan's defense continued to frustrate the visitors.
The second half opened at a faster pace with Iran sending a free kick outside the penalty box over the bar. As the second half continued, Taiwan survived attack after attack, and frustrated the Iranians with its now-eight man defensive wall.
Karimi made it 2-0 in the 57th minute after he found the ball at his feet at the edge of the penalty area, made swift work of four defenders and slotted the ball home from close range.
Taiwan were down to 10 men with roughly 15 minutes to go after Kao Hao-chieh (高豪傑) committed an atrociously high tackle on Iran's Javad Kazemian.
Iran should have taken the chance to go three up, but somehow Taiwan managed to hold on, thanks in no small part to the offside trap which they persisted in playing.
The result means that Iran will go up against South Korea in a game that will decide the Group B winner.
However, Iran's coach was not satisfied with his team's display.
"I've seen some improvement in the Taiwan squad since we played the first game [in Tehran]. We were looking for three points but unfortunately we wasted a lot of opportunities and we should have been in a better position early on," Ghalenoei said.
"I was not satisfied with the final minutes of the game, which was a bit rough and disappointing," he said.
As for Imai, some questions remain as to whether he will continue as Taiwan's coach after this year's qualifiers. But he feels he has managed to bring Taiwanese soccer forward.
"After we played South Korea, I thought that we had lost any improvement we had been making. But this game changed my opinion.
"We didn't take the opportunities we should have, and we didn't finish very well," he said. "But as a whole today's game was good. I can safely say that the Taiwan team is developing."
Taiwan takes the wooden spoon for bottom place in Group B. The sloppy squad has conceded 21 goals in five games and earned no points.
Taiwan's final qualifying match will see the side hoping to score at least a goal and salvage some self-respect in Damascus when they play the Syrians on Nov. 15.
The 2007 Asian Cup will for the first time be jointly hosted by four nations -- Indonesia, Malaysia, Thailand and Vietnam -- and take place between July 7 and 29 next year. In all 16 teams -- the six winners and runners up from the qualifying groups and the four host nations -- will compete for the Cup.
Comments will be moderated. Keep comments relevant to the article. Remarks containing abusive and obscene language, personal attacks of any kind or promotion will be removed and the user banned. Final decision will be at the discretion of the Taipei Times.