Peyton the best Manning as Colts win
WORTH THE HYPE Archie's boys put on a show on Sunday as the older son ripped the Giants defense for 276 yards while his little brother also played very well
Peyton Manning and the Indianapolis Colts made fewer mistakes than Eli Manning and the New York Giants on Sunday night in the first NFL game to feature two brothers starting at quarterback.
Big brother Peyton was 25-of-41 for 276 yards and a touchdown and the Colts scored on five of their first seven possessions to defeat Eli and the Giants 26-21 in the much-hyped nationally televised matchup between the sons of Archie Manning at Giants Stadium.
It was a game that lived up to the hype for the more than 78,000 fans and it had to make Archie and wife Olivia very proud as they watched from a luxury box.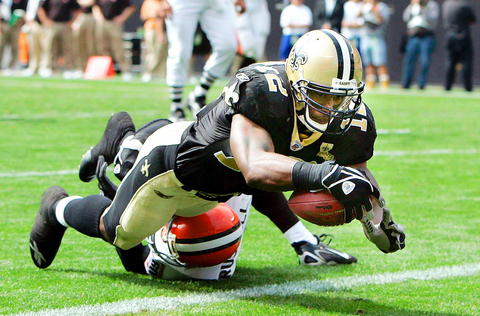 Marques Colston, top, of the New Orleans Saints dives into the end zone for a touchdown as Brian Russell of the Cleveland Browns defends during the third quarter of their NFL game at Cleveland Browns Stadium on Sunday. The Saints defeated the Browns 19-14.
PHOTO: EPA
Adam Vinatieri, the hero of two Super Bowl wins by the New England Patriots, kicked four field goals in his first game for Indy, including a 32-yarder with 1:12 to play to push the lead to five points.
Jaguars 24, Cowboys 17
In Jacksonville, Florida, Terrell Owens made his presence felt early and late. As in, too early to hurt the Jaguars and too late to help the Cowboys.
Byron Leftwich threw a touchdown pass and ran for a score and Fred Taylor had 115 combined yards, spoiling Owens' much-anticipated debut with Dallas.
Owens finished with six receptions for 80 yards and a touchdown, but the Jaguars held him without a catch through much of the second half. Still, Owens keyed all three of Dallas' scoring drives, including a 21-yard TD reception with 1:54 to play that cut the lead the 24-17.
Jacksonville recovered the onside kick and was forced to punt. The Cowboys got the ball back with 51 seconds to play, but Drew Bledsoe's third-down pass was intercepted by Mike Peterson.
Bears 26, Packers 0
In Green Bay, Wisconsin, Chicago stifled Brett Favre, holding him scoreless for the first time in his 16-year pro career, while Bears counterpart Rex Grossman completed 18-of-26 passes for 262 yards including a 49-yard scoring strike to Bernard Berrian on the opening drive.
Favre, who deliberated for several months before deciding to return to the Packers after a 4-12 season, threw only five passes in the first half -- completing all five for only 70 yards. He finished the game 15-of-29 for 170 yards.
Cardinals 34, 49ers 27
In Glendale, Arizona, Kurt Warner completed 23 of 37 passes for 301 yards and three scores, the Cardinals turned two first-quarter San Francisco turnovers into touchdowns, and Arizona held on to beat the 49ers.
Playing in front of a sellout crowd of 63,407 in their US$455 million, air conditioned new stadium, the Cardinals opened a season at home for the first time since the franchise moved to Arizona in 1988.
Patriots 19, Bills 17
In Foxborough, Massachusetts, New England overcame an early fumble and deficit, scoring a fourth-quarter safety to beat Buffalo.
The Patriots trailed by 10 points at halftime in their first season opener in three years not preceded by the unveiling of a championship banner. And on the game's first play from scrimmage, Tom Brady fumbled as he was hit by Takeo Spikes, and London Fletcher ran in with the recovery for a 5-yard touchdown score.
Brady completed a 17-yard pass to Kevin Faulk to pull New England within 17-14 late in the third quarter and Stephen Gostkowski converted a 32-yard field goal with 9:33 remaining to tie it.
Exactly one minute later, the Patriots took the lead for good on the third play of Buffalo's possession when Ty Warren sacked Losman for a safety.
Saints 19, Browns 14
In Cleveland, rookie Reggie Bush had 141 total yards and teamed with Drew Brees to lead rebuilt New Orleans and give coach Sean Payton a win in his first game.
Bush had 61 yards rushing on 14 attempts, caught eight passes for 58 yards and returned three punts for 22. John Carney kicked four field goals, the last one coming with 5:42 remaining.
Lions 9, Seahawks 6
In Detroit, Josh Brown kicked a 42-yard field goal on the last play to lift the Lions.
The Seahawks, the leaders in scoring in the NFL last season, started the game-winning drive at their 20 with 3:13 left after Lions' new coach Rod Marinelli decided against a long field goal attempt. All the scores in the game came on field goals.
Falcons 20, Panthers 6
In Charlotte, North Carolina, John Abraham had two sacks and forced two fumbles in his first game with the Falcons, while Michael Vick threw two touchdown passes as Atlanta made up for two losses by a combined score of 68-17 last season.
Warrick Dunn rushed for 132 yards for the Falcons, who had 252 on the ground in all, the second most allowed by the Panthers.
Ravens 27, Buccaneers 0
In Tampa, Florida, Steve McNair started his first game for the Ravens, but it was the defense that stood out as Baltimore broke an 11-game road losing streak.
Chris McAlister returned one of the Ravens' three interceptions 61 yards for a touchdown and rookie Haloti Ngata lumbered 60 yards with a pass to set up a field goal.
Rams 18, Broncos 10
In St. Louis, Jeff Wilkins kicked a franchise-record six field goals, and the new-look St. Louis defense forced five turnovers.
The Rams clinched the win when Denver quarterback Jake Plummer threw his third interception.
Bengals 23, Chiefs 10
In Kansas City, Missouri, eight months after doctors rebuilt his mangled left knee, Carson Palmer completed nine straight passes in one impressive stretch for Cincinnati.
Kansas City quarterback Trent Green was injured in the third quarter. Green, motionless on the field , was carefully wheeled off on a stretcher after his head was snapped back to the ground on a hit by Robert Geathers.
Chiefs GM Carl Peterson said Green had "pretty severe head trauma," but that he was awake and moving about shortly after the game.
Eagles 24, Texans 10
In Houston, Donovan McNabb threw for 314 yards and three touchdowns, including one to Donte Stallworth -- who had six catches for 141 yards.
The game was Stallworth's debut with the Eagles after a trade from the Saints, and McNabb's regular-season return after missing the final seven games of last season after surgery to repair a sports hernia.
Jets 23, Titans 16
In Nashville, Tennessee, Chad Pennington, returning from two shoulder operations in as many years, threw for 319 yards and two touchdowns.
New York led 16-0 until Travis Henry scored two fourth-quarter touchdowns within five minutes. Pennington's second touchdown pass won the game, a 12-yard strike to Chris Baker with 2:10 left.
Comments will be moderated. Keep comments relevant to the article. Remarks containing abusive and obscene language, personal attacks of any kind or promotion will be removed and the user banned. Final decision will be at the discretion of the Taipei Times.