Miserly Verlander steers Tigers to win
Justin Verlander gave up one run in seven innings, helping the Detroit Tigers beat Minnesota 7-2 on Thursday and extending their American League Central lead to five games over the second-place Twins.
Verlander (16-7) struck out five and walked two, allowing a seventh-inning homer to Michael Cuddyer. Detroit, which once led by 10 games, is a mere 10-18 since Aug. 7.
Curtis Granderson hit a tone-setting homer on the third pitch of the night by Scott Baker (4-8), and Marcus Thames took him deep in the second, a two-run shot that put Detroit up 3-0.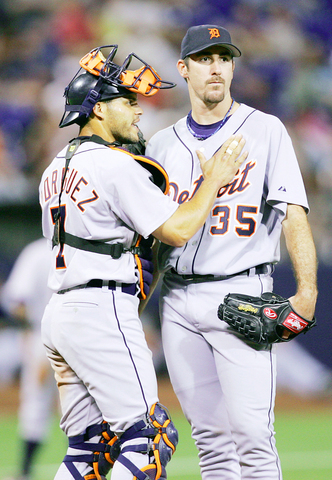 Detroit Tigers catcher Ivan Rodriguez, left, gives some encouragement to pitcher Justin Verlander after he walked the Minnesota Twins' Justin Morneau in the seventh inning of their baseball game in Minneapolis on Thursday.
PHOTO: AP
Joe Mauer, clinging to the AL batting lead, went 1-for-4 and saw his average drop to .3444, just ahead of the Yankees' Derek Jeter (.3439).
Indians 9, White Sox 1
At Chicago, Cliff Lee (12-10) gave up one run and five hits in six innings and Grady Sizemore and Victor Martinez homered off Mark Buehrle (12-12). Chicago has lost six of eight, remained one-half game behind Minnesota for the AL wild card and dropped five-and-a-half games behind Detroit in the AL Central.
The Florida Marlins' bid for back-to-back no-hitters ended in the first inning, and Ryan Howard's 54th home run -- his 10th in 15 games -- helped the Philadelphia Phillies rally for a 14-8 victory on Thursday.
Chris Coste, Chase Utley and Jeff Conine also homered, and Philadelphia overcame a 3-0 deficit against Josh Johnson (12-7) to win the opener of a four-game series.
Pirates 7, Cubs 5
At Chicago, Chris Duffy homered leading off the game, then hit a tiebreaking drive in the ninth inning off Scott Eyre (0-2) for his third homer in 353 career at-bats. One out later, Xavier Nady homered against Ryan Dempster.
Mets 7, Dodgers 0
At New York, Tom Glavine (13-6) won for the first time since Aug. 5, and Jose Reyes flew around the bases for his first career inside-the-park home run as New York trounced Los Angeles.
Cardinals 6, Diamondbacks 2
At Phoenix, Scott Spiezio homered twice in a game for the first time since May 2003 as the Cardinals opened a six-and-a-half-game lead over Cincinnati in the NL Central and sent Arizona to its eighth loss in nine games.
Jeff Weaver (3-4) gave up two runs and five hits in five innings. Miguel Batista (10-6) allowed five runs and six hits in six innings. He had been 4-0 in 13 starts since losing to Tampa Bay on June 20.
Rockies 10, Nationals 5
At Denver, Jamey Carroll got the go-ahead hit, one of three straight infield singles in a five-run eighth and Colorado downed Washington.
Austin Kearns hit an RBI single in the top half and scored on Brian Schneider's double off Jeremy Affeldt.
Comments will be moderated. Keep comments relevant to the article. Remarks containing abusive and obscene language, personal attacks of any kind or promotion will be removed and the user banned. Final decision will be at the discretion of the Taipei Times.