Woods birdies for one-shot lead
GOLF Aaron Baddeley was tied for the lead until a lapse of concentration slowed him down on the ninth hole, while Woods broke away at the 18th to snatch the leaderboard's top spot
Tiger Woods birdied the par-5 18th hole on Friday, giving him a 5-under 66 and a one-shot lead in the first round of the Deutsche Bank Championship.
It was the 10th time in his last 16 rounds he has been atop the leaderboard.
Aaron Baddeley, playing in the same group as Woods, stayed with him most of the day until having to lay up on the 18th. He made par for a 67, joining Bob May, Justin Rose, Joe Ogilvie and Australian rookie Nathan Green.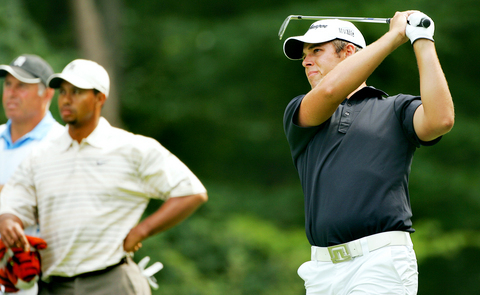 Aaron Baddeley of Australia, right, hits off at the eighth tee as Tiger Woods looks on during the first round at the Deutsche Bank Championship golf tournament at the TPC of Boston in Norton, Massachusetts, on Friday.
PHOTO: AP
Woods is trying to win for the fifth straight time on the US PGA Tour, a streak that began with his victory in the British Open.
"I feel in control of my golf ball," Woods said. "I've still got some things to work on. It could be better."
Heavy rain is expected over the weekend, and Woods hoped to build on his lead yesterday before the storm was due.
All he had to contend with on Friday afternoon were swirling breezes that changed directions on nearly every hole, causing him to tiptoe his way around the front nine and play away from the flags to keep out of trouble.
He managed a few birdies along the way -- a wedge to 10 feet (3m) on the first, a 7-iron to 12 feet on the sixth, and chipping in from about 30 feet on the par-5 seventh -- along with one big par. After chopping up the fifth hole, Woods made a 12-foot putt for an unlikely save.
"One thing Tiger is good at is he holes the putts to keep the momentum," Baddeley said.
Baddeley was tied for the lead with a 12-foot birdie on the ninth, but one bad tee shot and a lapse of concentration slowed him. He fanned a 6-iron into the hazard on the 12th hole and had to make a 15-foot putt to escape with bogey. Then he hit his tee shot on the 14th into the woods, did well to come up short of the green and failed to get up-and-down.
The biggest surprise might have been May, who is trying to work his way back from a severe back injury that had kept him off tour since the middle of 2003.
He finished second at the BC Open and now is at No. 127 on the money list, leaving him a good chance to retain his card for next year.
"It really is a second career for me because it opened my eyes and showed me how fortunate I am to be playing this game," May said.
May is best known for his duel with Woods at the 2000 Championship, where he matched him shot-for-shot in the final round until losing a three-hole playoff at Valhalla. That was perhaps the peak of Woods' game, the year he won nine times and took three straight majors.
May is on the upward swing again, and despite being gone for two-and-a-half years, it looks as though nothing has changed.
Woods is still on top of his game, and atop the leaderboard.
South Africa's Anton Haig shot a three-under-par 69 yesterday to take a two-stroke lead heading into the final round of the Malaysian Masters.
Haig, who has set the pace throughout the tournament, made four birdies against one bogey on the Pulai Springs Resort course in southern Johor state for a three-day score of 198.
India's Jyoti Randhawa (66) made an eagle on the par-4 8th hole to back up five birdies and take a share of second place in the Asian Tour event with Chapchai Nirat of Thailand (70) and Taiwan's Lin Chie-hsiang (林吉祥), who shot a blemish-free 63 that included nine birdies.
"I played all right today, but the putting was not in my favor. I made a few great up and downs which kept me in the lead so I am quite happy," Haig said.
England's Yasin Ali (66), Barry Hume of Scotland (67) and first-round joint leader Marcus Both (69) were three strokes off the pace.
Cristie Kerr grabbed a share of the lead, and Annika Sorenstam stayed in contention at the State Farm Classic on Friday.
Kerr shot an 8-under par 64 and was tied with Maria Hjorth at 12 under, one stroke ahead of Il Mi-chung, who had a 66, after the second round at The Rail Golf Club.
Lorena Ochoa (70) was five shots off the lead, with Sorenstam (68) at 6 under -- six shots back but still in striking distance.
Se Ri-pak, bothered lately by a neck injury, was 7-over for the tournament when she withdrew after nine holes.
Kerr, seeking her third victory this year, teed off on the 10th hole with Sorenstam and Ochoa. She was consistently in the fairway and birdied eight holes. That gave her 12 for the tournament, with no bogeys.
After seeing several birdie putts lip out or skid just past the hole in the first round, Kerr knocked in a 12-footer on the par-4 10th. She held her arms out and soaked in the cheers when she buried a 40-footer on the par-3 16th to go to 8-under. She also birdied the par-5 12th after chipping within two feet and the 14th, sinking a 15-foot putt.
On her back nine, Kerr birdied the third, fourth, sixth and seventh holes.
After a disappointing 2-under Thursday, Sorenstam got off to an ominous start when she hit her first shot wide right and into a bunker. Her second landed on the green, and she knocked in a 30-foot putt for birdie to go 3 under, pumping her right fist after the ball fell into the cup.
But she had trouble on the greens.
A 12-foot birdie putt on No. 12 stopped a foot short, and a 10-footer on the par-4 13th came up a few inches short.
She saved par on No. 14, when she knocked an 80-foot putt over a bump to within a foot of the hole, but a 5-footer for birdie on 15 lipped out. So did a short one on 16, which she bogeyed for the second straight day.
A birdie on 17 put Sorenstam back at 3 under. And three more followed on her back nine.
Her second shot on No. 8 landed in a bare spot about 10 feet beyond the fairway. An official allowed her to move the ball, and Sorenstam birdied the hole to go 6 under.
Hjorth, the first-round leader, started with birdies on No. 1 and No. 2 and had seven in all to go with two bogeys.
Defending champion Pat Hurst was 2-over and missed the cut.
Comments will be moderated. Keep comments relevant to the article. Remarks containing abusive and obscene language, personal attacks of any kind or promotion will be removed and the user banned. Final decision will be at the discretion of the Taipei Times.