Tigers pounce early to edge Indians
MAJOR LEAGUES Detroit pitcher Jeremy Bonderman kept up his winning streak on the road. Meanwhile the Chicago Cubs beat the New York Mets 8-7 at home
American League
Jeremy Bonderman remained unbeaten on the road this season as the Detroit Tigers got off to another fast start and held on for a 9-7 win over the Cleveland Indians on Monday night.
Bonderman (11-4) lasted just five innings, allowing four runs and five hits before leaving with a 7-4 lead. The right-hander is 7-0 in 11 road starts, and hasn't lost anywhere since May 29, going 6-0 in a span of 10 outings.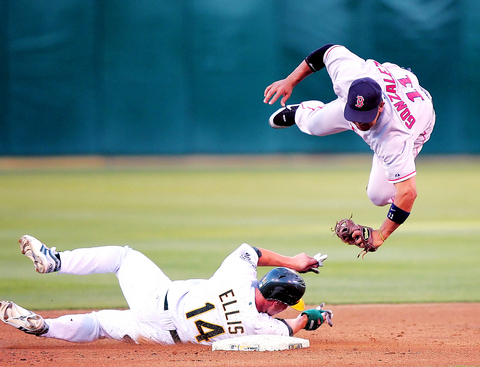 The Oakland Athletics' Mark Ellis, bottom, breaks up a double play as the Boston Red Sox's Alex Gonzalez vaults over him after getting the force at second on a ground ball by Jason Kendall in the third inning of their baseball game on Monday in Oakland, California.
PHOTO: AP
The Tigers, who improved to a major league-best 34-15 on the road, pounced on a first-inning error behind Cliff Lee (9-8) to score five unearned runs, giving them three straight games with at least that many runs in their first at-bat.
According to the Elias Sports Bureau, Detroit is the first team since the 1891 St. Louis Browns to score five runs or more in the first inning of three straight games.
Todd Jones finished up for his 26th save.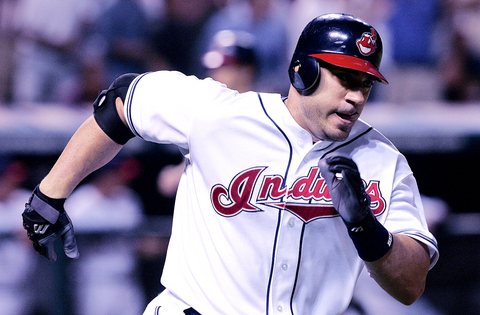 The Cleveland Indians' Travis Hafner runs out an RBI-double hit off Detroit Tigers pitcher Fernando Rodney in the seventh inning of their game in Cleveland on Monday.
PHOTO: AP
Brandon Inge hit a three-run homer in the first and Dmitri Young added a solo shot in the fifth for Detroit.
Ramon Vazquez and Ben Broussard homered for Cleveland, 3-8 since the All-Star break.
Yankees 6, Rangers 2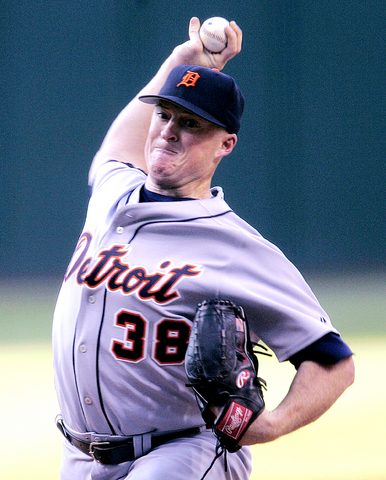 The Detroit Tigers' Jeremy Bonderman pitches to the Cleveland Indians' Grady Sizemore in the first inning of their game in Cleveland on Monday.
PHOTO: AP
At Arlington, Texas, Randy Johnson struck out seven to win the matchup of the last two pitchers to throw no-hitters and slumping Alex Rodriguez returned to Texas with two hits and an error-free game.
Lustily booed by the fans of his former team that gave him the record US$252 million contract, Rodriguez snapped an 0-for-11 streak with a single in the fourth and then scored the go-ahead run. The two-time AL MVP finished 2-for-5, adding an RBI double in the seventh, but still has only six hits in his last 32 at-bats.
A-Rod, the converted Gold Glove shortstop who had five errors in a five-game stretch at third base last week, cleanly fielded the three balls hit his way by the Rangers -- two of them infield singles.
Fans keep their heads up as the bat from the Toronto Blue Jays' Greg Zaun flies toward the stands for the second time in the game in the third inning against the New York Yankees in Toronto on Sunday.
PHOTO: AP
Johnson (11-8) threw 101 pitches over six innings, allowing two runs and seven hits with two walks.
Kevin Millwood (10-6) allowed five runs, two earned. He struck out two and walked two in six innings.
There have been more than 5,700 major league games since Johnson's perfect game for Arizona against Atlanta on May 18, 2004. Millwood threw his no-hitter for Philadelphia against San Francisco on April 27, 2003.
Buck Showalter missed his second consecutive game, a precaution advised by a team doctor after the Texas manager sat out a game in Chicago and spent a night in the hospital for dehydration.
Angels 8, Devils Rays 4
At St. Petersburg, Florida, John Lackey allowed five hits in eight innings and Adam Kennedy drove in three runs.
Lackey (9-6) gave up four runs -- two earned -- and struck out seven to win for the fifth time in his last six starts.
Juan Rivera homered for the ninth time this month, hitting a solo shot off Jae Seo (0-5) for a 6-0 lead in the fifth. He also had a sacrifice fly in the third, while Kennedy delivered a sacrifice fly in the second and a two-run double in the third.
Seo fell to 0-11 lifetime in the month of July, including losses in all five of the starts he made for the Devil Rays since being acquired from the Los Angeles Dodgers in a trade on June 27.
Twins 7, White Sox 4
At Chicago, Joe Mauer hit a three-run homer, and Michael Cuddyer and Justin Morneau also connected.
Brad Radke pitched six solid innings for the Twins, who pulled within two games of second-place Chicago in the AL Central with their 32nd win in 40 games. Chicago lost for the 10th time in 13 games and fell 7.5 games behind first-place Detroit.
Brian Anderson hit a two-run shot in the ninth for the White Sox, who are only 1.5 games ahead of the New York Yankees in the wild-card race.
Cuddyer and Morneau hit consecutive homers off Javier Vazquez (9-6) in the sixth to give the Twins a 3-2 lead. Mauer went deep against Neal Cotts in the seventh, the first homer of his career off a left-hander.
Radke (9-7) allowed two runs and seven hits. He is 5-0 in nine starts since losing to Oakland on June 3.
National League
Greg Maddux stopped his six-game losing streak, Aramis Ramirez and Jacque Jones hit consecutive homers and the Chicago Cubs beat the New York Mets 8-7 on Monday night.
Maddux (8-11) allowed seven runs and 10 hits in six-plus innings, but still earned his 326th win to tie Eddie Plank for 12th on the career list. The right-hander won for the first time in eight starts since beating Cincinnati on June 9.
Maddux's 35th career victory against the Mets, his most against any opponent and the most for any pitcher against New York, came against Steve Trachsel (9-5), who had won a career-best seven straight decisions.
Ryan Dempster pitched a perfect ninth for his 17th save in 22 chances. Michael Barrett also homered and Phil Nevin hit a two-run double for the Cubs, who snapped a three-game skid.
Nevin was subbing for first baseman Derrek Lee, who went back on the 15-day disabled list with inflammation in his right wrist.
Brewers 12, Pirates 8
At Milwaukee, Bill Hall hit two two-run homers and Carlos Lee had one. The Brewers had 15 hits, one shy of their season high, and one more than the Pirates.
Doug Davis (6-6) allowed six runs and 10 hits in six innings as the Brewers won for just the fourth time in the last 13 games. The Pirates fell to 2-17 on the road against left-handers and 6-28 overall.
Zach Duke (7-9) had won his first two starts since the All-Star break, but failed to get out of the third inning against the Brewers.
Jason Bay's 23rd home run gave Pittsburgh a 2-0 lead in the first, but the Brewers sent nine men to the plate in the bottom of the inning and regained the lead 4-2 keyed by Hall's first two-run homer, his 21st of the season.
Rockies 7, Cardinals 0
At Denver, Jeff Francis threw a two-hitter for his first shutout and Colorado ended St. Louis' six-game road winning streak.
Francis (8-8) took a perfect game into the sixth, when catcher Yadier Molina blooped a single into shallow right-center just out of the reach of diving center fielder Cory Sullivan, who got his glove on the ball only to watch it scoot underneath him.
Francis matched a career high with eight strikeouts and didn't walk a batter.
Garrett Atkins and Clint Barmes homered for Colorado, which won for only the third time in 11 games since the All-Star break.
St. Louis rookie Anthony Reyes (2-4) allowed six runs and nine hits in 5 1-3 innings.
Braves 10, Phillies 8
At Philadelphia, Adam LaRoche homered twice, driving in four runs. Ex-Phillie Todd Pratt also homered for the Braves, who have won nine of their last 11 games. They were without Chipper Jones and Andruw Jones for a second straight game because of injuries.
Rookie Cole Hamels (2-5) struck out a career-high 12 in 5 1-3 innings, Chase Utley extended his personal-best hitting streak to 24 games and David Bell homered and drove in three runs for Philadelphia, which has lost four of six.
Ryan Howard's two-run homer -- his 32nd -- in the eighth inning off Tyler Yates cut the Phillies deficit to 9-8. Wilson Betemit made it 10-8 in the ninth with his ninth homer.
Tim Hudson (8-8) pitched 5 2-3 innings to post his second straight win. He gave up four runs -- two earned -- and six hits with five walks and four strikeouts. Newly acquired closer Bob Wickman pitched the ninth, converting his first save opportunity with the Braves.
Barry Bonds' attorney is asking federal authorities to investigate the possible leak of the baseball star's medical records in the government's ongoing investigation of Bonds for perjury and tax evasion.
Citing two people familiar with the probe, the San Francisco Chronicle reported on Saturday that the US Attorney's office had received the medical records last week in response to a subpoena issued to the San Francisco Giants.
Bonds' lawyer, Michael Rains, said there is nothing in the records indicating Bonds used performance-enhancing drugs. Still, Rains said on Monday he would file a complaint with a federal judge in San Francisco protesting what he alleged was a government leak of his client's medical records.
``Basically, we're sending a letter to the US Attorney and court seeking an investigation into the leak of the medical records,'' said Maggie Bedig, a Rains spokeswoman.
The government's doping probe has been riddled with leaks, and investigators already are seeking the testimony of two Chronicle reporters to find out who leaked them the secret testimony of Bonds, Jason Giambi and other athletes who testified before a grand jury in 2003.
A spokesman for US Attorney Kevin Ryan denied his office was the source of any leak.
``The government understands and readily complies with its obligation to keep all sensitive material confidential. `We always welcome, and have in fact ourselves requested, investigations into all potential sources of leaks of such sensitive material, including potential non-governmental sources,'' Luke Macaulay said on Monday in a statement.
Bonds is suspected of lying to a grand jury when he testified in December 2003 that he never knowingly used performance-enhancing drugs. A second grand jury was convened to investigate those allegations, as well as whether Bonds failed to pay taxes on the sale of memorabilia.
That grand jury expired last week without handing up an indictment, but a new panel will take up the probe and begin hearing testimony this week.
Comments will be moderated. Keep comments relevant to the article. Remarks containing abusive and obscene language, personal attacks of any kind or promotion will be removed and the user banned. Final decision will be at the discretion of the Taipei Times.