Teixeira dominates in 15-1 rout
SLAM MAN Mark Teixeira's three homers in his 12th career multihomer game helped the Texas Rangers to a convincing demolition of the Baltimore Orioles
American League
Mark Teixeira hit a career-high three homers and drove in seven runs, and Texas hit six home runs on Thursday night in a 15-1 rout of Baltimore.
Teixeira hit a sacrifice fly in the first inning, a solo homer in the sixth, a two-run shot in the eighth and a three-run drive in the ninth. The seven RBIs tied a career high.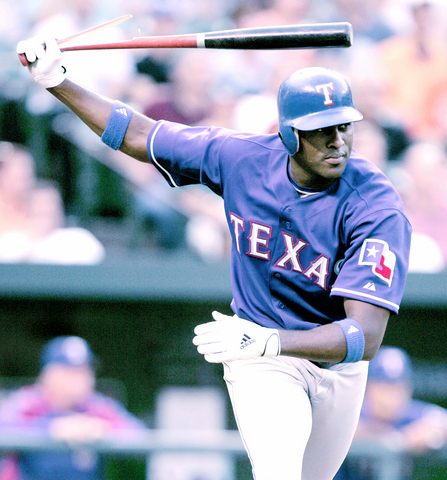 The Texas Rangers' Gary Matthews Jr waves his broken bat in the air as he flies out to end the Rangers' second inning in a baseball game against the Baltimore Orioles in Baltimore on Thursday.
PHOTO: AP
Teixeira has 12 homers, including four in his last two games. It was his 12th career multihomer game, the first this season.
Texas totaled 19 hits, seven in the six-run sixth, and matched a season-high in home runs.
Brad Wilkerson hit his 14th homer and drove in four runs, and Rod Barajas also homered for the Rangers, who got at least one hit from every starter. Mark DeRosa went 3-for-3 with a home run and two walks.
Athletics 5, Red Sox 4, 11 innings
At Boston, Bobby Kielty's tie-breaking single drove in Jason Kendall in the 11th inning for Oakland.
Kielty stole second and scored on Frank Thomas' single off Julian Tavarez (1-3) to send Boston to its first home loss in 10 games since June 11. The Red Sox left at least one runner on base in 10 of the 11 innings.
Huston Street (3-3) pitched 1 2-3 innings for the win. Kirk Saarloos got the last two outs for his second save, although he allowed Jason Varitek's run-scoring single that made it 5-4.
The Red Sox, who played 19 innings in their last game before the All-Star break, led 1-0 and 3-1, but All-Star second baseman Mark Loretta's seventh-inning error on Kielty's easy grounder allowed the tying run to score. It stayed 3-3 until the 11th, when Kendall doubled with one out. One out later, Kielty hit a hard liner off the scoreboard of the Green Monster. Thomas added the insurance run against Taveras, who worked one inning, allowing three hits and two runs.
Oakland had lost four of five.
Tigers 6, Royals 4
At Detroit, Ivan Rodriguez homered and Detroit used a five-run fifth inning to rally past Kansas City.
Jeremy Bonderman (9-4) struggled to the win for Detroit, which owns baseball's best record at 60-29.
Kansas City got home runs from Tony Graffanino and Mark Teahen, who also tripled. But third baseman Teahen committed two errors on the same play during the decisive fifth inning.
Bonderman allowed four runs and seven hits in 5 2-3 innings, walking a season-high five and striking out eight. Todd Jones pitched the ninth for his 24th save in 27 opportunities.
Kansas City starter Brandon Duckworth (1-2) allowed six runs -- three earned -- and six hits in 4 2-3 innings.
Indians 6, Twins 4
At Minneapolis, Casey Blake, Jhonny Peralta and Travis Hafner homered against Francisco Liriano to lead Cleveland.
Liriano (10-2), the AL's ERA leader at 1.83 coming in, lost for the first time in seven starts, allowing one-fourth of the 12 home runs he has given up in his 117-inning career.
Cliff Lee (9-6) hung on for his sixth victory in eight outings -- giving up five hits, three runs (two earned) and three walks while striking out five in 5 2-3 innings.
Kelly Shoppach hit a homer for Cleveland in the ninth off Jesse Crain.
Nick Punto's RBI double off Guillermo Mota pulled the Twins within 5-4 in the seventh, but Fausto Carmona worked a scoreless eighth and Bob Wickman did the same in the ninth for his 14th save.
National League
Aubrey Huff hit a three-run home run in his Houston debut and Lance Berkman had three hits to lead the Astros to a 5-1 victory over Florida on Thursday night.
Huff, who was acquired in a trade with the Tampa Bay Devil Rays on Wednesday, homered to right-center in the eighth off reliever Randy Messenger (1-5) to give the Astros a 5-1 lead.
Houston broke a three-game road losing streak, while the Marlins lost for the fourth time in their last 13 home games.
Huff's homer was part of a four-run eighth. Willy Taveras singled to lead off the inning and advanced to third as Chris Burke reached when first baseman Mike Jacobs failed to handle a low throw by shortstop Hanley Ramirez. Berkman drove in Taveras with a single to right, and Huff followed with his homer, his second hit of the game.
Astros starter Roy Oswalt pitched 6 1-3 innings, allowing one run and six hits while striking out four. Florida starter Dontrelle Willis went seven innings, allowing one run and six hits while striking out five.
Reliever Chad Qualls (4-2) got the win.
Reds 9, Rockies 7
At Cincinnati, Ken Griffey Jr hit his 555th homer, and Adam Dunn singled home two runs hours after close friend Austin Kearns was traded to spark Cincinnati.
Juan Castro added a three-run homer as Cincinnati pulled away in the seventh inning, then watched the bullpen struggle once again to hold a six-run lead. Left-hander Eric Milton (6-4) pitched six solid innings and singled home a run as well.
A few hours before the first pitch, the Reds made move to shore up the bullpen that has been their downfall. The Reds sent Kearns -- their everyday right fielder -- and shortstop Felipe Lopez to Washington in an eight-player deal that netted relievers Gary Majewski and Bill Bray. The trade came one week after the Reds traded a prospect to Seattle for closer Eddie Guardado.
Dunn had a two-run single in the first inning off Jeff Francis (6-8). Griffey's solo homer in the seventh off Scott Dohmann made it 5-3.
Comments will be moderated. Keep comments relevant to the article. Remarks containing abusive and obscene language, personal attacks of any kind or promotion will be removed and the user banned. Final decision will be at the discretion of the Taipei Times.