De La Hoya still has plenty of punch
Oscar De La Hoya made an impressive return to the ring after a 20-month absence, knocking down Ricardo Mayorga in the first round before finally stopping him in the sixth to claim the WBC's 154-pound title on Saturday night.
Showing no signs of rust or reluctance, the 33-year-old De La Hoya knocked down Mayorga in the opening minute and never let up, unleashing waves of punishing head shots until Mayorga went down for the third time at 1:25 of the sixth.
It was the best fight for De La Hoya since he stopped Fernando Vargas four years ago and a near-perfect result in what De La Hoya claims will be the penultimate fight of his storied career.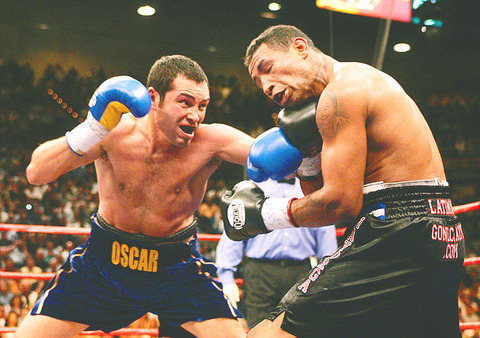 Ricardo Mayorga, right, of Nicaragua, takes a left from Oscar De La Hoya, of Los Angeles, during the second round of their WBC super-welterweight championship bout at the MGM Grand Garden Arena in Las Vegas, Nevada on Saturday.
PHOTO: AP
De La Hoya (38-4, 30 KOs) clearly hadn't lost his passion for the ring since Bernard Hopkins stopped him in the ninth round with a devastating body punch in September 2004. Spurred by Mayorga's pre-fight insults toward his family and courage, De La Hoya overwhelmed the wild-punching Mayorga with clinical right hands and a handful of devastating left hooks, stalking him around the ring and controlling nearly every moment of the fight.
"No matter what, I was going to stand up to him, let him know right away that I was here to fight," De La Hoya said. "I had to show the bully that I wasn't going to back down. He fought recklessly, but I stood my ground, and he saw I wouldn't back down."
He sent Mayorga to the canvas just 60 seconds in, artfully ducking a wild punch and responding with a strong right and a brutal left hook. The crowd stood, and De La Hoya cast a disdainful glance over his shoulder as he walked to the neutral corner.
Comments will be moderated. Keep comments relevant to the article. Remarks containing abusive and obscene language, personal attacks of any kind or promotion will be removed and the user banned. Final decision will be at the discretion of the Taipei Times.