Tigers upend Blue Devils
AMERICAN BASKETBALL LSU eliminated top-seeded Duke from the NCAA Tournament as the UCLA Bruins stunned third-seeded Gonzaga 73-71 in regional action
It was not Louisiana State's Big Baby who thwarted top-seeded Duke on Thursday, but the Tigers' big freshman Tyrus Thomas, who made one significant play after another in the final minute to lead fourth-seeded LSU to a 62-54 upset of the Blue Devils in an NCAA tournament regional semifinal.
LSU was leading by 55-54 when the 6-foot-9 Thomas broke the Duke press and dribbled down the floor for a dunk with 34 seconds to play.
On Duke's next possession, Thomas blocked the shot of Greg Paulus, who was driving the lane with 27 seconds remaining.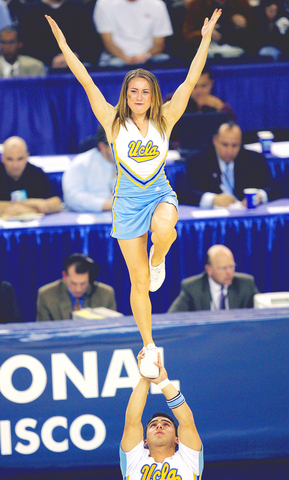 UCLA cheerleaders perform during the first half of their NCAA Tournament regional semifinal game against Gonzaga in Oakland, California, on Thursday. The Bruins defeated the Bulldogs 73-71.
PHOTO: AP
The Big Baby, the 6-foot-9, 310-pound LSU sophomore Glen Davis, then took over with two offensive rebounds after missed free-throw attempts by the Tigers (26-8), who stretched their lead to 60-54 and held on for the shocker.
While Thomas made big plays down the stretch, LSU guard Garret Temple played terrific defense on the Duke All-American J.J. Redick, who made just 3 of 18 field-goal attempts and finished with 11 points.
Shelden Williams led Duke (32-4) with 23 points. Darrel Mitchell and Davis had 14 points apiece for LSU.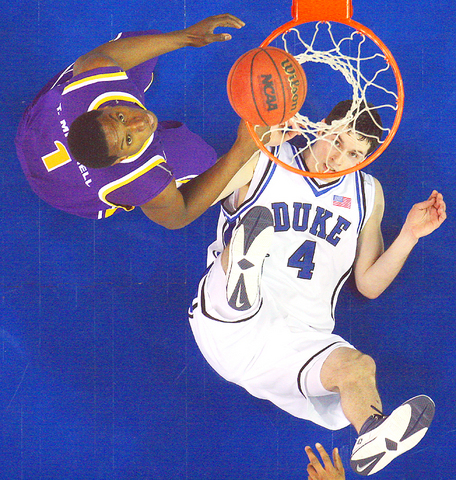 Duke's J.J. Redick lies on his back as he watches the shot of Louisiana State's Tasmin Mitchell fall through the net during an NCAA Tournament regional semifinal at the Georgia Dome in Atlanta on Thursday. LSU upset top-seeded Duke 62-54.
PHOTO: AP
Duke was appearing in the Round of 16 for the ninth consecutive season. The Blue Devils' last national championship was in 2001.
Duke trailed by 40-35, but finally got itself together on offense with 11 minutes 26 seconds to play with a 10-0 run to take a 45-40 lead.
Redick had made just 2 of 13 shots, but Duke had another shooter to ignite the run. DeMarcus Nelson swished a 3-point shot from the corner as Duke finally showed some ball movement and smoothness on offense.
Duke's run coincided with a drought of 8:05 between field goals for LSU in a game that had little offensive flair because of poor ball handling by the Tigers and Duke's rugged play under the boards against taller LSU.
Davis spiced up the game and made himself the focal point of the matchup with comments to the news media on Wednesday. "I'm not a Dookie guy, I don't look like a Dookie guy," Davis said.
Davis, who was highly recruited in high school in football and basketball, said he had sat next to Duke coach Mike Krzyzewski during a summer all-star game and said the Blue Devils' coach did not know him.
"A fairy tale," Krzyzewski said. "Of course I knew who he was."
Davis is the team clown, who makes fun of his eating habits and the comparisons to Shaquille O'Neal, the former LSU center. Davis' nicknames are Big Baby and Baby Shaq, and he said Wednesday he should have worn his T-shirt that says "I'm Not Shaq" to the news conferences.
LSU immediately tried to establish Davis when it fed him the ball in the post and he scored the game's first two points.
Davis also brought the ball down the floor on the break and faked a pass and scored with his left hand, giving the Tigers a 6-5 lead.
But the bigger issue early was Duke's full-court pressure defense. The Blue Devils, who use just a seven-man rotation, do not typically pressure full-court, but LSU has one point guard, Mitchell, who has been a shooting guard through most of his career.
Teams that have been successful against LSU this season have pressured the ball and Mitchell and forced the Tigers into turnovers. LSU was 10th in the Southeastern Conference in turnover margin.
UCLA 73, Gonzaga 71
At Oakland, California, Luc Richard Mbah a Moute scored underneath with 10 seconds left and the second-seeded Bruins scored the final 11 points of the game to knock out Morrison and third-seeded Gonzaga.
Adam Morrison, made two free throws with 3:26 to go, giving him 24 on the night and the Bulldogs (29-4) a 71-62 lead. But the Bruins (30-6) didn't wilt.
Mbah a Moute scored six of the final 11 points and got a key steal in the final seconds to seal the win and send UCLA to its first regional final since 1997. The Bruins will face Memphis (33-3) in the the Oakland regional final today. The Tigers beat the Bruins 88-80 in November.
Memphis 80, Bradley 64
Rodney Carney kept top-seeded Memphis from becoming another victim of Bradley's surprising run.
Carney contributed on both ends of the floor, scoring 23 points and leading a stingy defense that put the Tigers in the regional final for the first time since 1992 -- back when Anfernee Hardaway was the star. Darius Washington Jr. added 18 points and Shawne Williams had 12 points and eight rebounds as Memphis (33-3) won its seventh straight.
Patrick O'Bryant had 11 of his 14 rebounds in the first half and only scored eight points for Bradley (22-11), which at No. 13 was the lowest seed still alive in the tournament. The Braves had been the NCAA spoiler after beating Kansas and Pittsburgh to reach their first regional semifinal since 1955 when it was 24-team tournament.
Jason Richardson hit a 3-pointer with 0.7 seconds left and finished with 40 points in the Golden State Warriors' 122-121 victory over the Dallas Mavericks on Thursday night.
Dirk Nowitzki led Dallas with 51 points, his highest regulation total ever and two short of his career high, set in overtime on Dec. 2, 2004, against Houston.
Nowitzki went 16-for-24 from the field, made 16 of 17 free throw attempts and had nine rebounds. Terry added 29 points.
The Mavericks wasted a chance to move a half-game ahead of the San Antonio Spurs for the lead in the Southwest Division.
Suns 125, Trail Blazers 108
At Phoenix, Amare Stoudemire's return to the lineup sparked Phoenix to the biggest first half in the NBA this season, and the Suns beat Portland.
Stoudemire had 20 points and nine rebounds in 19 minutes to lead the Suns, who scored an NBA season-high 76 points in the first half. Seven Suns scored in double figures as Phoenix snapped a two-game losing streak.
Nets 86, Timberwolves 82
At East Rutherford, New Jersey, Vince Carter and Richard Jefferson each scored 21 points, and the New Jersey Nets beat the Minnesota Timberwolves 86-82 Thursday night for their seventh straight victory.
Rockets 93, Hornets 92
>BAt Oklahoma City, Yao Ming and Rafer Alston each scored 22 points and helped Houston snap a six-game losing streak.
The Rockets picked up their first win in 14 games against Southwest Division foes this season and dealt New Orleans' playoff hopes a big blow. After snapping an eight-game losing streak Tuesday by beating the Los Angeles Clippers, the Hornets needed a win to tie idle Sacramento for the eighth and final playoff spot in the West.
Grizzlies 95, Clippers 85
At Memphis, Tennessee, Eddie Jones scored 23 points, reserve Mike Miller added 21 points and 14 rebounds, and Memphis beat Los Angeles for its fifth straight victory.
Wizards 109, Jazz 97
At Salt Lake City, Gilbert Arenas scored 31 points, and Washington set a franchise record with 16 3-pointers. Caron Butler and Antawn Jamison scored 27 apiece for the Wizards, who opened a six-game western road trip with a victory.
Comments will be moderated. Keep comments relevant to the article. Remarks containing abusive and obscene language, personal attacks of any kind or promotion will be removed and the user banned. Final decision will be at the discretion of the Taipei Times.