Ichiro Suzuki breaks out of shell
PRO BASEBALL Leading Team Japan to the World Baseball Classic title days earlier, Suzuki rejoined his American teammates , but his mind was still in Japan
Ichiro Suzuki returned to the Seattle Mariners a changed man.
Changed from being cocooned in his usual Seattle shell. Changed from keeping his emotions and expressions hidden as if they were the secrets to his perennial All-Star games, Gold Gloves and .300 hitting.
"Winning the WBC was the greatest moment in my baseball life," said Suzuki, who is embarking on his sixth Mariners' season after a 29-day delay.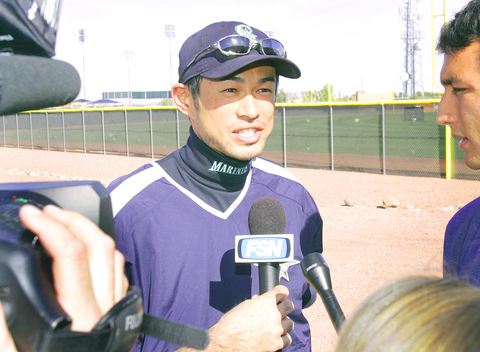 Ichiro Suzuki of Japan talks with reporters at the Mariners' spring training facility in Peoria, Arizona, on Thursday.
PHOTO: AP
"I really cannot describe the feeling. This was just a brief moment in our careers, but we came together in an unbelievable way."
The usually reclusive Suzuki, one of only two major leaguers on Japan's roster, was the leader of that cohesion. He joked with teammates on the field. He yelled encouragement, willingly accepted the spotlight. At times in interviews, his voice was hoarse from all the chatter.
"I think I should have been shouting more in the past," he said early in the tournament. "I think this kind of husky tone is pretty cool."
Immediately after Japan beat Cuba on Monday to win the championship -- as the Baseball Hall of Fame collected his batting helmet for display in Cooperstown, New York -- Suzuki was openly emotional. The 32-year old had his cap on backward, giddily shouting at teammates to respect their "old man." He was beaming with joy and pride.
His conspicuous enthusiasm and leadership in the WBC was a revelation in Seattle. The Mariners, who have slogged through successive 90-loss seasons, hope it is a revelation for them, too.
They may have to keep on hoping -- for now, anyway.
"I won't maintain that emotional level," Suzuki said. "I guess I'm lucky we have another week left in spring training, and that will give me an opportunity to recover."
Mariners manager Mike Hargrove has said he hoped Suzuki might similarly lead his team this season. But the 15-year veteran manager knows not to force that responsibility upon his most important and dynamic player.
"If he's comfortable with that, that's great," Hargrove said earlier this month. "If not, that's great, too."
In several ways, Suzuki's WBC experience was novel. It resulted in his first championship since 1996, when his Orix Blue Wave won the Japanese Series. Japan manager Sadaharu Oh also moved Suzuki from his Mariners' leadoff batting spot to the run-producing No.-3 place.
The career .332 hitter during his five seasons in Seattle and .353 over nine seasons in Japan then batted .364 with one home run and five RBIs in eight games.
But Suzuki said he would like to return to his leadoff spot for the Mariners. That's where he was for his first game back, Thursday night against Arizona. Hargrove said on Wednesday the team will -- at least for now -- resist the temptation to move him down the batting order.
"I like hitting first, but I'll do whatever the team wants," he said. "My team and teammates come first, and that was brought out in the WBC. I learned to be happy together as a team, and that's the way I would like that to be with the Mariners."
That was one of his few thoughts on his Seattle future. The rest were on his freshly earned title.
"The quality of play was at the highest level," he said of the tournament. "That raised my game and I found that not only was I getting quality at-bats, but the at-bats were different. I have a high motivation, and want to maintain that. We were in a situation with pressure every game. Now I need to bring that into the regular season, and try and let my teammates know what it takes to win in a tournament like this one."
Comments will be moderated. Keep comments relevant to the article. Remarks containing abusive and obscene language, personal attacks of any kind or promotion will be removed and the user banned. Final decision will be at the discretion of the Taipei Times.