Puerto Rico brings on the mercy rule
BASEBALL CLASSIC Cuba walked eight hitters, allowed 10 hits and let the game wrap up early as the mercy rule went into effect after seven innings of play
Bernie Williams and Carlos Beltran homered and Puerto Rico routed Cuba 12-2 in a World Baseball Classic game on Friday that was strictly for pride, with both teams having already secured spots in the second round.
Williams, named the best player in Pool C, hit a two-run homer to right in the second before a home crowd of 19,000 fans.
"Most definitely this home run that I hit was very important -- it was a milestone in my career... I felt that I was playing the World Series in the month of March," Williams said.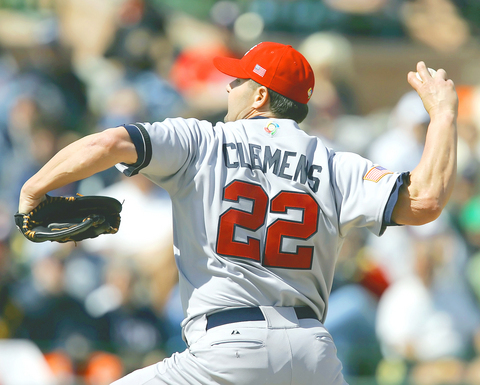 Team USA starting pitcher Roger Clemens throws against Team South Africa during the first inning of their World Baseball Classic game in Scottsdale, Arizona, on Friday.
PHOTO: AP
"My mother was here and my uncle was here, as well, watching me lay, and they had not watched me play for a very long time," he added.
Beltran hit a towering three-run homer right over the foul pole in right field and Alex Cintron also had a two-run shot for Puerto Rico.
Cuba walked eight hitters, allowed 10 hits and let the game wrap up early. The mercy rule went into effect and play was called after seven innings.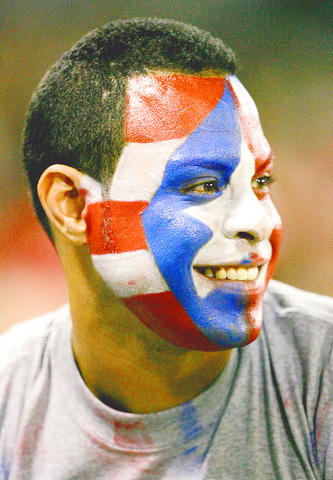 A baseball fan of Puerto Rico, with the flag painted on his face, smiles while watching his team celebrate the 12-2 mercy rule victory over Cuba during the World Baseball Classic in San Juan, Puerto Rico, on Friday.
PHOTO: AP
"We lost the battle but not the war. The war begins Sunday," said manager Higinio Velez.
It's just the second time Cuba has lost a game by the mercy rule. The other was against Taiwan in 1983.
"That means that Cuba is a great team because if not it would have lost many times under the mercy rule. But that's only happened twice," Velez said. "Our second-line pitchers did not come through and we couldn't use our best pitchers today. That was the fundamental cause of our defeat."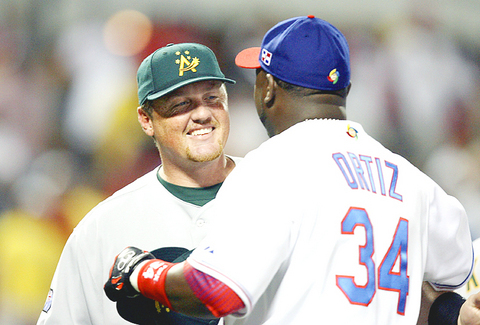 David Nilsson, left, of Australia, talks with David Ortiz of the Dominican Republic before their World Baseball Classic game in Kissimmee, Florida, on Friday.
PHOTO: AFP
Cuba's only run came in the second when Ariel Borrero scored on a single to center by Osmani Urrutia.
Puerto Rico starter Dickie Gonzalez pitched four innings and gave up two hits and one unearned run for the win.
Puerto Rico's Jose Santiago was ejected from the game in the seventh inning for hitting Juan Carlos Moreno with a pitch on the back. Manager Jose Oquendo was also ejected. Both benches had received warnings.
Puerto Rico opens the second round against Venezuela and the Dominican Republic plays Cuba on Sunday in San Juan.
Tournament organizers said that approximately 75,000 fans attended the six-game series between the Netherlands, Puerto Rico, Cuba and Panama.
US 17, South Africa 0
Ken Griffey Jr. went 4-for-4 with two home runs and seven RBIs, and the US advanced to the second round with a 17-0 rout in a game shortened to five innings because of the tournament's mercy rule.
Roger Clemens allowed one hit in 4 1-3 innings, striking out six and walking none before leaving to a standing ovation from the capacity crowd of 11,975 at Scottsdale Stadium, spring training home to the San Francisco Giants. He threw 58 pitches.
The US opens the second round against Japan today in Anaheim, California, and Mexico plays South Korea in the second game there.
Coming off a 8-6 loss to Canada on Wednesday night, the US had to win Friday to make it to the second round of the inaugural 16-team event. The US jumped ahead 10-0 by the second inning and were never threatened by South Africa, which finished 0-3.
Derrek Lee drove in four runs with a home run and double. The homer, aided by a brisk wind blowing to right field, was Lee's second of the tournament. The US outhit South Africa 18-2.
The US squad finished in a three-way tie with Mexico and Canada at 2-1, with Mexico finishing first and the Americans second based on the tiebreaker, which is runs allowed in games involving the three tied teams.
The Americans essentially took batting practice against right-hander Carl Michaels, who pitched for South Africa in the 2000 Olympics and 2005 World Cup.
Derek Jeter and Griffey singled in the first, then scored when Alex Rodriguez's hit got past right fielder Ian Butcher for a triple. Lee's three-run homer made it 4-0.
In the six-run second, Griffey hit a three-run homer to right and Lee doubled in two more.
Barry Armitage, a right-hander who pitched for Wichita in the American minor leagues last season, didn't fare any better when he relieved Michaels, allowing six runs in the third, including another three-run home run to Griffey.
Dominican Republic 6, Australia 4
Wily Mo Pena had an RBI single and Miguel Tejada added a sacrifice fly to help the Dominican Republic beat Australia 6-4 for its third straight win.
The star-laden Dominicans (3-0) had already clinched first place in Pool D and a trip to San Juan, Puerto Rico, for the second round.
Australia brought the potential tying run to the plate in the ninth inning. But Glenn Williams, who hit .425 in 40 at-bats with the Minnesota Twins last season, popped up against Damaso Marte for the final out.
"I think that's Australian baseball," losing pitcher Damian Moss said. "We're going to fight and we're not going to give up until the last out."
Luis Polonia pinch-hit for David Ortiz in the fourth inning and finished 2-for-2 with an RBI single for the Dominicans. The Dominican Republic is unbeaten.
The 2004 AL MVP will not join the Dominicans in the next round, as they had hoped, or for any games in the inaugural World Baseball Classic following a family tragedy. Guerrero pulled out of the first round after three cousins died in a car crash back home and did not return from bereavement leave in time to be added to the tournament roster.
Also missing Manny Ramirez and Pedro Martinez, the star-laden Dominicans head to San Juan, Puerto Rico, for the second round. They will open with Angels ace Bartolo Colon on the mound today against Cuba.
"We'll see what the Dominican Republic can do," winning pitcher Daniel Cabrera of the Baltimore Orioles said.
Luis Polonia pinch-hit for David Ortiz in the fourth inning and finished 2-for-2 with an RBI single for the Dominicans. The 42-year-old fan favorite played his last major league game in 2000.
Australia finished 0-3 but finally scored its first runs of the tournament. Held to one hit in each of their previous two games, the Aussies broke out for seven against the Dominican Republic.
Cabrera started and allowed one run on three hits in 3 1-3 innings, throwing hard his entire outing.
The 22-year-old Francisco Liriano followed with 2 2-3 impressive innings, fanning six and throwing 27 of 36 pitches for strikes in his first outing of the tournament.
Marte earned a save after Australia scored twice in the ninth against Duaner Sanchez of the New York Mets.
Australia loaded the bases with none out on a single, an error and a walk, but Sanchez got Luke Hughes to bounce into a run-scoring double play.
Trent Durrington of the Boston Red Sox followed with an RBI single before Marte retired Williams, who was pinch-hitting.
Durrington drew a leadoff walk from Cabrera in the first inning, stole second and scored on Brett Roneberg's sacrifice fly.
Brendan Kingman hit an RBI single in the sixth for an unearned run against Liriano.
Moss went 12-6 with a 3.42 ERA in his 2002 rookie season with the Atlanta Braves and pitched in the playoffs that year against San Francisco. But he often struggled with his control, and spent last year with Triple-A Tacoma in the Seattle Mariners' organization.
Australia, which won a silver medal at the 2004 Olympics in Athens, was embarrassed in its WBC opener, a 10-0 loss to Italy that was stopped in the seventh inning because of the mercy rule. But the Aussies hung right in there the past two nights with effective pitching against Venezuela and the Dominican Republic, two of the strongest squads in the tournament.
"I think this was great for Australian baseball. It's another step from the Olympics," manager Jon Deeble said. "Hopefully, we get invited back to the next one and hopefully we can, instead of losing by two, maybe we can win by two."
Netherlands 10, Panama 0
At San Juan, Puerto Rico, San Francisco Giants minor leaguer Shairon Martis pitched the first no-hitter in the new tournament in a game stopped after seven innings because of the mercy rule.
Martis ended the game with his 65th pitch -- the limit for starting pitchers in the first round -- when Cesar Quintero hit into a a double-play grounder.
A right-hander who turns 19 on March 30, Martis signed with the Giants as a free agent on Feb. 10, 2004.
Both teams were eliminated coming in.
Rookie first baseman Prince Fielder hit a two-run homer and a RBI single as a Milwaukee split-squad defeated Japan 5-3 in a friendly game on Friday.
Fielder's father, Cecil, hit 38 homers for the Hanshin Tigers of Japan's Central League in 1989 and was known to fans there as "Wild Bear" because of his powerful bat.
Japan got solo homers Friday night from Michihiro Ogasawara and Hitoshi Tamura, and Kosuke Fukudome hit an inside the park homer.
The Brewers tied the game at 1-1 in the fourth. Brent Abernathy singled, took second on J.J. Hardy's bunt single and scored when Fielder ripped a single to right field.
The Brewers broke the 3-3 tie in the bottom of the seventh when Ryan Braun drove in the run with an infield single.
Braun, who was the Brewers' first-round draft pick in 2005, also made a dazzling defensive play to rob Tamura of a hit in the eighth.
Wilfredo Rodriguez retired Ichiro Suzuki on a groundout to end the game with the tying run at second.
Padres 7, South Korea 1
Josh Barfield drove in two runs and Tim Stauffer threw three shutout innings to lead the San Diego Padres to a 7-1 victory over South Korea.
South Korea, winner of Pool A in the WBC, plays Mexico today in Anaheim.
The Padres sent 12 batters to the plate in the fifth inning, scoring seven times. David Ross also drove in two runs for San Diego.
South Korea scored its only run in the seventh inning against Japanese League veteran Brian Sikorski, who is trying to earn a spot in the San Diego bullpen.
"That was fun," said Padres manager Bruce Bochy. "It was a little different, but it was a good experience for all of us."
The South Korean roster includes major league pitchers Park Chan-ho, Kim Byung-hyun and Kim Sun-woo as well as first baseman Choi Hee-seop.
Park didn't pitch in the game, but both Kims threw scoreless innings. Choi had a single, walk and struck out twice in four at-bats.
Comments will be moderated. Keep comments relevant to the article. Remarks containing abusive and obscene language, personal attacks of any kind or promotion will be removed and the user banned. Final decision will be at the discretion of the Taipei Times.