Ma Chih-hung in test run at Turin
WINTER GAMES A native of Pingtung County, Ma is the sole representative of Taiwan in the Olympics this year in Turin, Italy
Ma Chih-hung (馬志鴻), Taiwan's lone competitor in this year's Winter Olympics, is putting life and limb at risk racing down a dangerous luge run with 19 hair-raising turns and where speeds can exceed 130kph.
Practice earlier this week in Turin, Italy, led to a dramatic crash and a hospital visit for Czech competitor Jakub Hyman. Four racers ended up in the hospital when the track opened a year ago.
At the suggestion of coaches and athletes, the track has seen modifications on two turns at the bottom section of 1,435m track, and athletes have been warned about the dangerous "Toro" section -- a series of three right turns in the middle portion.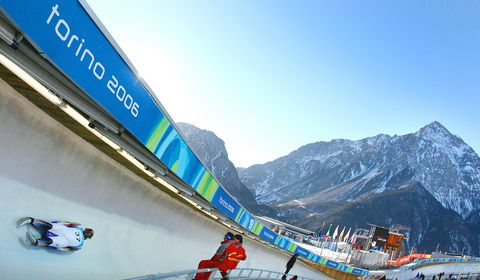 Georg Hackl from Germany slides down the luge track during an Olympic practice session in Cesana Pariol, Italy, on Thursday. Hackl, 39, is a three-time gold medalist.
PHOTO: AP
Bobsled racers will be competing on the same track, though luge specialists face considerably greater risk since they have virtually no protection.
Ma grew up in rural Pingtung County -- a place where temperatures never approach freezing and few children have any experience riding sleds down mountain slopes.
Olympic competitions in the past 20 years have become more regulated, with athletes needing to qualify for Olympic competition rather than simply proving they are the best in their respective countries. Competitors need to rank within the top 30 percent in internationally sanctioned events. In luge and bobsled, there are other conditions, including performances on different tracks and participation in at least five sanctioned competitions.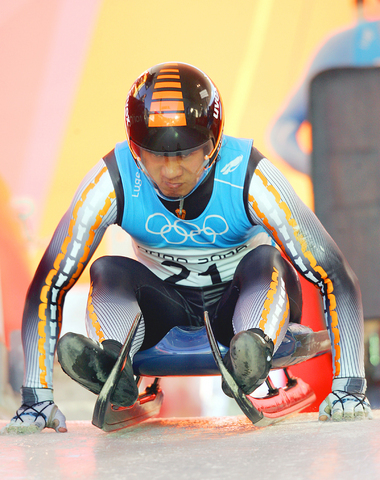 Ma Chih-hung of Taiwan launches himself down the luge track on Thursday during an official training run in Cesana Pairol ahead of the Turin Olympics. The luge competition begins today and runs until Wednesday.
PHOTO: AFP
Hsu Chi-you, president of the Amateur Chinese Taipei Luge and Bobsled Association said that local athletes need to beat out three to five different competitors from Europe and North America. A typical event may attract 100 competitors, with a top-30 finish earning one point toward qualification.
Hsu participated in the two-man bobsled event in Sarajevo in 1984. since then he has completely dedicated himself to developing local luge and bobsled talent.
Maintaining a bobsled team has become increasingly difficult, he said, since teams of two or four competitors need to take part in long-term training that is expensive.
Local luge and bobsled athletes are generally recruited from high school track and field teams, but after experiencing their first terrifying run, they usually quit.
Hsu recently developed a year-round training program based on luge and skeletons outfitted with wheels. Similar to the extreme sport of street luge, which grew out of skateboarders sitting down and "butt boarding" down large hills, this type of training has helped his group identify potential international competitors.
Ma, 19, is considered a prodigy by his European instructors, as he possesses a natural, innate ability to make it through treacherous courses.
Ma has received generous government funding to cover much of the cost of his training. He has also benefited from training and instruction by Chen Ching-shan, a four-time Olympic bobsledder who's last appearance was with Taiwan's two-man bobsled team at the 2002 Olympics in Salt Lake City, Utah.
Chen is a physical education instructor at Laiyi Senior High School in Pingtung where he is constantly on the lookout for bobsled, luge and skeleton talent.
Chen typically puts students through a two-to-three month training program on street luges and skeletons before selecting four or five candidates for training in Europe.
Many of the top athletes at Laiyi Senior High are from the nearby Paiwan Tribe of indigenous people, a group that is particularly known for being fearless.
"Our European coaches say its difficult to find an athlete as talented and gifted as Ma," Hsu said. "If he decides to attend college in Europe, with better access to luge and bobsled runs, he can become a great competitor."
Ma's first run takes place today at 4pm local time. He is slated to be the 26th competitor down the track.
Comments will be moderated. Keep comments relevant to the article. Remarks containing abusive and obscene language, personal attacks of any kind or promotion will be removed and the user banned. Final decision will be at the discretion of the Taipei Times.