Deion Sanders matures in tutor-player role
Deion Sanders still wears a mink coat, proof he has maintained some of the flamboyance that characterized his earlier reign as a flashy, outspoken NFL gamebreaker.
Since coming out of retirement to join the Baltimore Ravens two years ago, however, Sanders hasn't felt the need to preen for the cameras. He doesn't high-step down the field after a rare interception, either.
"At this point and age in my career I'm not looking for a stage," Sanders said in an interview with AP. "I'm looking to teach the young players how to be professional, how to be a man, how to be a father, how to be a friend, how to handle your finances."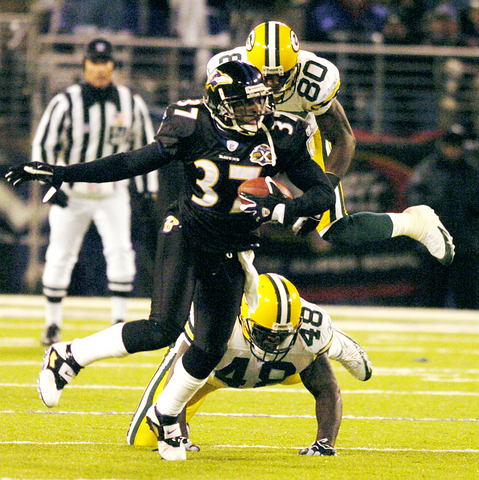 Ravens cornerback Deion Sanders, front, runs back an interception as he is chased by Packers Donald Driver, top back, and Vonta Leach during the second quarter in Baltimore, Maryland, on Monday. Sanders had two interceptions in the Baltimore victory.
PHOTO: AP
The 38-year-old Sanders almost certainly will head into retirement -- again -- after the Ravens finish their season on New Year's Day.
"It's very conceivable," he said.
Sanders went to eight Pro Bowls and was the 1994 defensive player of the year before slipping into retirement after the 2000 season. He was making good money as an football analyst when he scrapped the comfort of the TV studio to return to the NFL.
His objective was to help the Ravens win a championship and add another Super Bowl ring to his collection. It didn't turn out that way -- Baltimore went 9-7 last year and is assured of a losing record this season -- but Sanders has no regrets.
"I thought I came back to win a Super Bowl. But I found out in the middle of last season that's not what I came back for. I came back for these men inside the locker room," Sanders said. "It wasn't about playing with those guys, it was about allowing those guys to see the man behind the persona."
The old Deion Sanders loved to put on a show. But Neon Deion is a thing of the past. Sanders has become a professional, mature man who last Monday handled his interception of Green Bay's Brett Favre without a hint of fanfare.
"You know what I tell the guys? I'm not as good as I once was, but I'm good once as I've ever been," he said. "And you never know when that once is. They don't know, if you try me, that might be that once. I can cover in my sleep."
He can certainly do it at age 38. His two interceptions is tied for the team lead, and he's knocked away five other passes and made 38 tackles.
That's fine, but back in his heyday, Sanders played wide receiver, cornerback and ran back punts.
"I remember when there was a time I just felt invincible out there -- that you're going to have to deal with me one way or another, whether it's defensively, or running back a punt, or offensively," he recalled.
He's been relegated to a nickel back with the Ravens -- a concession to his age -- and for that reason he hasn't had much opportunity to slip into Neon mode.
"It's hard to be that guy one out of seven snaps, sitting over there with the coaches," he said. "But there's a lot of what goes into that. I'm in another role now. I'm like a player-teacher-coach type of role. I'm not upset about it. I'm happy that they respect me enough to listen to me."
Ravens safety Chad Williams is one of several Baltimore defensive backs who have benefited from Sanders' tutelage.
"I didn't know what to think when he came in, but it's all good. It's been a great experience," Williams said. "He'll pull me aside and tell me stuff, not just about football, but about life itself."
Sanders has lent himself to anyone who would lend an ear. He's also tried to lead by example.
"I've tried to let the guys see how I handle people yelling obscenities behind the bench. To see how I handle criticism, people telling me I'm too old, you can't do it," he said. "I want them to see a man that is still, that doesn't move, doesn't shake, doesn't flinch. A man that is planted. I think that's what I came back for."
When he quits for keeps, Sanders probably will be asked to return to the TV studio. But his experience over the past two seasons has caused him to consider an alternate vocation: What he really wants to do is become a coach.
"I don't know how I'm going to approach it, but I know it's something I have the desire to do," he said. "If it's high school, fine. If it's college, first of all, I know I could recruit. That's a given. To say I couldn't get an offensive coordinator and a defensive coordinator from my relationships in the league, that's pretty much foolish. I've got the contacts. Then to say I can't inspire and motivate and encourage, well, that's what I've been doing my whole career."
If Sanders wants to put off that pursuit until 2007, Ravens coach Brian Billick would happily welcome him back.
"That's up to Deion. Having him here, as I've said a thousand times, has been phenomenal," Billick said. "It's been a joy for me to be around such a professional, and to see a guy at this stage of his career prepare the way he does and pass that on to people around him is special. Our guys are better for it."
Comments will be moderated. Keep comments relevant to the article. Remarks containing abusive and obscene language, personal attacks of any kind or promotion will be removed and the user banned. Final decision will be at the discretion of the Taipei Times.