Penn State shares title in Big Ten
NCAA DIVISION I-A The Nittany Lions beat the Spartans in East Lansing and locked up a BCS bowl bid with the Lions defeat of co-leader Ohio State earlier in the season
Joe Paterno and Penn State locked up their first Bowl Championship Series bid after the No. 5 Penn State Nittany Lions defeated the Michigan State Spartans 31-22 to win their first Big Ten title in 11 years.
Michael Robinson ran for 90 yards and a touchdown and passed for another, and Alan Zemaitis had three interceptions for Penn State (10-1, 6-1).
Coming off a 4-7 season, Penn State tied Ohio State for the Big Ten lead, but will get the league's automatic BCS bid because the Lions beat the Buckeyes in October.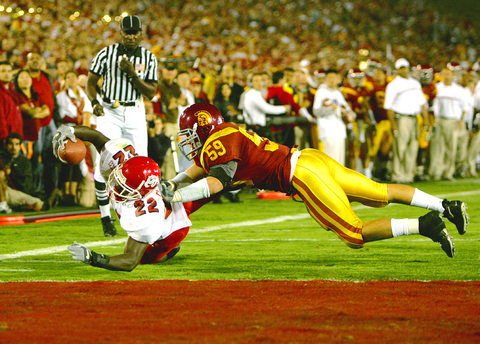 Wendell Mathis, left, of Fresno State, dives into the end zone against Collin Ashton of USC during their game at the Los Angeles Memorial Coliseum in Los Angeles on Saturday. The top-ranked Trojans defeated the No. 16 Bulldogs 50-42 for their 33rd consecutive victory as Reggie Bush ran for a career-high 294 yards on 23 carries.
PHOTO: AFP
Michigan State (5-6, 2-6), which began the season 4-0, finished it with six losses in seven games to post consecutive losing seasons for the first time since 1991-1992.
Zemaitis' second pick came in third quarter, and he returned it 17 yards to the Michigan State 4. Robinson threw a 3-yard TD pass to Deon Butler moments later for a 24-7 third-quarter lead.
Win No. 353 gave Paterno his first Big Ten title since 1994, when Kerry Collins and Ki-Jana Carter were piling up big numbers during Penn State's second year in the league.
No. 6 Notre Dame 34, Syracuse 10
In South Bend, Indiana, Brady Quinn threw two touchdown passes and Leo Ferrine returned an interception for a touchdown, giving Notre Dame a victory over Syracuse.
Darius Walker, who rushed for 123 yards on 26 carries, added a 3-yard TD run in the fourth quarter. The Irish struggled on offense, with Quinn not as sharp as he has been and receivers dropping catchable balls, but were still good enough to beat the Orange (1-9).
Notre Dame (8-2) needs to beat Stanford next week to remain eligible for its first Bowl Championship Series berth since 2000. Students threw tortillas back and forth throughout the game in anticipation of a possible Fiesta Bowl invitation. Someone also threw an orange on the field after an Irish touchdown.
Syracuse lost its eighth straight -- its longest losing streak since losing its final game of 1972 and the first eight games of 1973 -- and must beat No. 18 Louisville to avoid the first 10-loss season in school history.
No. 9 Ohio State 25,
No. 17 Michigan 21
In Ann Arbor, Michigan, Antonio Pittman's 3-yard run with 24 seconds left capped an 88-yard drive and gave ninth-ranked Ohio State a 25-21 win over No. 17 Michigan, clinching a share of the Big Ten title with Penn State.
Ohio State (9-2, 7-1) closed the regular season with six straight wins and gave coach Jim Tressel his fourth win in five games against Michigan (7-4, 5-3).
The Buckeyes rallied for the victory despite two turnovers and a shanked punt that led to scores, a missed extra point and field goal, mishandled punt returns and two pass interference penalties in the end zone.
Michigan was essentially playing mistake-free football when it led 21-12 midway through the fourth quarter before Ohio State quarterback Troy Smith rallied his team to a victory. Smith's 26-yard pass to Santonio Holmes made it 21-19 with 6:40 to go.
Michigan then drove to Ohio State's 34 and chose to have Garrett Rivas pooch punt, instead of kicking a long field goal into the wind.
Smith started the winning drive at the Buckeyes 12 with 4:18 left and made a series of clutch plays, including a 26-yard pass to Anthony Gonzalez to Michigan's 4, to set up Pittman's TD.
Michigan got to midfield, but its comeback hopes ended when receiver Tyler Ecker caught a short pass and tried to gain yards instead of running out of bounds.
Georgia Tech 14, No. 3 Miami 10
In Miami, Florida, Georgia Tech sacked Kyle Wright seven times, took advantage of key penalties on two touchdown drives and made a pair of late defensive stands to upset Miami and eliminate the Hurricanes from contention for a berth in the national championship game.
The Yellow Jackets blitzed on virtually every play to stymie Wright. After throwing touchdown passes to five receivers a week ago against Wake Forest, he managed only one scoring pass and went 14-for-31 for 207 yards.
KaMichael Hall sacked Wright twice and made a fourth-down stop to end a Miami threat midway through the fourth quarter. Wright moved the Hurricanes 62 yards to the Georgia Tech 27 with 1:46 left before he was intercepted by Dennis Davis, and the Yellow Jackets ran out the clock.
The Hurricanes (8-2, 5-2 Atlantic Coast Conference) lost for the first time since their season opener at Florida State.
The Yellow Jackets (7-3, 5-3) bounced back from a loss a week ago to Virginia. They also shook off an NCAA decision this week to place the school on two years' probation for using 17 academically ineligible athletes in four sports, including 11 in football.
No. 4 LSU 40, Mississippi 7
In Oxford, Mississippi, JaMarcus Russell threw two touchdown passes and LSU's defense smothered Mississippi to move closer to the SEC championship game.
LSU (9-1, 6-1 Southeastern Conference) held Ole Miss to 7 yards rushing and gave the Rebels (3-7, 1-6) their worst loss in Oxford in 56 years.
Now, only Arkansas stands between the Tigers and a trip to Atlanta. LSU can clinch its third title game berth in five seasons by beating the lowly Razorbacks next week.
Joseph Addai and Justin Vincent each had 1-yard touchdown runs while Russell had a 3-yard scoring pass to Craig Davis and a 20-yard TD toss to Early Doucet in leading LSU to its eighth straight win since an overtime loss to Tennessee.
Russell finished 13-of-22 passing for 142 yards, Addai had 70 yards on 14 carries, and Chris Jackson kicked a season-best 48-yard field goal for LSU.
No. 1 USC 50, No. 16 Fresno St. 42
In Los Angeles, No. 1 Southern California got another major scare Saturday night. But the electrifying Reggie Bush wouldn't let the Trojans lose.
Bush ran for a career-high 294 yards on 23 carries and scored twice, leading the Trojans to a wild 50-42 victory over No. 16 Fresno State and keeping their hopes alive for an unprecedented third straight national championship.
Bush also caught three passes for 68 yards and set a school record with 513 all-purpose yards, easily breaking the mark of 368 set by Anthony Davis against Notre Dame in 1972.
The win was the 33rd straight for USC (11-0, 7-0 Pac-10) and its 26th in a row at the Los Angeles Coliseum, where a crowd of 90,007 watched the 23-point underdog Bulldogs give the Trojans all they could handle.
Fresno State scored twice in a span of 12 seconds to take a 42-41 lead with 9:47 left. After Paul Pinegar's 6-yard touchdown pass to Joe Fernandez, Bush made perhaps his only mistake of the game, fumbling the ensuing kickoff. Jason Huss recovered, and Wendell Mathis ran 18 yards for a touchdown on the next play.
The Trojans then moved 89 yards to take a 47-42 lead, scoring on a 2-yard run by LenDale White. The big play of the drive was a 43-yard pass from Matt Leinart to Bush, putting the ball at the Fresno State 21.
Three plays later, Lawrence Jackson sacked Pinegar and forced a fumble, which Brian Cushing recovered at the Fresno State 15. That set up a 26-yard field goal by Mario Danelo with 3:06 to play.
The Bulldogs then moved to the USC 25 before Darnell Bing intercepted a pass by Pinegar at the goal line and returned it 40 yards. The Trojans then ran out the clock.
Leinart completed 22 of 33 passes for 200 yards and one touchdown. Pinegar was 27-of-45 for 317 yards and four TDs with four costly interceptions. Mathis gained 109 yards on 23 carries.
Comments will be moderated. Keep comments relevant to the article. Remarks containing abusive and obscene language, personal attacks of any kind or promotion will be removed and the user banned. Final decision will be at the discretion of the Taipei Times.