Eddings faces controversy
A man was seated in 1F on American Airlines Flight 1455, his eyes closed and his headphones on. Twenty feet away, passengers discussed the frantic way the Chicago White Sox stifled the Los Angeles Angels, 2-1, in Game 2 of the American League Championship Series. That man in 1F had been immersed in the chaos the night before, but he could not hear them.
Doug Eddings, the home-plate umpire who made a disputed call that helped the White Sox win in the ninth inning Wednesday night, was in first class on the flight from Chicago to Santa Ana, California, on Thursday. He undoubtedly wished he could remain anonymous.
But Eddings will no longer be an anonymous man in blue. After ruling that catcher Josh Paul trapped Kelvim Escobar's third strike to A.J. Pierzynski, allowing Pierzynski to dash to first base and later score the winning run, Eddings became notorious.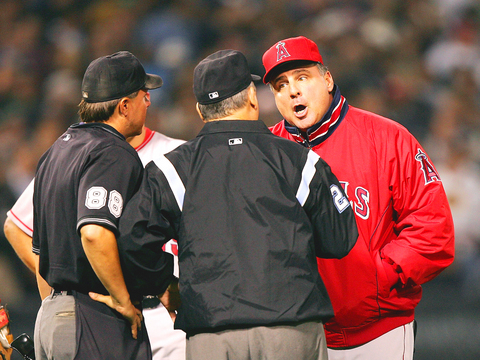 Manager, Mike Scioscia, right, manager of the Angels, argues with home plate umpire Doug Eddings, left, and umpire Jerry Crawford after the controversial play during the ninth inning of Game 2 of the American League Championship Series at US Cellular Field in Chicago on Wednesday. Chicago won the game 3-1 to tie the series 1-1.
PHOTO: AFP
"You don't want that," Eddings said. "You want everything to go smoothly. But that's why they pay me to do this job. In tough situations, you're going to have to step above it and handle it."
Eddings said he felt that he made the correct call in deciding that Escobar's 3-2 pitch to Pierzynski had brushed the dirt before it entered Paul's glove. The call prolonged the ninth, and the White Sox prevailed when Joe Crede smacked a run-scoring double off Escobar.
"I've done over thousands of games where you just have a feel for the game," Eddings said. "I had the ball bouncing."
"The only thing I'm down on myself is I should have sold it either way," Eddings said. "I should have either said, `No catch,' or, if I did have a catch, that he was out. Which I never said: `He's out."'
Eddings reiterated that he pumped his fist after every strike and said it was his mechanism for calling strikes. He said he would change his style and would likely just put his hand to the side to indicate a strike and eliminate the potential for confusion.
Although Wednesday was a tumultuous night for Eddings, he said that he slept five hours and was buoyed by several supportive calls. Eddings, 37, who started umpiring by calling Little League games when he was 14, said he received calls from almost every umpire and from some NBA referees. There were 20 messages on Eddings' cellphone when he landed here, he said.
"I'm still a human," Eddings said. "You want to do your best job, and I know I did my best job last night."
The Angels may argue that Eddings' best was not good enough for them. While the Angels were furious, they were realistic, too. Because they could not protest a judgment call, they vented and then pushed themselves to focus on the future. That is Game 3 on Friday.
"We're very, very disappointed with the call," Paul said Wednesday night in Chicago, as the clubhouse was emptying. "It had a lot to do with the outcome of the game, and that hurts. But we still got to keep playing."
Hours before Eddings ruled that Paul did not catch the third-strike pitch, the Angels had already determined that Thursday would be a day off. Players were not available to members of the news media.
But that did not mean the controversy was over.
The implications of the call were bound to hover over the rest of this series, which is tied, 1-1.
After Pierzynski swung at the pitch and missed, Paul, who had part of his glove on the dirt as he caught the ball backhanded, ran off the field toward the dugout and rolled the ball to the mound. Eddings motioned to the right and pumped his fist.
But Pierzynski, who had inched toward the third-base dugout, shifted gears and sprinted to first base. The Angels were leaving the field to bat in the 10th, they thought. Eddings said he immediately had some doubt about the catch and that was why he stared at Paul.
"Sometimes, the things you see and sometimes the things you realize, you question yourself," Eddings said. "That's why sometimes you don't do anything. That's why I didn't do anything, because I did see it. I felt, and still do, that the ball bounced."
Comments will be moderated. Keep comments relevant to the article. Remarks containing abusive and obscene language, personal attacks of any kind or promotion will be removed and the user banned. Final decision will be at the discretion of the Taipei Times.