Rays bedevil Yankees as Wang returns
BASEBALL Rookie right-hander Wang Chien-ming of Taiwan started his first game for New York after being on the 15-day disabled list with an inflammed shoulder
Carl Crawford hit a two-run double and scored three times, and Mark Hendrickson (9-7) won his fifth straight decision.
Jonny Gomes and Jorge Cantu also drove in two runs apiece, helping the last-place Devil Rays build a 6-0 lead, eventually winning 7-4 to improve to 11-5 against the Yankees this season.
New York hosts Boston, which leads the AL East by four games, in a three-game series this weekend.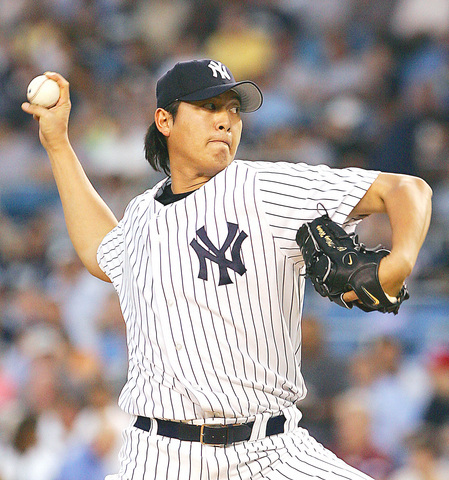 Starter Wang Chien-ming pitches against the Devil Rays during the first inning at Yankee Stadium in New York, Thursday.
PHOTO: AP
Rookie right-hander Wang Chien-ming ([王建民] 6-4) returned from a two-month stint on the disabled list and lasted five innings. After recovering from inflammation in his right shoulder, he gave up three runs and eight hits, dropping to 0-3 against Hendrickson this year.
Danys Baez retired Alex Rodriguez with a runner on to end the eighth, then finished for his 35th save. He has seven saves against New York this year, tying Bobby Thigpen of the Chicago White Sox in 1990 for the most against the Yankees in one season.
Indians 4 Tigers 2
Aaron Boone hit a two-run homer, Casey Blake and Coco Crisp had solo shots and the Cleveland Indians beat the Detroit Tigers 4-2 Thursday to move into sole possession of the AL wild-card lead for the first time this season.
Boone's homer off Nate Robertson (6-13) tied it 2-2 in the fifth inning, and Blake and Crisp connected in the sixth. The Indians' last 15 runs have all come via homers.
Cleveland, which has won four in a row and 12 of 14, moved a half-game ahead of the Yankees.
Rafael Betancourt (3-3) pitched 1 2-3 scoreless innings, and Bob Howry struck out Brandon Inge with the bases loaded to end the seventh. Bob Wickman pitched the ninth for his 37th save, matching his career-high set with Milwaukee in 1999.
Detroit has lost 13 of 15, including eight straight for the first time since 2003.
Angels 3, Red Sox 0
At Boston, Paul Byrd (11-9) allowed four hits in seven innings for Los Angeles, which avoided a three-game sweep and opened a one-game lead over Oakland in the AL West.
Francisco Rodriguez pitched the ninth for his 35th save, ending the game by striking out pinch-hitter Roberto Petagine on three pitches with the bases loaded.
Matt Clement (13-4) allowed three runs and five hits in 6 2-3 innings. He had won three straight decisions, but also received no decision in five other starts since July 16.
Royals 4, White Sox 2
At Chicago, J.P. Howell (2-5) pitched six innings to combine with three relievers on a two-hitter and Angel Berroa had a go-ahead homer as Kansas City ended Chicago's seven-game winning streak.
Kansas City had been 0-8 at Chicago this year.
Andrew Sisco, Ambiorix Burgos and Mike MacDougal pitched one hitless inning each. MacDougal retired the side in the ninth for his 18th save.
Freddy Garcia (12-8) allowed three runs and eight hits in seven innings.
Josh Beckett hit his first career home run, and Miguel Cabrera and Juan Pierre drove in three runs each to lead the Florida Marlins over the Washington Nationals 8-4 Thursday night.
Beckett (13-8) struck out seven in 6 2-3 innings, allowing two runs and six hits. Florida won three straight, outscoring Washington 24-7, after losing the series opener, and moved within a half-game of Houston, the National League wild-card leader. Washington dropped four games behind the Astros.
"We've still got little more than half a month to go, probably three-quarters of a month actually," Beckett said. "We've got to keep winning. This thing ain't over yet."
John Patterson (8-5) gave up seven runs and nine hits in 4 2-3 innings.
"We took him deep into the counts. That was one of our better games for making him pitch," McKeon said.
Cardinals 5, Mets 0
At St. Louis, Chris Carpenter became the first 21-game winner in the major leagues, and Albert Pujols homered twice.
St. Louis cut the magic number for clinching its second straight NL Central title to 10.
New York has lost 10 of 12 following a 9-2 stretch, falling to 70-70. The Mets, on the verge of taking the wild-card lead on Aug. 31 before Pedro Martinez faltered against Philadelphia, have lost eight of nine since then and dropped 5.5 games back of Houston, which leads in the wild-card chase.
Carpenter (21-4) allowed three hits in seven innings, struck out seven and walked one, lowering his ERA to 2.21, second in the major leagues to Roger Clemens' 1.57.
Kris Benson (9-7) dropped to 0-3 in four starts since beating Pittsburgh on Aug. 16. He allowed four runs -- three earned -- and seven hits in 6 2-3 innings.
Padres 3, Rockies 2
At San Diego, Robert Fick singled in the winning run off Jose Acevedo (2-4) with two outs in the 10th as San Diego (70-69) took two of three from last-place Colorado.
Brian Lawrence, Akinori Otsuka, Trevor Hoffman and Scott Linebrink combined to five-hit the Rockies. Linebrink (6-1) pitched a perfect 10th.
San Diego is seven games ahead of Los Angeles and San Francisco, tied for second at 63-76.
Cubs 5, Giants 3
At San Francisco, Nomar Garciaparra hit a tiebreaking two-run double in the seventh inning, and Carlos Zambrano (13-5) struck out his last five batters as Chicago beat San Francisco for its sixth win in seven road games.
Michael Barrett hit a first-inning homer and Garciaparra drove in three runs for the Cubs, who blew an early three-run lead before rallying against Noah Lowry (12-12), who had won six straight starts.
Zambrano allowed three runs and six hits in seven inning, and also got two hits and scored the go-ahead run. Ryan Dempster got his fourth save in five days and 25th overall.
San Francisco has lost three straight.
Major League Baseball could be coming to one of London's famous cricket venues in 2007.
The American baseball league has opened its season twice in Japan, and once in Mexico and Puerto Rico. Wet, chilly weather in the spring could make an opening-season game difficult, but a game later in the season is possible.
"Major League Baseball is very interested in playing games in Europe," MLB senior vice president Paul Archey said Thursday. "We're investigating possibilities in Europe where we may be able to play regular-season games as early as the 2007 season."
Archey, who is in the Netherlands for baseball's World Cup, said other venues in Europe were also being considered, including Rome, Paris, Munich, Amsterdam and Rotterdam. He said northern European venues presented weather problems early in the season. He said travel would not be an issue.
Archey said MLB officials had met with representatives of the Surrey County Cricket Club, which runs The Oval cricket ground in south London. The venue is the site of the fifth and final Ashes test match between England and Australia.
"There's a lot of interest in us playing in London, and I think selling tickets would be the easiest part of it," Archey said.
With few baseball facilities in Europe, cricket grounds are probably the closest thing.
Archey said no teams had been selected to play in Europe. In 2004, the New York Yankees and Tampa Bay Devil Rays opened the season with two games in Japan.
Baseball's first World Cup-style tournament, a 16-nation event organized by Major League Baseball and its players' association, is to be played next year in March in the US, Asia and Latin America.
Comments will be moderated. Keep comments relevant to the article. Remarks containing abusive and obscene language, personal attacks of any kind or promotion will be removed and the user banned. Final decision will be at the discretion of the Taipei Times.