Venus battles past a feisty Sharapova
SEMIFINALS Williams kept Sharapova on the run with overpowering shots that helped her win four major women's pro titles
Venus Williams hopped for joy, punched the air and doubled over in laughter, renewing a once-familiar Centre Court ritual.
The celebration came after Williams earned her sweetest victory yet in a career revival, beating 2004 champion Maria Sharapova 7-6 (2), 6-1 Thursday in the rain-delayed Wimbledon semifinals.
Gritting her teeth in determination between points, Williams kept Sharapova on the run with the kind of overpowering shots that helped her win four major titles. Seeded 14th, she'll play in a major final Saturday for the first time since sister Serena beat her for the 2003 Wimbledon title.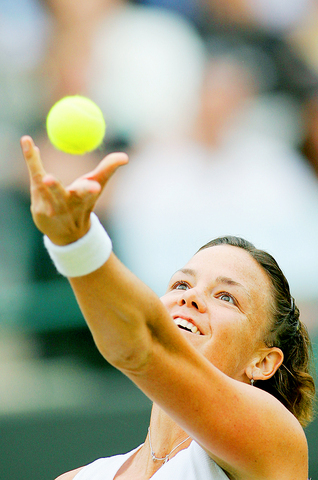 Lindsay Davenport of the US serves to Amalie Mauresmo of France during their semifinal match at the Wimbledon Tennis Championships in London on Wednesday. Davenport defeated Mauresmo in the rain-delayed match on Friday 6-7(5), 7-6(4), 6-4.
PHOTO: AFP
"Serena sent me an e-mail earlier, telling me what to do and to just stay in there and play my game and I was the best," Williams said, laughing. "I guess I took that to heart."
Rain forced the suspension of the other semifinal until yesterday with top-ranked Lindsay Davenport four points from the final. She led Amelie Mauresmo 6-7 (5), 7-6 (4), 5-3, love-15 when play was halted. Davenport went on to defeat Mauresmo 6-7(5), 7-6(4), 6-4 when play was resumed yesterday.
Williams is a two-time Wimbledon champion and two-time runner-up, but it has been nearly four years since her most recent Grand Slam championship. She has overcome a series of injuries and the perception that tennis is no longer a priority for her.
PHOTO: AFP
"My game has been improving step by step," Williams said. "There were times when I was disappointed in how I played, because I knew I could play better. But all in good time.
"Everyone has their moment in the sun. That's what my mom always says. Everyone gets to win sometimes. Even though I would like it to be me every time, it's almost impossible."
The 18-year-old Sharapova is finding that to be true. She hasn't reached a major final since her surprising title run at Wimbledon a year ago, and the loss snapped her grass-court streak of 22 consecutive victories.
"I'm obviously very sad," said Sharapova, who was seeded second. "This tournament means a lot to me, more than any other tournament. I guess there are more years to come."
Williams avenged her younger sister's upset loss to Sharapova in last year's final. Venus also upheld family pride with a fourth-round victory over Jill Craybas, who had upset two-time champion Serena less than 48 hours earlier.
Venus heard from her sister shortly after beating Sharapova.
"She called me to say, `Can I have your autograph?' When she leaves we still have fun, but it's not the same."
In the men's semifinals Friday, top-ranked Roger Federer will play No. 2 Lleyton Hewitt, and No. 3 Andy Roddick will face 2002 Australian Open champion Thomas Johansson, who is staging a career comeback from a serious knee injury. It's the first time since 1993 that all four men's semifinalists have won major titles.
Billie Jean King entertained Centre Court fans by talking rather than playing Thursday.
King, who won a total of 20 Wimbledon titles in singles, doubles and mixed doubles, spoke during a rain delay of more than four hours before the women's semifinals.
"Ever since I started tennis when I was 11 years old, I used to read about Wimbledon, I used to dream about Wimbledon," the 61-year-old King said in an interview from the stands that was heard over the public address system.
"I used to have my tennis racket in bed with me at night doing different grips and visualizing myself right out here on Centre Court."
King said she still plays tennis three times a week, in between work she does for charities and foundations to help women in sports. She also keeps up with women's tennis.
"It's great to see the improvement in the sport," she said.
Before King retired in 1983, she faced some of the greatest players of all time, including Martina Navratilova, Chris Evert, Margaret Court and Maria Bueno.
"Those four players by far were above anyone else," King said.
Navratilova, 48, is playing in the doubles and mixed doubles competition this year. Like King, Navratilova has 20 Wimbledon titles.
King won 39 Grand Slam titles overall. Her favorite at Wimbledon was the last singles championship she won in 1975.
NO. 1 RACKETS
All 14 women who have been ranked No. 1 signed rackets that will be auctioned to raise money for the victims of last year's tsunami in Asia.
The proceeds will be used to build houses for people affected by December's disaster. Fans can bid for the rackets on eBay.
Besides current top-ranked player Lindsay Davenport, the others are: Tracy Austin, Jennifer Capriati, Kim Clijsters, Chris Evert, Steffi Graf, Justine Henin-Hardenne, Martina Hingis, Amelie Mauresmo, Martina Navratilova, Arantxa Sanchez-Vicario, Monica Seles, Serena Williams and Venus Williams.
DINKINS FOR VENUS
Former New York City Mayor David Dinkins arrived at Wimbledon just in time to watch Venus Williams win her semifinal match against defending champion Maria Sharapova.
Before the match, he sent a message to Williams through her father.
"I'll be sitting in the Royal Box on Saturday," Dinkins said.
Comments will be moderated. Keep comments relevant to the article. Remarks containing abusive and obscene language, personal attacks of any kind or promotion will be removed and the user banned. Final decision will be at the discretion of the Taipei Times.