The Masters begins amid showers
The rain wasn't a surprise.
Neither were three of the names on the leaderboard.
But hardly anything else went according to plan on a wet and wacky opening to the Masters.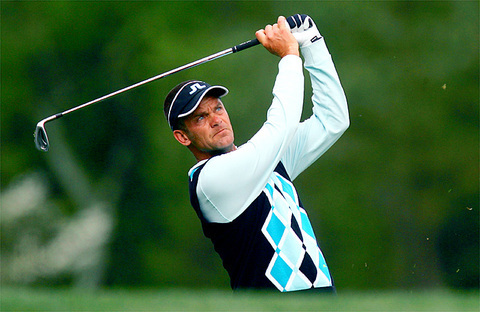 Jesper Parnevik of Sweden tees off on the 12th hole during the first round of The Masters at the Augusta National Golf Club in Augusta, Georgia on Thursday.
PHOTO: AFP
Tiger Woods hit a shot into Rae's Creek with his putter.
Billy Casper knocked five straight shots into the water at the par-3 16th.
Ernie Els spent most of his day tromping through the woods.
"It doesn't matter who you are or who that golf ball belongs to when you're on the tee," said Shaun Micheel, who struggled to a 75. "It makes you look silly at times."
Chris DiMarco was atop the leaderboard at 4 under par, but he still had four holes to play when darkness settled over Augusta National.
Mark Hensby was first in the clubhouse with a 3-under 69 in his Masters debut, one of just 24 players who completed the round after heavy rains delayed the start by nearly 5 1/2 hours.
"It's hard to have expectations on such a demanding golf course," the Australian said.
Right on their heels were three golfers with high expectations: defending champion Phil Mickelson, top-ranked Vijay Singh and two-time US Open winner Retief Goosen.
Woods was nowhere to be found; neither was Els.
Woods hasn't broken par in the first round of the Masters since he won in 2002, and that's where he was headed again, standing 2 over with six holes to play.
His signature shot came at the par-5 13th, which he reached in two with a risky shot out of the pines. But he misjudged the speed on a 70-foot eagle putt so badly that the ball raced by the hole, tumbled down the bank and went into Rae's Creek.
Woods left the ball there, replayed the putt and fared much better, two-putting for a bogey.
Els, the runner-up to Mickelson last year and a perennial Masters contender, spent more time in the trees than the fairway. No wonder he was 3 over through 11 holes.
Of course, no one looked sillier than Casper.
At 73, after sitting out the last three years, he decided to return for one more Masters. Not his best decision.
Casper took a 14 at the par-3 16th -- the highest in Masters history for any hole -- and finished with a 106, 11 strokes more than the previous record for futility. But it won't go in the books because he decided not to turn in his scorecard.
``I sort of figured before I played that I wasn't going to sign it,'' said Casper, officially listed as withdrawn. ``I only wanted to play 18 holes and get it out of my system.''
The 68 players still on the course when the horn sounded were set to return at 1245 GMT Friday to complete the opening round. Barring any more weather delays, the tournament should be back to normal -- if there is such a thing at Augusta -- by the weekend.
The rain was downright routine. For the fourth straight week, and the ninth time in 15 tournaments this year, bad weather delayed a round.
DiMarco birdied three straight holes late in the day to claim the top spot. He didn't have much sympathy when told of Woods' misfortune.
"He's got a few good breaks over his career," DiMarco said. "So you know what? Darn. It's golf."
Trying to hold down his No. 1 ranking, Singh was a model of consistency. Along with picking up three birdies on the front nine, Singh twice saved par with 10-foot putts. His only bogey came on his final hole, a three-putt from about 100 feet at No. 11.
"I hit my driver beautifully and had some good saves," Singh said. "It was just disappointing how I finished."
Mickelson opened with a bogey, but kept himself out of trouble most of the day and gave himself ample birdie chances. He chipped in for birdie on No. 2, stuck a wedge inside 4 feet on the third and twice made pars with beautiful lag putts to within 3 feet.
Goosen, the forgotten figure in all the hype over the "Big Four," made a rare birdie on the par-3 12th, then recovered from a tee shot into the azaleas on the par-5 13th to escape with par. He was minus 2.
Comments will be moderated. Keep comments relevant to the article. Remarks containing abusive and obscene language, personal attacks of any kind or promotion will be removed and the user banned. Final decision will be at the discretion of the Taipei Times.